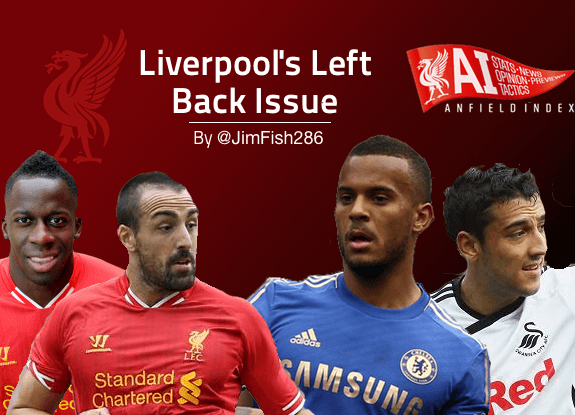 Liverpool's left back issue: Is he the Taylor-Made solution?
Anyone who has watched Liverpool for the past two seasons would agree that Liverpool need a new first choice left back. In fact, if you go back the last 10 years you could put forward an argument that Liverpool's last top class left back was actually a right back, that player would be Alvaro Arbeloa. If you pushed me even more I would say that him and Glen Johnson are the best left backs Liverpool have had since the day's of Stig Inge Bjornebye.
We have tried plenty in that position in recent years and John-Arne Riise and Fabio Aurelio could be classed as fairly successful in that position. Unfortuntely we have also seen Paul Konchesky, Andrea Dossena, Gregory Vignal and Steven Warnock all wear the red shirt at different times. There was also a time where we thought Jack Robinson would be our very own Luke Shaw but even though I feel he will have a decent Premier League career, it probably won't be at Anfield.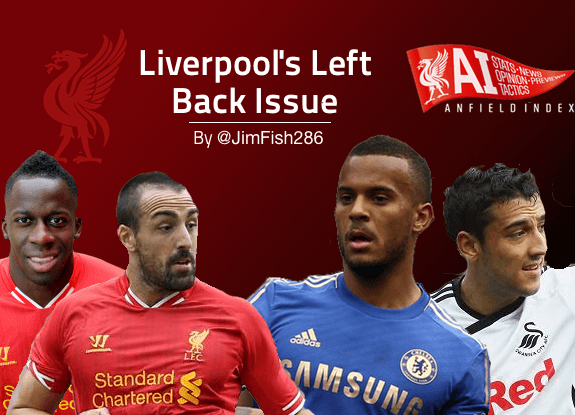 During the summer Reds boss Brendan Rodgers wanted a new left back and he was left frustrated in his chase for Guilherme Siquera, the 27 year old former Grenada player who ended up moving to Benfica initially on loan with a view to a permanent £7million pounds move. In the end Rodgers brought in Valencia's one time capped French left back Aly Cissokho on a season long loan deal. I've always wondered why Cissokho's career had somewhat stalled since he burst onto the scene at Porto and, having watched him perform for the Reds in the 2-0 defeat away to Arsenal, it soon became crystal clear. He reminded me very much of Djimi Traore. He looked as though he was going to trip himself up at any given time and that being on a football pitch was completely alien to him. Now whether some of that was down to rustiness due to just returning from 6 weeks out injured or whether the English Premier League is just too fast paced for him I suspect we'll never know. Brendan Rodgers' recent comments about Cissokho being brought in to purely cover Jose Enrique was not a ringing endorsement for the Frenchman and I feel the final coffin of Cissokho's short Liverpool career was the selection of young Right-Back Jon Flanagan ahead of him in the recent Merseyside derby.
Most fan's I speak with on Twitter say Liverpool are desperate for a new Defensive Midfielder and I cannot disagree with that. I was of the opinion that we should spend big on a Defensive Midfielder in January and wait for a new left full-back unit the summer window. However Jose Enrique's untimely injury and Aly Cissokho's disappointing form leaves manager Brendan Rodgers in a bit of a pickle as the January Transfer window approaches.
It is now my opinion that we need to go into the market for a first choice left full back and send Aly Cissokho back to Valencia.
Rumours are already flying around on Twitter that the Liverpool transfer team are extremely keen on Chelsea's Ryan Bertrand and there has even been talk of an £8million pound bid being in place already. Most fans would love Liverpool to go in for Southampton's Luke Shaw, however if we were to make a bid for him I'm certain the likes of Chelsea, Manchester United and Manchester City would follow suit and we cannot win in a bidding war with those teams unfortunately.
There are numerous options on the continent for Brendan Rodgers and the transfer team to consider such as Porto's Alex Sandro, Sevilla's Alberto Moreno or Hamburg's Denis Aogo. However it appears that Rodgers and the transfer committee feel the way forward is to buy British. Whilst Bertrand is a solid enough deputy for Ashley Cole at Chelsea and a former England U21 player, I think that Liverpool and specifically Rodgers are missing a trick by not going back to Rodgers' old stomping ground of Swansea City and making an enquiry for Welsh International Left-Back Neil Taylor.
Taylor's career is a remarkable tale, he started his career at Manchester City as a youngster before being released and ending up at Non-League Welsh club Wrexham where he stayed for three years, making 75 appearances before Rodgers, then manager of Swansea, plucked him from relative obscurity in 2010 and put him straight into the Swansea team that went on to win promotion to the Barclays Premier League at the end of the 2011 season. Taylor's rise continued as he made his debut for Wales in 2010 and he was then selected by Stuart Pearce for the Great Britain squad for the London 2012 Olympics, where he actually played alongside Bertrand.
Taylor was unfortunately injured at the start of the 2012-2013 season and missed the whole season due to that injury and he has only recently got himself back to full fitness and challenging for his first team spot again at Swansea City. At the moment Taylor finds himself slightly behind fellow Welshman Ben Davies in the pecking order at Swansea City but that is not a reflection of his ability, When fit and back on form he his by far the superior player. The fact that he is not in the Swans first team however could help Liverpool if we were to make a bid for his services. I feel that if we are willing to part with £8million pounds for Ryan Bertrand then we should at the very least make the same offer for Neil Taylor, who is again in my opinion a far superior full-back to Ryan Bertrand.
Due to Taylor's injury and Bertrand's limited first team action at Chelsea it is difficult to compare statistics over a full season but when using Taylor's one full season in 2011-12 statistics and comparing them to Bertrand's 2012-13 you will see that Taylor comes out on top in all the key areas. Factor in Brendan Rodgers' more recent history with Taylor and you can see that he really is "Taylor-Made" for Liverpool.
On the defensive side of the game you will see that Taylor makes more interceptions, more successful tackles and also wins more 50/50 ground tackles.
When in possession Taylor is more comfortable and passes forward more often and more successfully than Bertrand.
And in a newly promoted team Taylor also managed to more of attacking influence than Bertrand was, by creating more chances, producing more crosses and effecting more dribbles.
Given his age and his experience of playing for Brendan Rodgers I feel that Neil Taylor could be the answer to our left back issue and could be our starting left back for years to come.