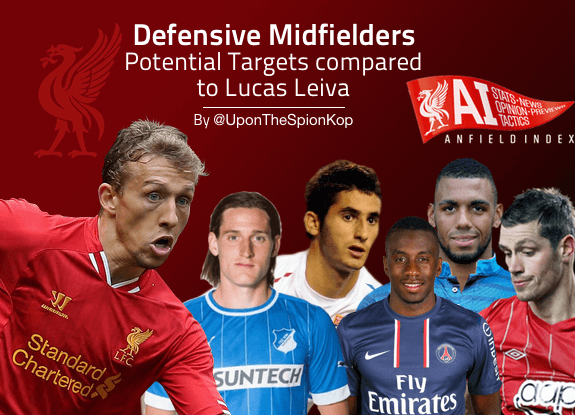 Defensive Midfielders: Potential Targets Comparison to Liverpool's Lucas?
With Liverpool making such positive headway during the first third of the Premier League season, there have been grumblings and moans at any supporters who dare to question the team or the tactics. It is true that, with recent seasons proving so desperate and barren, we should enjoy this season as the Reds look more competitive than ever – Rodgers' squad currently sit second in the league. However, somewhere many fans believe Liverpool have lacked this season is the central midfield area – to many, the most important part of any team. This is where the game is often won and lost, moves are started here, attacks are thwarted with interceptions and pressing and, perhaps most importantly in the modern game, the defence is protected from here.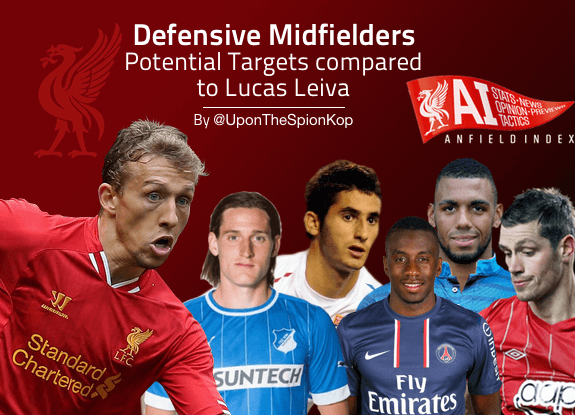 The reason so many supporters grumble about this part of Liverpool's team is because it seems to be currently underperforming and subsequently opening up our defence to relentless attacks against the better teams. Recent sobering performances against league leaders Arsenal and Champions League hopefuls Everton have slightly (and I mean slightly) dented Liverpool's hope of sustaining a top four fight – or even a league title tilt. Of course, perspective is needed when you look at these results – for a start, Arsenal are top of the league and have beaten Borussia Dortmund away from home this season, secondly, Everton played very well at Goodison Park and could easily have won the game with both teams seemingly forgetting any kind of organisational skill. However, this doesn't change the fact that Liverpool's midfield have been consistently carved apart by mobile, high tempo sides and this doesn't bode well for the remaining chunk of the season.

Relying on wonder saves from Simon Mignolet and last ditch tackles from the centre backs isn't the best way to get Liverpool into Europe's VIP club, so with this in mind, how can Brendan Rodgers attempt to offer his overworked defence more cover and how well is Lucas actually doing – Liverpool's very own, not quite there, defensive midfielder. Potential and realistic targets to be considered include Rubin Kazan's M'Vila, PSG's Matuidi, Lyon's Gonalons, Hoffenheim's Rudy and Southampton's Schneiderlin
Passing
To compare Lucas' performances this season to other potential defensive midfielders (DMs for the remainder of this article) targets, the best things to analyse are average passing, defensive and offensive statistics supplied by WhoScored.com (all statistics correct as of 25th November). So, diving straight in, the most basic thing to look at is average passes per game – this allows us to see how often the player gets on the ball and therefore, how comfortable they are in possession. As you can see from the chart above, Lucas comes out on top in this category as he boasts an impressive 62.3 passes per game – this may come as a surprise to some fans who believe Liverpool are not exerting enough control over certain games, with Liverpool's lower average possession you'd perhaps expect Lucas to suffer in this category by completing less passes. Coming bottom of this category is, to some, the unknown quantity of Sebastian Rudy who represents Hoffenheim in Germany's competitive Bundesliga. This could be down to a number of things, firstly, he's pretty young for someone playing in a role requiring such responsibility but, secondly (and perhaps more importantly) he's playing in the weakest team on this list – which might hinder his ability to complete passes with less possession and less quality movement ahead of him. Coming in second is the man everyone is currently talking about – Yann M'Vila. The badboy midfielder was spotted in the Goodison Park away section and sparked a number of rumours suggesting he might be in talks with Liverpool officials – who knows but I think he'd be well worth the fee of around £8m should Rodgers feel he's welcome.
Lucas does well again in the average passes completed per game column too. With 90.7% coming in as second to Blaise Matuidi (personally my choice for the DM role). The lowest scorer in this department is again Rudy – perhaps, once again alluding to the poorer movement ahead of him or perhaps a sign of over eagerness to execute more difficult passes. Gonalons, M'Vila and Schneiderlin all continue to register good levels in this section – each posting above 87%.
The next statistic to be considered is linked directly to creativity which isn't really a true strength for any of these players – which is to be expected, they are, after all, DMs. Only two of the compared players have even registered an assist this season and none of them have more than one. The only two to register an assist are M'Vila and Rudy – who claws back some brownie points by coming out on top of this minor category. A second category linked to creativity is the key passes per game column – where, again, our potential targets tend to struggle. The highest performer is again Rudy, which suggests if Rodgers wants a slightly creative DM then the German could be his man. Although Matuidi and Schneiderlin run the youngster close and have more experience.
The final categories in the passing section come in the forms of accurate long balls per game and accurate through balls per game – two incredibly important areas for a passing DM. Yann M'Vila seems to excel in these departments, spraying passes long and along the floor to great accuracy and effect with statistics of 9.5 and 0.1 respectively – both enough to see him top of these categories. Lucas struggles in these areas with statistics of 2.5 and 0 respectively. Gonalons is the only challenger to M'Vila's long ball dominance but the Frenchman still falls someway short of his compatriot's total of 9.5 – the Lyon man posts a total of 5.9. However, in my opinion, Rudy is a serious contender in this category as he posts a total of 3.1 accurate long balls per game. The reason I say this is because Rodgers doesn't favour midfielders who look to go long with every pass so a total of around 3 accurate long balls per game seems the best for  Rodgers type player.
So, with each passing statistic discussed and analysed – who truly comes out on top when it comes passing? Well, in terms of winning figures for each category, it is M'Vila and Rudy as they posted three table topping statistics each. However, Rudy finished bottom of two other categories which suggests he's inconsistent and not at all the complete article – so, would he really improve the first XI?
The area of the squad Rodgers claims he wants improve next. M'Vila on the other hand posts good statistics in every area of the passing analysis and can possibly be considered a safe bet when it comes to fitting into Rodgers' ethos of comfortable possession based players – although the fact he players in an uncompetitive Russian Premier League could mean his statistics are higher than they would be in a major European league. Also, scoring solidly in the passing section of this analysis is Blaise Matuidi of PSG. Matuidi represents the most mobile option on this list and could therefore be the best fit for Liverpool – the Reds are literally crying out for a strong and mobile DM.
Matuidi is also the most accurate player on this list and played the least accurate long balls per game which could suggest he prefers to keep the ball on the ground – another attribute Rodgers looks out for. Gonalons and Schneiderlin should also be considered as both are good passers of the ball – however, their statistics are slightly less eye-catching than the competitions'.
Offensive Play
Offensive football is not something associated with any of these players but it's important to look at these segments of their game to get a more complete picture. The most obvious place to start in an offensive sense is the goals scored column. As you can see from the table above, Matuidi leads to way with the most goals scored this season – his total of 2 is pretty impressive from a DM. The only other player to score this season is Schneiderlin – the Southampton man has just the 1 goal, scored against Hull City early in November. Gonalons, M'Vila, Rudy and Lucas himself have all failed to register on the scoresheet thus far – although, for a DM, this can be excused.
Another way to assess a player's contribution in the final third is to see how many shots they take per game. It obviously helps the attacking part of a team when more players are capable of shooting well and scoring goals. Especially if this is from outside the box, meaning defenders are unsure whether to go out and meet the player who can shoot from distance or defend deep and cut off space in behind the defence. With Lucas, Liverpool don't really have this threat at he takes 0.1 shots per game which roughly translates to having zero threat in front of goal – in fact, he's bottom of this category. The players standing out in the category is basically everybody except Lucas and Rudy – the two most goal-shy players by some way. M'Vila, Gonalons, Schneiderlin and Matuidi all take at least 0.8 shots per game which means they are a better threat in front of goal than Liverpool's current DM.
Another great way of assessing attacking contribution (and this is another great way to break stubborn teams down) is to measure how many times a player attempts to dribble per game. Leading the way in this category is Sebastian Rudy who has attempted 1.3 dribbles per game this season. This is 0.5 more than anybody else, with Gonalons and Schneiderlin attempting 0.8 dribbles per games. Unfortunately for the Liverpool faithful, Lucas again comes bottom of this column – although Lucas' role is to simply retrieve the ball and give it to Coutinho, Gerrard or Suárez meaning he doesn't really have the scope to embark on mazy dribbles. I think we can see where this section is going. However, there is some respite for the struggling Lucas. As you can see, Lucas loses the ball, on average, just 0.6 times per game which is less than one mistake per game in that regard. Rudy and Matuidi are represented poorly here – with both players losing the ball once per game, on average. This could be due to any number of things such as Matuidi's clear attempts at getting forward more than the other DMs here. Rudy is also inexperienced at the very top level so we can assume he'll improve over time and lose the ball less. Gonalons does well here, losing the ball just 0.5 times per game and therefore the Frenchman represents the coolest customer when in possession, proving unflustered by the pressures of Ligue 1.
So, with all these statistics in mind, who is the best at getting forward from this list of potential DM targets? Well Matuidi, Rudy and Gonalons all came out on top in three separate aspects of attacking play but I think Matuidi is the best at attacking from the DM role. Scoring two goals and taking the most shots per game, the Parisian is the leading light in this comparison and follows on nicely from his passing consistency from earlier on. Lucas obviously struggles in this department but we knew that already – he's not quite in Tony Hibbert territory but celebrations after a Lucas goal could get just as wild. So far Blaise Matuidi has been the leading light in this comparison and the move would make great sense for all parties. Matuidi is out of contract in the summer and Liverpool could certainly make use of the talented midfielder. However, before we pick a definitive winner we've got the all important defensive statistics to look through. Here, there's plenty of points to be won back by the trailing pack as we look at the most important factors for defensive midfielders – this section is of particular importance.
Defensive Play
Firstly, we've got the all important tackles per games statistic. Now, how much work a DM gets through is really important, the more running and anticipation the better. In this category, Lucas comes out on top by a country mile. The Brazilian makes, on average, 5.3 tackles per game compared to M'Vila who actually comes out lowest here with just 1.5 tackles per game registered by the Frenchman. Every team will want their DM to be ferocious in the tackle and to get stuck in more than any other player on the pitch. However, there should be a thought of caution to come with this statistic. Lucas might have registered the most tackles of any player on this list but he's done so playing in a team under too much pressure defensively – he's been putting out fires left, right and centre in a team that has woeful control over games at times. So, the high tackles per game could be a bad thing for the team but on this occasion it makes Lucas look good so let's give the lad some praise, he's doing an ok job in there.
Continuing with the theme of praising Lucas, the former Gremio star comes out on top when it comes to interceptions per game which shows he has a good reading of the game and that he anticipates well – much like Michael Carrick at Manchester United. Lucas registers 2.9 interceptions per game and is again a good way ahead of his nearest rival – Morgan Schneiderlin, who clocks in at 1.9 interceptions per game. Rudy comes bottom in the category with 1 interception per game which might highlight a tiny bit of inexperience on his part – the 23 year old is still learning his trade in a very hard league, so this statistic could get higher as he progresses. Gonalons, Matuidi and M'Vila all recorded standard figures of 1.7 and 1.8 which is still very encouraging.
Things take a turn for the worst for Lucas in the fouls per game column where he comes bottom with 2.5 fouls per game – again, suggesting he's being overworked in the Red midfield. M'Vila and Matuidi do very well here with just 1.1 fouls per game registered for each player. In the same vein as Lucas, however, this could be down to being under less pressure as opposed to under too much pressure and committing more fouls. Both Rudy and Schneiderlin kept their fouls under 2 per game with 1.7 and 1.6 respectively. These are both competitive scores and Rudy's is particularly good considering his relative lack of top level experience.
A statistic not included on the table shown above is tackle success rate. This is obviously an incredibly important part of a DMs game and the higher this figure is the better for the individual and the team. Of the six players included, Matuidi is again highest with a stunning 84% success rate, M'Vila, Gonalons and Rudy all come in impressively with 78%, 75% and 77% respectively. Surprisingly, the two Premier League contenders come in the lowest (and poorly) with Schneiderlin and Lucas recording 52% and 43% respectively. It doesn't take a genius to see that they are really poor scores and both will have to improve to either earn a move to Liverpool or keep their place in it, in Lucas' case.
Lucas begins to excel again by scoring 2.6 in the clearances per game category but his victory here could just be another sign of Liverpool's lack of control and panic in the defence. Once again, you have to think do we really want Lucas so far ahead in these types of columns? In all honesty, no we don't. Somewhere around the 1.4 or 1.5 mark would be ideal because that shows that the player can be in the right place at the right time and that their statistics are not simply boosted by opponents dominating games in certain periods. Gonalons and Schneiderlin also post highly here with 2.1 clearances per game apiece. Surprisingly, considering Hoffenheim's status on this list, Rudy gets through the least clearances per game which is slightly perplexing and worrying – is he actually covering the defence that well? 0.4 clearances per game suggests he might not be there when needed. M'Vila posts ideally in this category with 1.9 clearances per game whilst Matuidi's total tells us little about him as he plays for a team which dominates pretty much every game it plays in – PSG.
The two final categories are very important indeed and doing well in these statistics will looking good for any DM. First of all we have the amount of times each DM has been dribbled past per game. This total obviously needs to be as low as possible because if a DM is dribbled past too often he's, one, not doing his job and, two, the defence is directly exposed. Matuidi and M'Vila do very well here, the Frenchmen posting 0.6 and 0.7 respectively – Matuidi just shading his countryman to top spot. These are both excellent totals and this effective shielding would boost Liverpool's defence incredibly. Rudy comes bottom here, with a really poor total of 2.6 – that's akin to having a bad game most weeks in truth. If Lucas was dribbled past nearly three times a game he'd be bombarded with criticism. As it happens, Lucas does ok in the category, but, his total of 1.7 is still only enough for fifth place with Gonalons and Schneiderlin doing well to get below 1.5.
Lucas reasserts himself in the final category of this analysis by blocking the joint most shots per game. The Brazilian, Gonalons and Schneiderlin all block 0.2 shots per game compared to Matuidi and M'Vila's 0.1 and Rudy's 0. With Hoffenheim struggling in the Bundesliga, we can be slightly alarmed by Rudy's inability to block a single shot. Although, the rest have basically only blocked one all season.
So, for a DM, the defensive aspect of football is the most important. Can they tackle, block, anticipate and clear their lines effectively and often? Well, you'd have to conclude that Lucas does all these things relatively well, other than the obvious flaw in his tackle success %. He comes out on top in four of the six studied categories and only struggles in two – tackle success % and fouls per game. His interceptions are excellent and his tackles per game is high suggesting he's either a workaholic (which he is) or Liverpool concede too much possession (which they do) – so it's really a combination of both and Lucas deserves some credit. Sadly, Sebastian Rudy struggles defensively but he's playing in the weakest team so don't write him off completely. Blaise Matuidi is the only player to come top in two categories, leaving him second overall for category wins.
Overall Conclusions
So, picking through all of these statistics, who should Rodgers consider during the January transfer window? Each of these players has their own positives when it comes to them being potential signings. Away from the pitch, Matuidi has just six months to run on his current PSG contract which would obviously bring him into Liverpool's affordability range. M'Vila has also seen his potential transfer fee lowered, with an £8m figure often quoted. Rudy is young and inexperienced but this would make him the cheapest option here and his stock will surely rise as he becomes more established – he is highly thought of in Germany. Newcastle United have proved with Cabaye and his team mates that picking up French talent from the Ligue 1 pool can be profitable so Gonalons isn't a bad option but not my preferred choice.
Schneiderlin would be a great buy but with Southampton flying just high as Liverpool right now, would he want to up sticks and leave in January in what could be a very special year for the Saints? In my opinion, Rodgers should be pursuing the signatures of Matuidi or Schneiderlin with M'Vila as a backup option. Rodgers has recently stated that first XI additions are his next priority and I believe these two represent the best bet to do that. At present, I don't believe Rudy can offer a boost in terms of starting XI performance so that rules him out of the equation. Matuidi did well in each section of this analysis and is seemingly ready to leave PSG. The Frenchman is also extremely quick and mobile which would mean he'd be ideal to either replace Steven Gerrard or compliment him. Schneiderlin is the second great option because he already plays similarly to how Rodgers would want him to – he presses well under Pochettino and is consistent across the defensive board. M'Vila would be a very solid option, but for me, he only makes the backup because of his apparent temperament issues which see him labelled as a bad-boy – although, this could be unfair with his problems seemingly behind him.
Personally I'd be delighted if Liverpool signed one of two of these options.
Stats Via WhoScored.com