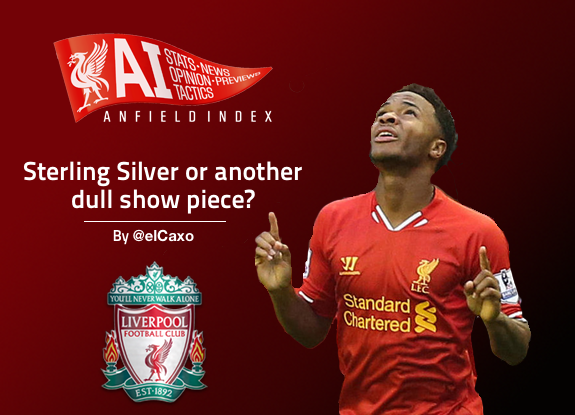 Sterling silver or another dull show piece?
After bursting onto the Premier League scene last season, a year on Raheem Sterling seems to have slipped under the radar a little bit. He's only made three starting appearances so far in the premier league and has come off the bench six times to accumulate a grand total of 370 minutes played. This is more than slight drop when compared to last season in which he started 11 of the campaigns first 12 games. What has changed and what can be done about it?
The most obvious reason has to be an increase in competition for places. Iago Aspas was bought from Celta Vigo and Victor Moses arrived on a season long loan over the summer and these are two players that appear to be clearly above Sterling in the pecking order at the moment. The question does remain however; is this down to Aspas and Moses' own pedigree or a lack of intent and perseverance from the young Englishman? Conversely he has started 3 of this seasons England U21 internationals and even scored a brace in one (admittedly against San Marino) which gives the indication he's still playing at an acceptable level.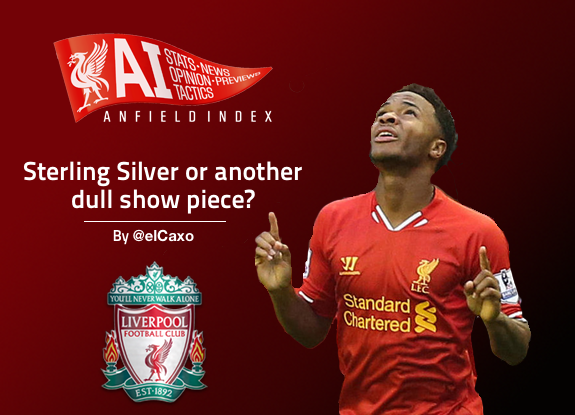 It is difficult to define what unique traits Sterling brings to the table when considering him for a starting place in the Liverpool eleven. He is pacey with a good touch but so is Victor Moses and our Nigerian international offers more directness and the ability to play in a wider variety of positions. It is the same when comparing him to Aspas; the Spaniard simply offers more flexibility and experience. Sterling is a very raw product that doesn't really fit in the system at the moment. Even Jordan Henderson has done a good job ahead of him on the right this season. Brendan Rodgers has also shied away from his 4-3-3 this season, leaving less room for wingers.
The quickest answer that comes to mind is to send Sterling out on loan as if that will somehow instantly mature and mould him into something useful. Facetiousness aside, a loan could work but it has to be more than just a random selection like Borini to Sunderland seemingly was. A perfect example is Suso who is currently running the show at Almeria. Comfortable setting? Check. He's gone back to his home country and is playing only 4 hours drive away from his old youth setup in Cadiz. Positive position at the club? Check. As a focal point in the Almeria team Suso is getting plenty of time on the pitch where he is able to play in his preferred position which is invaluable to his development. If Sterling were lumped down the championship to either get seven bells kicked out of him or no guarantee of playing time then what's the point at all? If a loan is on the cards then it needs to be planned out.
Having been recently picked for matches against Hull and Norwich in two vastly different games it would appear that maybe Sterling has worked his way back into Rodgers plans? Against the Tigers he managed 66 minutes of generally uninspired play, failing to consistently beat his man or link up particularly with Johnson or Suarez. It can be said that he has lacked first team minutes this season but the desire still wasn't there at all and he cut a disinterested figure at the KC stadium. However something clearly happened in the days post drubbing and there was a noticeable improvement against the Canaries. It's hard to remember anything past Luis Suarez and his sublime performance but Sterling did seem to show a bit more appetite,  regularly moving inside to allow Flanagan to overlap. He assisted Suarez's hattrick goal and then finished the 5 – 1 rout himself in an assured style. Overall it was a much better game for Sterling.
The final question I'm going to raise is whether Raheem Sterling is eventually going to be the next John Barnes anyway? He could quite easily not live up to his billing and end up the next Shaun Wright-Phillips. Quite frankly, I feel as though his young compatriot Jordan Ibe showed him up in pre-season. Ibe was brighter, stronger and more inventive. A few fitness friendlies are hardly grounds for any overall decision but from what I saw I was much more impressed with Sterling's peer. All of this coupled with his questionable off-field disciplinary record makes me wonder, should we stick it out with Sterling at all?