Disclaimer: The stats used were valid as late as 1st Decemeber 2013 due to this article being written after both the Liverpool and Manchester City games.
Following on from my previous article, in which I researched into and compared the Liverpool and Manchester United strike partnerships to see which one was better, I thought I would switch my attention to the other side of the city that has gave us Oasis and Shayne Ward – amongst others – to put the pairing of Sergio Agüero and Álvaro Negredo up against our front two.
Once again, I will only consider the statistics from when the players are on the pitch together.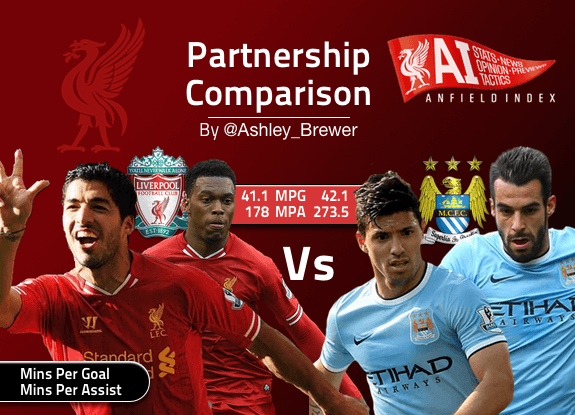 How many minutes have they played together? 
Here at the games and the number of minutes that the strikers have played together:
What is interesting to me is that, despite both players being available all season, the duo of Agüero and Negredo have only been on the pitch together for a total of 13 more minutes than Sturridge and Suárez have, despite the latter missing the first part of the season, and they are yet to even play a full 90 minutes together.
This will mostly be down to rotation that Manuel Pellegrini has to do due to the fact he also has the likes of Edin Džeko and Stevan Jovatić to keep happy.
How have they performed together? 
With the more inconsistent playing time that the City DUO have had to deal with, you would expect that they would be more unsettled and this would show in the stats, right?
For me, the stats are much more similar in some aspects than I expected, due to the fact that City have scored so many games this season.
It's actually Sturridge and Suárez who boast a better minutes per goal tally, albeit marginally, with the difference between the two being a single minute per goal, which shows that they have been better in front of goal so far this campaign.
The stats also show that the two are also better at linking up, with them looking to pass to each other on average 9.3 times per game, finding each other 93.8% of the time. The England and Uruguay internationals have also set each other up more often, with an assist every 178 minutes to their oppositions stat of one every 273.5 minutes.
Despite only looking to pass to each other 5 times per game on average, at an impressive 98% pass completion rate, almost half of what their opposition do, Agüero and Negredo manage to create more chances than Sturridge and Suárez, creating one every 49.7 minutes.
Who's Better?
When I said that I didn't expect the stats to be so similar in some aspects earlier, this was because I went into this thinking that they would turn out to favour the City duo, with the club scoring for fun at times, but it is obvious now that the amount of rotation within the squad as well as their poor form in some games away from the Etihad Stadium have affected the stats.
Whether I agree with the results of my research or not, it's really irrelevant because they show that as a partnership, Sturridge and Suárez are the better of the two in terms of goal scoring and assisting.
Unfortunately for Liverpool though, Daniel Sturridge now faces six to eight weeks on the sideline, which means that once again we are without one of the three main attacking threats of our side, the other two of course being Luis Suárez and Phillippe Coutinho, and it was very evident in our toothless showing away at Hull City, but that's for another article.
In the time that the former City man is out, I'm sure Agüero and Negredo will continue to develop their understanding on the field and will start to terrorise the Premier League defenses more consistently, at the risk of upsetting the aforementioned Bosnian and Montenegrin internationals.