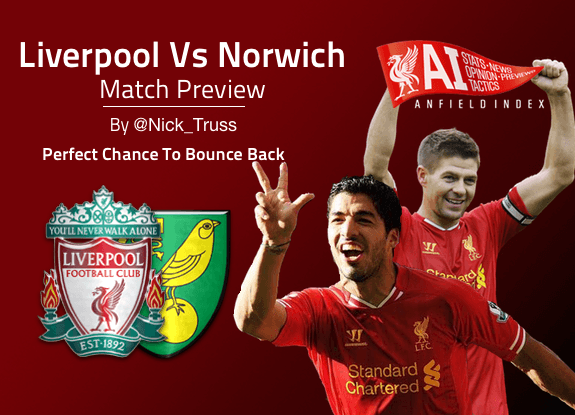 Liverpool Vs Norwich Preview | The Perfect Bounce Back?
December is upon us, which can only mean one thing, football, football and more football, December is a crucial time of the year for any football club as the fixtures pile up in the lead up to the January transfer window, it is a key period to assess what areas of a squad need improving. You can read @KevHartLFC's reasons for why December is so crucial here.
Liverpool kicked off December in the worst possible way after suffering their first ever defeat to Hull City. The defeat caused outrage amongst the Liverpool faithful as the game was seen as a must win considering the fixtures coming up at the end of the month. In a change to the match build up here's a few reasons why Liverpool fans shouldn't be to disheartened by Sundays result, and why Norwich could be the perfect team to bounce back against.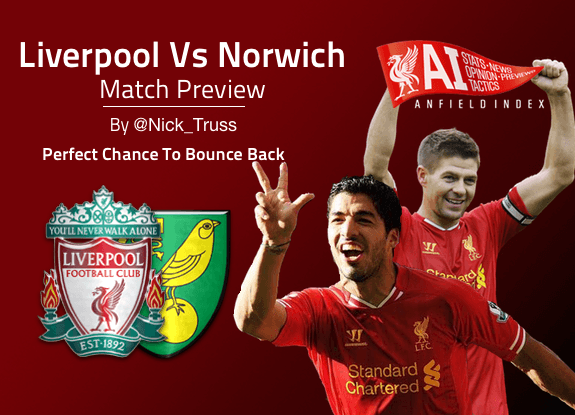 More Points
Liverpool have won more points against the same sides compared to last season. The table below shows Liverpool's fixtures and results from this season and the results from the same games last season, swapping QPR for Crystal Palace (20th place for Play-off Winner) and Reading for Hull City (19th for 2nd) The results are very pleasing showing that Liverpool had made a 3 point improvement from the 12/13 season.
4th Place
Despite the loss to Hull, Liverpool still sit in the 4th place in the Premier League, something which any Liverpool fan would have bitten your hand off for if offered it at the start of the season. Let's be realistic Liverpool have been out of the Champions League since the 09/10 season and after finishing 6th, 8th and 7th in the previous 3 season the challenge to get back on Europe's top table is getting increasingly difficult.
10 in 2
Liverpool managed to put 10 goals past Norwich last season and picked up a maximum 6 points from the 2 fixtures.  Liverpool played Norwich off the park over 180 minutes last season, attempting 1394 passes with an accuracy of 90% compared to Norwich making 638 passes with an accuracy of 72%. Liverpool made more passes in each game than Norwich did over the 2 700 and 694 compared to 638 from Norwich. Liverpool managed to make a total of 25 shots 14 of which were on target compared to Norwich's 14 with only 5 hitting the target. As mentioned earlier Liverpool scored 10 goals in the fixtures last year which is a goal every 18 minutes, Norwich managed a goal every 90 minutes scoring 2 goals in the first fixture.
Luis Suarez Loves Norwich
With Daniel Sturridge out injured it is down to Luis Suarez to lead Liverpool's attack for the next few games. Luckily for us one team Luis Suarez seems to love playing against is Norwich. The Uruguayan has scored 7 goals in his last 3 games against the canaries making them his favourite premier league opponent.
2 in a row
Brendan Rodgers has never lost 2 games in a row as Liverpool manager. Hopefully this trend can continue against Norwich on Wednesday. On the topic on Brendan Rodgers I know most fans are behind him and accept that results like Hull sometime happen and they are the reason why football is so amazing. However there are some people who seem to want Rodgers out because we lost one game we probably shouldn't have. This is a ridiculous overreaction, we've made the best start to a Premier League season in recent years and one bad result shouldn't question Brendan Rodgers ability to manage Liverpool Football Club.
The Line-up
Brendan Rodgers got this part completely wrong last time out against Hull City. Skrtel seemed rather uncomfortable playing as the left sided centre back and Moses and Sterling offered very little going forward which in turn resulted in Suarez coming deep to collect the ball and try to make something happen him. Wholesale changes are required for this game and after conceding 6 goals in just 2 game many fans are calling for a return of the 3-5-2, if this was another away game I would have selected this formation myself but at home I've decided to go with the 4-2-2-2 that was very successful against Fulham in our last game at Anfield.
I've only made 1 personal change to the back 4 bringing Sakho in for Skrtel to partner Toure in the middle, another change I have made is switching Johnson and Flanagan as Flanno could offer Liverpool more going forward playing on his favoured right hand side. Liverpool's midfield has been the talk of twitter over the past few weeks due to our inability to control games but there is unfortunately nothing we can do about our midfield personal until January so we will just have to deal with it, it could be worse, we could have Poulsen and Shelvey in Midfield. The midfield didn't seem to be an issue against Fulham maybe that was down to how poor Fulham were on the day but hopefully picking the same 4 against Norwich will harbour the same results. It seemed clear on Sunday that Suarez seems to excel when he has a strike partner, he obviously has the talent to lead the line but to get the best out of him and in order to give the Norwich someone else to think about I've decided to give Aspas a go. Aspas has had some rough treatment during his short time at the reds; however he has yet to have been given a chance in his favoured position.
Prediction
I am very optimistic about Liverpool's chances of bouncing back so much so I have swapped shifts in work so I can attend the game, so I hope I don't have to eat my words on Wednesday night but I'm going for a convincing 3-0 victory for the red men.