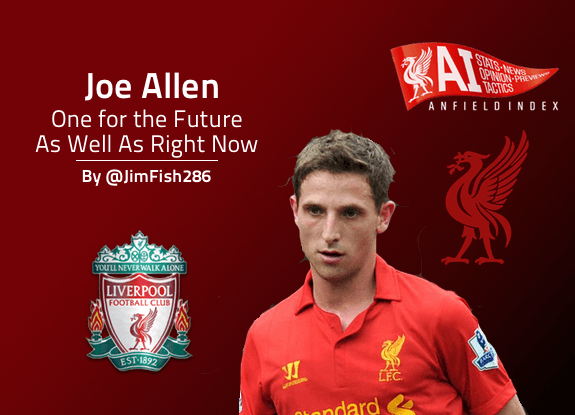 Joe Allen | One for the future, as well as right now
Wednesday 4th December 2013 was a great night for Liverpool Football Club and in particular for Luis Suarez. Four wonderful goals from the Uruguayan wizard and a very solid and professional job done by the whole team. Quite rightly, Luis Suarez went home with the Man of the Match award and all the plaudits.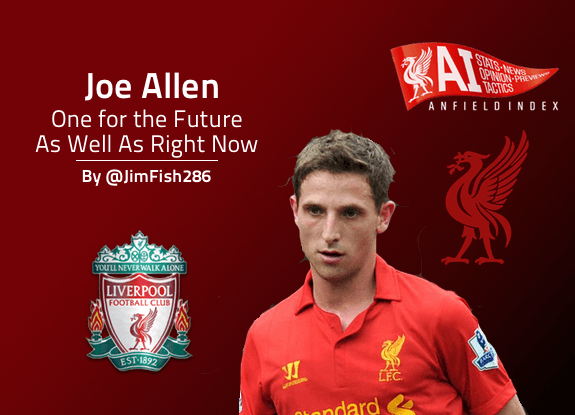 However, that match was equally as important for another Liverpool player. It was the match in which Joe Allen showed everyone that he is ready to return to Liverpool's first team.

Bouncing back from a largely disappointing first season was always going to be difficult for Allen but he has shown the same sort of tenacity that Jordan Henderson has shown in getting back into the team, and back into the good graces of Liverpool's fans.
They have some similarities in that they are both still young men, both moved for big money and both have been on the receiving end of fan criticism, even when it was far from merited.
Making his first Anfield start in the league in almost 12 months, Allen of course showed some nerves initially. There were some mis-placed passes and he got caught in possession once or twice but he didn't let that affect his performance and as the game wore on the Welshman was more and more effective as a force in the Reds midfield.
What Allen gives the Liverpool back four is an outlet when building from the back, Allen is hungry to receive possession and nearly always receives it on the half turn. That little half turn allows him to pass forward, backward and to the side. It is a skill that Lucas would do well to master to be as effect as Allen in the role just in front of the back 4.
Another aspect of Allen's game that Lucas could benefit from replicating is his movement once he has passed it.  He rarely passes it and stands still, he gives it, moves and is always available for a return pass. His movement and speed of passing makes the Liverpool midfield far slicker and less ponderous than it has been for most of the season to date.
When watching Joe Allen it is almost a glimpse into the future of Liverpool Football Club under Brendan Rodgers.
Rodgers wants 10 outfield players who are a comfortable in possession and can function as a unit able to press high up the pitch when Liverpool aren't in possession. Allen ticks both of these boxes.
Once he gets that then we will truly see the philosophy being put into place, Liverpool will control games and inflict "Death by Football".
Personally, I feel that that future is not too far away, the January transfer window is fast approaching and if Liverpool can only purchase one player, I hope it's a certain French defensive midfielder named Yann M'Villa.
If that deal goes through then Rodgers will have 2 options when setting his team up, both though will help to get the best from Joe Allen and Phillipe Coutinho in the central area of the field.
The teams are always up for debate and you can switch Gerrard into the team for Henderson and Toure for Skrtel but when everyone is fit, that's the style's and teams I would go for up until the Summer transfer window.
 Until then, Allen is a going to be key to helping our malfunctioning midfield perform a lot better than it has done thus far.
In the Norwich game Allen performed well, his overall pass completion was up at 89% and he attempted 34 passes into the attacking area of the field, 88% of those reached their intended target. Not bad numbers for a player who gets criticised for passing backwards too much.

But comparing those stats to the West Ham game and you will see a big jump in overall the number of completed passes, up to 92% and a jump to 92% final third pass completion rate (Norwich left and West Ham right).
His passing stats are impressive in both games but it's his work without the ball where he makes a difference. He has a knack of being in the right place to perform the block that Rodgers likes to talk about. In fact, in the West Ham game he did not make a single tackle.
He wins possession back quickly and even playing as the deepest midfield player he was able to win possession in the attacking third of the field against West Ham and that pressure led to the free kick for the second Liverpool goal.
Fast forward to Saturday's game at Anfield and Allen had made 2 interceptions, only been dribbled past once and won possession back 8 times, more than any other player in the side.
In both vital areas Allen had made a significant improvement in terms of stats and performance.
It's clear that Allen is a vital part of Brendan Rodgers' Liverpool vision and for Rodgers to succeed as Liverpool manager it is extremely important that we all get behind him as he moves the club forward and evolves the team and, more importantly, the midfield area.
We are a better team with Joe Allen in it and with the right players around him we should have a midfield to match our fantastic forward line.