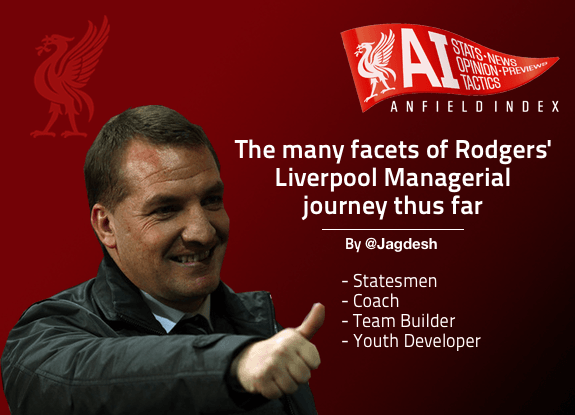 The many facets of Rodgers' Liverpool Managerial journey thus far
Brendan Rodgers is now coming close to the midway point of his second season as the manager of Liverpool Football Club. It's fair to say that this duration should suffice for most of the club's supporters, if not all, to ascertain what his strengths are and conversely what traits of his that haven't strengthened their confidence in him in rebuilding the great dynasty of Shankly.
Young, inexperienced in many ways to shouldering this responsibility, this is a job considered night and day to his exciting triumphs of making a club like Swansea a force to reckon with in the English Premier. Supporters and bystanders alike have witnessed a manager on a steep learning curve grow in stature as each games goes by, but also making naive mistakes as expected of someone new to the 'big league'.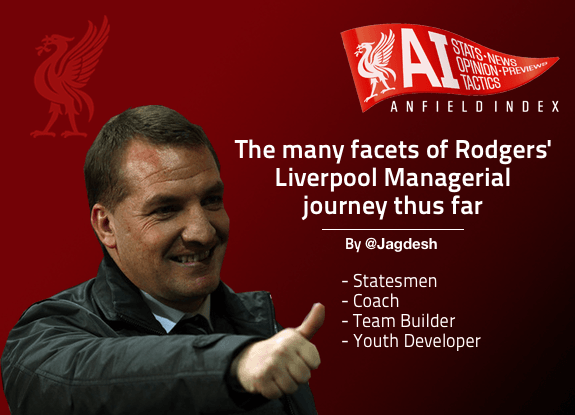 Here are some, definitely not exhaustive, facets of Rodgers as the manager that we can surmise from observations thus far.
The Coach
Rodgers was considered an inspirational coach in his early days as part of Mourinho's back room staff. The youth team from Chelsea Football Club was entrusted upon Rodgers, to be molded and trained. Apart from that, implementing coaching regimes for Jose's senior squad was also part of the job description.
This background provides Rodgers with a strong solid platform to be 'hands on' and personally conduct coaching exercises for his Liverpool team, with techniques learnt from being abroad. Somewhat familiar to Paiseley's physiotherapy background.
Being able to assess individual players based on these training sessions has seen players like Henderson, Downing and Enrique play ably for their specific roles. Not earth shattering performances, but still vast improvements on their performances under the previous regime.
This facet certainly gives Rodgers the edge over the other 'big club' managers that rely more on their back room staff coaches, including Rafa Benitez. We all remember the minor meltdown that occurred the season Pako Ayestran left, don't we?
The Tactician
Rodgers started his managerial journey at Liverpool with a philosophy that he intended to cast in stone. It didn't matter who the opponent was, the philosophy would see to it that the opposition would be neutralized and slowly but surely yield. 'Death by football' was coin phrased famously, passing and possession was paramount to success.
But this philosophy has taken a back seat, as Rodgers started to inject pragmatism into his approach to games. This evolved quickly to getting the best from his best players. This was very evident when the defense had to play deeper than ideal for the philosophy accommodating Liverpool stalwart Jamie Carragher. Another example is the current more direct approach rather than the patient strangling of possession to accommodate Steven Gerrard, who has played all games this season at time of writing.
This evolution and the lack of rotation implies that there is no specific gameplan for each individual opposition, as opposed to the mentality during the Benitez seasons. From the outset, it was a case of horses for courses. Each personnel hand picked to address the weaknesses of each player from the opposition, different formations for different objectives (to win or to draw), counter attacking instead of full on attack, closing down a game for the sake of achieving objectives, were all part of tactics devised by Benitez before games. Liverpool were notorious for playing differently at home and away in their famous European conquests.
Rodgers' Liverpool are now considered flat track bullies, having being tactically exposed by Wenger most recently. No, Bruce's Hull City had no tactics involved, rather pure luck playing with a demotivated and flat Liverpool.
There is much for Rodgers to learn with this facet of management, but, to be fair, there are signs of him trying out new approaches as the season rolls on.
The Youth Developer
Having been forced to play the likes of Raheem Sterling, Suso, Martin Kelly and Jon Flanagan early in his first season due to having a very thin squad, Rodgers' use of youth is encouraging. Although, it has to be said, he was forced at that time with little or no choice. But three of these players have featured recently, albeit to address injury woes but nevertheless his coaching skills have seen these players better themselves as their games rack up, notably Flanagan. The final member of the four, Suso, is currently turning in highly promising performances on loan at Almeria.
This facet, in fairness, works very well with his strong coaching abilities, working hand in hand with the academy coaches and it gives the youth players an opportunity flourish and provide competition for places in the senior team.
The Talent Identifier
It is fair to say that the burden of managing a scouting network which works based on the individual manager's requirements and budget has lessen considerably with Liverpool's much talked about committee has been in place. Still, the manager would need to ensure that the recommended player and corresponding talent would fit in his plans for building and molding his team. Prior to the committee being put in place, players that were within Rodgers' scope of familiarity, like Joe Allen, were bought in. The jury is still out on the summer 2012 singings but the ones that have come in recommended by the committee, from January onwards, have been extremely good value for money. If this committee setup is given a long lease of life, then this facet of Rodgers' management will piggyback more on his identification on what is required for the team, followed by assimilating the brought in talent into the team for maximum effect. More players like Coutinho and Daniel Sturridge can't be a bad thing.
The Team Builder
Creating a team ethos, getting each player to play effectively for the team rather than for individual glory, would seem to be something very fundamental for a manager. Yet many fail, especially when faced with larger than life characters in the dressing room. Chelsea, after Mourinho's first stint as manager, saw replacement after replacement, partly due to inability to control characters such as John Terry and Didier Drogba. The pressure to succeed in rebuilding an inherited team, injecting new players deemed better than ones inherited, further intensifies when the inexperienced manager is as young as some of the very influential players. Andreas Villas Boas didn't know what hit him at Chelsea as he was unceremoniously sacked for trying to take on Terry, Drogba and Frank Lampard.
Rodgers needs to be credited for making the two most influential players from past 3 regimes believe in his vision and mission. Both Carragher and Gerrard have played as instructed, have spoken glowingly about him, but more importantly he has convinced them to round up the troops behind him slowly. Perhaps Rodgers had practiced what he had learned under Mourinho during the early days as part of "The Special One's" coaching staff in Chelsea. You see, Mourinho's best card in his hand is the creation of an almost impregnable siege mentality amongst his players against all outsiders, at all times at fever pitch levels.
This bodes well for Rodgers' current and future teams.
The Statesman
Being a media darling doesn't get you far as a manager in today's environment. Success objectively does. There are exceptions like the current England manager. But it does help when the media isn't intent on driving the manager to the brink of leaving the country, let alone leave a particular club. It's also a double edged sword if you are the manager of Liverpool Football Club, with keen supporters who are very sensitive towards how the manager portrays himself to them versus the mainstream media. A lean towards what the media perceives to be right, might be very wrong for the supporters. This fine balancing act requires the manager to be almost Statesman like, something that becomes easier to pull off with age.
The young Rodgers started of of in his tenure as Liverpool manager by saying too much as he sought to please both the supporters and the media, but quite often coming up short in the eyes of certain supporters. He has learnt to be brief, although there hasn't been any crisis for him to weather through as yet. Only time will tell how Rodgers develops in this area.