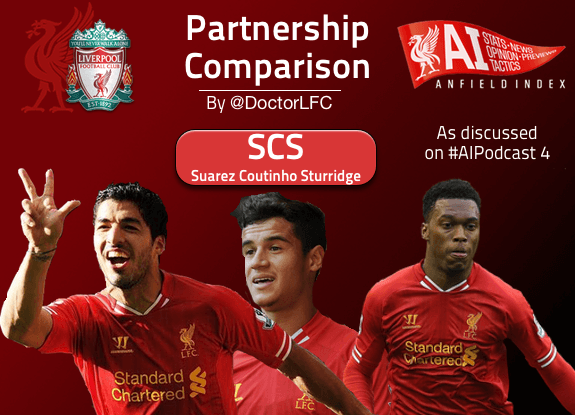 'SCS' Suarez-Coutinho-Sturridge | Permutations and combinations
(Please note that the article revolves around Luis Suarez, Daniel Sturridge and Phillipe Coutinho. Whenever I refer a group of players as 'the trio' or 'the three' I am referring to those three players. )
No matter which part of the world you're in or what time of the day it is, an hour prior to kick off usually brings anxiety, nervous energy, weird superstitions and social media chaos. Whether you're on your way back home from work, breaking your head over boring books in the library or lazing around on the big fat couch at home, the one question everyone tends to ask is, 'What's the starting 11 mate?'
Most, if not all of us have been as frustrated as headless chickens trying to find that cozy corner in a round room, with our players coming back injured from international duty.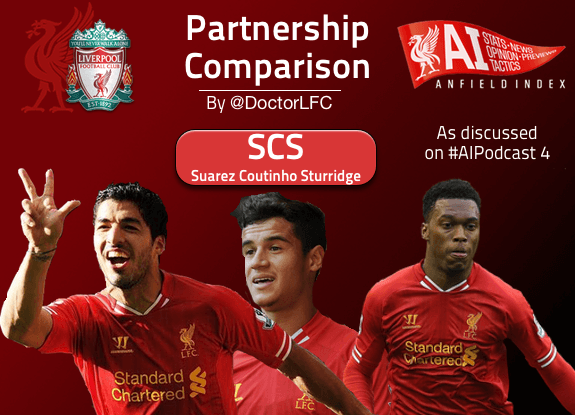 There were squeals of skepticism when we signed Sturridge (too selfish) and Coutinho (too lightweight for the English league). Such has been the impact of those two January signings that as the year has passed by, we've been waiting for the trio of Luis Suarez-Daniel Sturridge- Phillipe Coutinho to start games consistently. If two of them seem to create havoc, what potential does the trio hold?
The general sentiment when two out of them three are out injured is that the one starting will be devoid of support and supply. Does this common sentiment translate into equally disturbing stats and results?
The table compares data and pertinent stats in games when :
a) Only one of the three have started
b) Two of the three have started
c) All three have started
Although the sample size isn't huge (32 league games), considering that Sturridge and Coutinho were signed in January 2013, the difference in numbers is quite startling. The results follow suit.
Sturridge's niggles, Ashley Williams' hatred for Coutinho's shoulder and Suarez's affection for Ivanovic's flesh means that 'the trio' have started only 4 league games since we signed Coutinho in January end. The other end of the spectrum is quite similar with Rodgers being forced to start with only one of the three in 4 league games (since we signed Sturridge on 2nd Jan 2013). Either two of the three have started in the remaining 24 league games.
A devastating duo as important as the talented trio?
The Reds have lost only 6 league games since the turn of the year. The astonishing stat is that Liverpool have been defeated every single time they've have started with only one out of the three players (played 4, lost 4). Out of the remaining 28 games when at least two of them have started, the Reds have been defeated only twice!
As for points per game – Liverpool average around 2 points per game when at least two of the three start, the highest being 2.5 points per game when Sturridge and Coutinho start – followed by 2.14 when Suarez and Coutinho are in the starting 11.
The four games which have been lost when either Suarez OR Sturridge (without Coutinho) have started were against Manchester United (away), West Brom (home), Southampton (home), Hull City (away). In three out of these four games, Liverpool had one of these players come off the bench but it was a case of too little too late.
It is also noteworthy that the Reds have lost only one league game with Coutinho in the starting 11 (Southamton away 2012-13).
Goals Scored
As far as goals scored is concerned, the stats follow a similar trait as results and points/game. Liverpool have scored the least number of goals/game when only one of the players started (0.5) and the highest when Suarez and Coutinho started (2.85).
The other three combinations have seen the Reds score between 1.8-2.7 goals/game.
Shooting where it hurts the most?
When we take a look at the total shots and shots on target, our previous observations gain more mileage. Liverpool have attempted 21.5 shots/game when the trio have started together, more than any other combination. It wouldn't come as a surprise now that the number drops down to 14.5 when only one of the three start.
A similar trend is seen with shots on target – highest when the trio start (7.5/game) and least when only one of them starts (4.75/game).
Chance Conversion
Liverpool's average chance conversion (%) is quite abysmal when only one of the three start – 6.75% to be precise. Although the average chance conversion, when the trio start together (15.75%), is significantly higher, it is nowhere close to the whooping 22.7% conversion when the pair of Suarez and Coutinho start. The other two combinations – Sturrdige-Coutinho and the SAS average around 17-19% chance conversion.
Impact off the bench
Out of the three players we're analyzing, only Sturridge has scored a goal off the bench in 2013. In fact, he has done so on three occasions – against Manchester United and Chelsea last season and against Everton recently!
Data collection
The numbers stated above and the subsequent observations have been made based on 32 league games that Liverpool have played since Daniel Sturridge was eligible to play for the club (3rd Jan 2013). A little later, in that very transfer window, the little Brazilian wizard joined from Inter Milan. 11 months hence, it seems Brendan Rodgers and the transfer committee signed the two pieces that were missing from the attacking jigsaw. The frustration of creating umpteen chances but not finishing them off (2012) has faded away slowly but surely in this calendar year.
Conclusions
What we can conclude, for certain, from this set of statistics is that Liverpool have neither been lethal in attack nor have managed to grind out results when only one of Suarez/Sturridge/Coutinho have started a league game. 4 out of 4 defeats, half a goal a game and less than 7% chance conversion does not make a pretty reading.
The most re-assuring conclusion from this article would be that the Reds have coped very well when any two of the three have started. As exciting as it would be to have the trio fit to start games more frequently than they have been able to in 2013, as long as they have two of them fit and raring to go, Liverpool should be able to cope reasonably well.
Considering Sturridge's ability to score goals in crucial games after coming on as a substitute, if a situation arises in the future when he is only half fit, it wouldn't be foolish of Brendan to start with Suarez-Coutinho and have the option of Sturridge coming on in the final 30 minutes rather than having to be subbed off after 50-55 minutes.
It is fair to say that every row and column of that stats filled table yells out saying, 'These wise men hunt better in pairs than they do when isolated!'