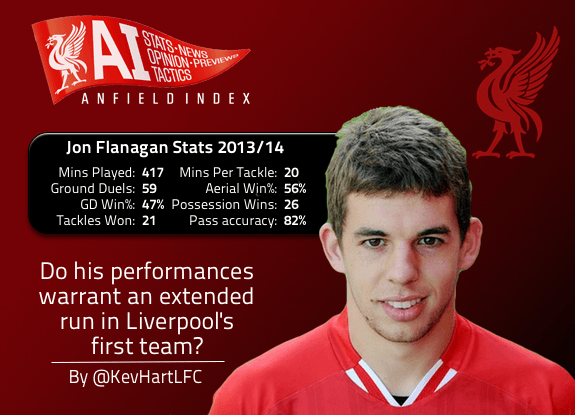 Jon Flanagan: Do his performances warrant an extended run in 1st team?
Jon Flanagan has been a regular in the Liverpool side ever since starting at right wing-back in the Premier League game against Arsenal in early November. Since then, Flanagan has been swapped over to the left due to Jose Enrique being ruled out after picking up an injury. The Liverpool-born full back has been putting in some solid performances ever since and has really impressed most supporters. Critics may have their own opinions on Flanagan but I for one am glad to see he has been given a chance in the side and has taken full advantage of it making a real impact in games, here I will assess Jon Flanagan's performances and give my thoughts on whether or not he should retain his place in the starting eleven.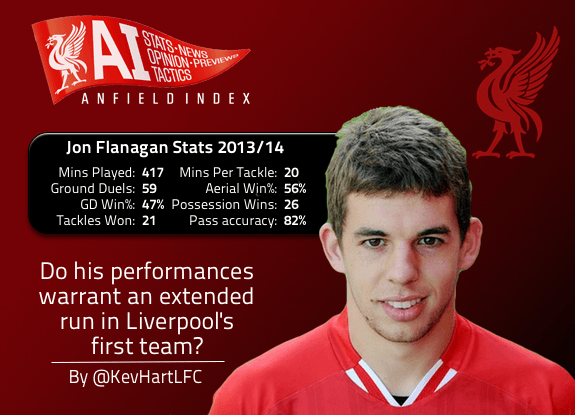 Jon Flanagan was originally brought into the side when Glen Johnson was forced out due to illness against Arsenal on November 2nd and like many others I was shocked at the choice and wondered what was going through Brendan Rodgers' head. Obviously Rodgers must have seen an improvement in Flanagan during training sessions and felt that he would be the right choice to fill in for Glen Johnson. Although we lost 2-0 and our defence was pretty sub-standard, Flanagan put in one of the best performance of his career to date and shocked the Liverpool fans. Flanno gathered 72% pass accuracy and amassed 39 passes, he won 100% of his aerial duels and made one successful clearance. Next game came Fulham and no sign of Flanagan in the side, but it wasn't a real shock with Johnson returning to the side and Enrique still fit.
Then came the Merseyside Derby, with Jose Enrique officially ruled out until at least February the hometown kid Jon Flanagan returned to the starting 11 at left-back and it was mixed feelings as to whether it would have been safer to start Aly Cissokho, who is more experienced, for this fixture. This game gave Liverpool fans the chance to see a side to Flanagan that nobody expected as he doubled the quality of his solid performance against Arsenal and treated the game like it was a Champions League Final. The defender played well under pressure against Evertons undoubtedly tricky attack and he made safe, short passes playing a tidy game and used his strength to go into dangerous tackles. Jon Flanagan had a tackle success of 88.89% and made an impressive 9 tackles overall, he finished the game with a 84% pass accuracy and made 31 successful passes.
After the game against Everton came a mundane and disappointing game against Hull in which no player deserved to be told they played well but Flanagan was one of very few players who put in effort to try and help us back into the game, although it wasn't to be. Flanagan carried on his impressive form and gave the Liverpool fans something small to take away from the match with an 86% pass accuracy and making 51 passes. He made 6 vital clearances that could easily have resulted in a goal had he not made them, he also finished the match with 67% of aerial duels won.
Next Liverpool needed some sort of redemption against Norwich and this fixture has previously never failed to produce goals, especially with Luis Suarez on pitch. Once again Flanagan played well and continued to impress, making key passes and throwing himself into tackles. He finished the game with an 86% pass accuracy, accumulating 37 passes and won 50% of aerial duels, he also made 6 important clearances. Flanagan took a few risks going forward and attempted 3 long balls, 2 of which were successful.
Finally we get to the West Ham game, Flanno was on top form as we beat the Hammers 4-1 on Saturday afternoon. Flanagan was making important tackles and passes that helped pick up the tempo and create multiple attacks. Flanagan came away from the match with 79% pass accuracy making 28 passes. The full back made one impressive cross-field pass that even Steven Gerrard would have been proud of. He made two clearances, blocked two shots and had 54 touches.
Personally, I think we should let Jon Flanagan carry on this run of form and hopefully he can develop into a player capable of a first team regular, whether it be Liverpool or somewhere else in the future. I believe he has the potential to become a first team regular and can contribute a lot to not only this season but seasons to come for Liverpool Football Club.