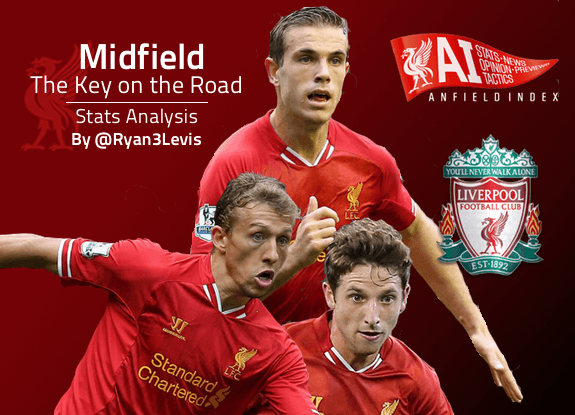 Midfield the Key on the Road for Liverpool | Stats Analysis
From the very first day we all got our hands on the season's fixture list, the run of three consecutive away games in December stood out as season defining right from the off:
Tottenham (Away),
Man City (Away),
Chelsea (Away).
Now that Liverpool are on the eve of venturing into this testing period, December's away days status as 'season defining' has only intensified due to Liverpool current high position in the league. For the first time all season, the top half of the Premier League is starting to show minuscule signs of breaking up from its compactness of the previous four months.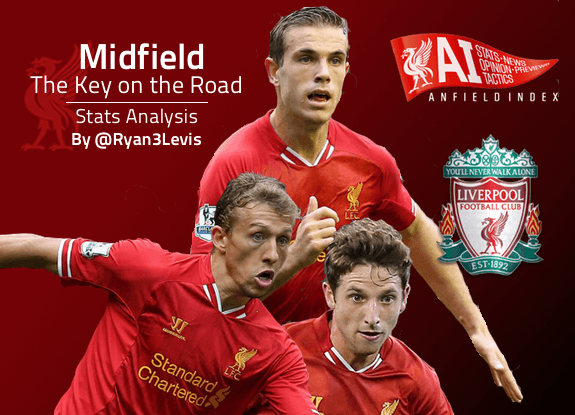 After three set of fixtures in seven days, a gap of 12 points has opened up from top of the league Arsenal to 9th place Manchester United. Liverpool find themselves in 2nd place, 5 points behind Arsenal, only 2 points ahead of Everton in 5th place and 3 points ahead of Tottenham in 6th. These margins of points may not seem significant initially but when you look at the fact Liverpool are to face three of their six main rivals within the next month all away from home, the opportunity to maintain, increase or decrease these gaps is completely in the balance.
In saying that, it is still a wonderful position for Liverpool to be in as they have, to a degree. punched above their weight for most of the season. Sturridge dragged the team to the top of the league in the early stages of the campaign before Suarez took over the reigns and kept Liverpool right in the mix.
However, now we enter the point of the season where Liverpool's next 3 away games will require more than one man's genius to keep the Reds in the Champions League places. This is the point where we can all begin to get slightly giddy about Liverpool's season or we come crashing back to earth. These are three incredibly tough away games where victory is unlikely in all of them.
However victory is certainly not impossible.
LIVERPOOL'S BIG DAYS OUT:
Looking back on all Liverpool's previous major away games under Brendan Rodgers, we get an understanding as to what Liverpool have done well and need to do differently in order to finally win one of these big away encounters.
Liverpool's major away games record under Rodgers is as follows:
Fig 1.
5 draws, 3 losses and 0 victories is not the record of a Top 4 team against their main rivals. However there is enough of a foundation laid in these games to see where Liverpool have been going wrong, what Liverpool have done well, and what the team needs to do now to progress.
It can be argued that all three of the 2-2 draws should have been Liverpool victories, and Liverpool have managed to score in seven out of the eight games, only losing by a margin of more than 1 goal, on one occasion. However the substance to these dropped points is a lot meatier than just luck. Effectiveness in the final third has not been near good enough in these big away games. Or another way to describe it, we have not been able to give Suarez the best possible platform for him to perform in these games.
Fig 2.
From Fig 2 above, we see how Liverpool have been competitive but rarely dominated in the big away games. Passing and possession are the fundamentals to the Brendan Rodgers way so therefore these should be the figures Liverpool should control during a game. From the eight games listed above, Liverpool had the majority of possession in four of them, greater amount of passes in four and a greater total of accurate passes in four as well.
However it is in the final third area of the pitch where Liverpool's figures begin to dip and therefore, this is where the problem lies. In only two games did Liverpool achieve more passes in the final third than their opponent, and only in three games were they more accurate in this area. The 1-2 defeat to Tottenham and 2-2 draw with Manchester City are the only occasions Liverpool completely dominate their opponent across the board.
What does this show? Well the first thing that stands out is the possession struggle Liverpool have when they visit Goodison Park and the Emirates Stadium. However what is also noticeable is how Liverpool are not able to dominate enough of these games in terms of possession and passing, which in turns creates more possession in the final third and helps Luis Suarez.
So then, how do Liverpool rectify this?
All eyes must lay firmly on the midfield for that answer.
Firstly, as long as Liverpool have their Uruguayan maestro on the pitch, the men from Anfield will always have a genuine chance of scoring goals and winning games. That is an inarguable fact and Rodgers' trump card.
However in Liverpool's previous eight major away games, Suarez has only managed to score 4 goals out of the team's total of 12. Based on the near Messi-esque levels (or is it Ronaldo-esque levels now?) he has reached recently, you nearly look at that 1 in 2 goals per games ratio and scoff at it as an underachievement.
Yet in truth, Suarez has rarely gotten maximum support in these big games. Liverpool have been unable to get either their midfield or strike-partners right for Suarez to revel alongside with.
Since Daniel Sturridge and Philippe Coutinho signed last January and became Suarez's most fruitful partners on the pitch, Liverpool have played five major away games, with Sturridge only starting three (yet still managing to score 4 goals) and Coutinho only one (the most recent game against Everton).
Amazingly – and annoyingly – we are yet to see the dynamic trio start together in one of these games; and we won't see it this Christmas either. This has to be a serious point of frustration for Brendan Rodgers, especially now that his alternatives won't include Steven Gerrard who is injured for up to six weeks. So therefore immediately, we all now know that complete reliance on Suarez in the frontline is yet again, our only option. This means it is of utmost importance that Rodgers maximises his midfield in order to give Liverpool their best possible shot during this difficult period.
CENTRAL-MIDFIELD CONUNDRUM:
Quite simply, Joe Allen and Jordan Henderson MUST start together. It's quite easy to say this knowing that there is little other options around currently but looking back on the list of major away games, it is something quite essential to happen.
Away to Tottenham last season, Liverpool played with a midfield three of Gerrard-Allen-Henderson and as a result, produced the best result in terms of possession, passing total and final-third passing of all the major away games under Rodgers.
Fig 3.
At the time, Gerrard and Allen were the regular partnership in midfield with Nuri Sahin just ahead of the pair. However none of the three had much energy to their game so with the inclusion of Henderson, the pressure-levels produced by Liverpool instantly rose.
This meant Liverpool now had the capacity to win possession in much more advanced areas and put pressure on dictating pocket-midfielders. So with Henderson's energy, Allen's composure and Gerrard's class, it is no surprise that this midfield combination produced the best results in terms of stats and figures. It is just a shame that our chances to see this other worthwhile trio of Liverpool's have been extremely rare over the past season and half also.
The only other time Henderson and Allen would play together in a big away game would be in the Merseyside derby this year. However the figures were not as impressive here largely because Henderson and Coutinho played a wide role to counter Everton's full-backs. Therefore it is surely a priority of Rodgers to get both these players back central in order to regain control?
Whenever Henderson and Allen are in the middle, Liverpool's ball retention in the opposition half goes up. With Allen sitting in the pocket and Gerrard and Henderson on either side of him this past week against Norwich and West Ham, Liverpool were able to dictate games comfortably.
Fig 4.
Therefore it is a great shame Gerrard is injured and Lucas must come in, meaning a significant reshuffle of the midfield pack.
Against Arsenal and Everton this season, Lucas sat on his own in the pocket with Gerrard and Henderson/Allen on either side of him. It didn't work as Liverpool lost heavily in terms of general passing and in the final third.
Fig 5.
Lucas is a partnering midfielder. He does not have the positional capacity or passing range to dictate a team of Liverpool's calibre from the centre on his own. To put it quite simply, he is neither a Mascherano nor an Alonso. His willingness to chase and hunt the opposition works in games of lesser standard however in the big games, the better midfielders punish him for his waywardness and rashness.
Therefore one would expect Joe Allen will need to sit alongside Lucas in the big away games, with Henderson ahead of the pair alongside Coutinho. It may be an extremely narrow set-up but, in order to get any control against three of the best midfields in the league, it needs to be done.
Fig 6.
Liverpool are not in an ideal situation having both Sturridge and Gerrard sidelined for these crucial upcoming games. However with the current form of Luis Suarez, the team may not need to necessarily outdo their maximum figures in these games, but just do enough to get him the half-chances he needs to produce his magic. A compact midfield four of Lucas, Allen, Henderson and Coutinho should have just about enough to do just that.
December will be a huge test of character for the entire team. However with a January transfer window looming and the return leg of these games all to be at home in the second half of the season, surely that's enough of a carrot for Rodgers' side to grind their way through this Christmas period.
Hopefully this all starts on Sunday at White Hart Lane by doing something Liverpool haven't done yet under Rodgers: win a big Premier League away game.