Neil Poole ponders Liverpool's habit of falling asleep away at Tottenham Hotspurs and how it has led to nightmare displays.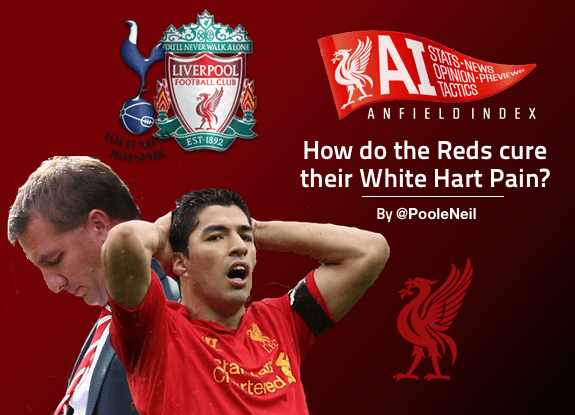 I had a bad dream last night.

I was being chased by a 30 foot cockerel down the High Road towards Seven Sisters tube station. It had a booming cockney voice and it was mocking me as I ran away. "TWO ONE, TWO ONE, COCK-A-DOODLE DO". Just as I was about to get away my mind wandered and in the moment of distraction a giant clawed foot stamped down on me.
Strange dream. Not sure why I had it…
Anyway, onto the article. Here's how we've got on in our last 5 away league games against Tottenham Hotspurs:
2012/13: 2-1 defeat
2011/12: 4-0 defeat
2010/11: 2-1 defeat
2009/10: 2-1 defeat
2008/09: 2-1 defeat
Yes, our form at White Hart Lane is that harrowing. Throw a pre-bedtime feast of cheese into the mix and the subconscious lays bare the stark truth. I'm understandably suffering a dose of fan anxiety when it comes to Sunday's game.
 The pain incurred at Spurs is actually more endemic and longstanding than you may realise. Over the last 15 seasons we've only won at White Hart Lane 3 times in the league. We've drawn 2. We've lost 10.
The fact that 7 out of 10 of those defeats were narrow 2-1 losses is indicative of the fine margin which has existed between the two teams in recent history. It's also what makes it so galling. If the two teams were miles apart and our seasonal defeats were to Barcelona you could at least rationalise the regular losses. Similarly, if they were a classic bogey side, such as Birmingham you could put it down to the quirk of football's well-rehearsed script that there will always be a 'lesser' side who inexplicably will frustrate.
But when it comes to Spurs away, it's a veritable Bogey Wonderland of near misses. Why on earth is a team that we are evenly matched with able to consistently squeeze these results past us when playing in their own back yard?
Concentrating on the last 5 seasons specifically, those defeats occurred under 4 different managers each which his own tactical approach. It's therefore difficult to simply pin it down to the reoccurrence of a tactical trend. Furthermore, many players have come and gone in that time so while there's a few reoccurring faces, each team that played those games have had different things to offer on the field of play.
However, start looking at the details of those games and it becomes apparent that the source of Liverpool's White Hart pain is a startling habit of poor concentration bordering on unconsciousness.
I'm not sure if it's the banal, hypnotic drone of that nauseating slow version of 'When the Spurs go marching in' that their fans collectively sigh that does it, but when the Reds step out onto that pitch they have an alarming tendency to switch off at any of three crucial periods in a game: Either the beginning, the end or straight after a goal has been scored.
In the last two visits to White Hart Lane we have conceded a goal in the 7th minute. . Indeed, last year we were 2-0 down following a Bale free kick and desperately chasing the game after only 16 minutes.
Back in the 1990's when David 'Calamity' James was our goalie he blamed his poor concentration and error strewn ways on his addiction to playing his Nintendo Game Boy. For those younger readers this was a hand held gaming device that you had to put a cartridge in and had a green screen because colour hadn't been invented yet. True.
I'm convinced Spurs' ground staff scatter Gameboys across the pitch just before kick-off. If you looked closely at Lennon's tap in from a Bale cross last year or Modric's curling effort from 25 yards the year before, you'll clearly see that most of our team are playing Tetris.
If we're not asleep at the beginning of the game you can guarantee all that running around means we'll have a little snooze towards then end.
We got off to a flying start like in 2008 when Kuyt scored from a tight angle in the 3rd minute. But after conceding the equaliser in the 70th minute we've lost it at the very end when Pavlyuchenko scored Spurs' winner in the 90th minute.
In 2010 Lennon bettered this by sealing a Spurs win with a goal two minutes into injury time.
Adebayor was later still in 2011 when he bagged Spurs' fourth goal in their mauling of us with the very last kick of the game.
In 2009 we were so happy with 56th minute Gerrard equaliser which cancelled out Assou-Ekotto goal that we failed to notice Bassong sticking Spurs' eventual winner in the back of the net three minutes later.
Add to all this a Carragher own goal, a Skrtel own goal, some Pepe Reina errors and red cards for Skrtel and Charlie Adam in the last five seasons and it's clear that travelling 200 miles close to the equator causes the brains of Liverpool layers to melt.
What a depressing, defeatist piece of shit this is I hear you say!
Don't worry kids. If the last week or so has shown us anything, it's that this is a winter to end our discontent. Both Everton and Newcastle ended years of suffering away at Old Trafford winning for the first time since 1992 and 1972 respectively. Similarly Hull beat us for the first time in their history a week last Sunday. Our record against Spurs is a drop in the ocean compared to these. There's no reason why it can't be overturned as well.
For me, winning this game is all about our mind-set. I'm not sure of the exact reasons for lapses in concentration at White Hart Lane, but surely simply knowing that this has been a fatal flaw over the last 5 years is enough to at least focus minds and make a concerted effort to avoid the same mistakes.
Spurs are not firing on all cylinders and are our direct competition for a Champions League spot. We must approach this with the same intensity as we would a game at Goodison Park or Old Trafford. We need to lay down a marker now and beat one of the bigger sides away from home. Other teams are doing it. We must start to.
Normally, the way to help cure an illness is to get plenty of rest. But in this case, if Liverpool want to put their anaemic performances to bed they must do the opposite. They need to acknowledge what has caused the five year hangover, work their bollocks off from the first minute to the last, and sweat the toxic results out of their system.
Maybe then, the giant Cockerel will leave me alone.