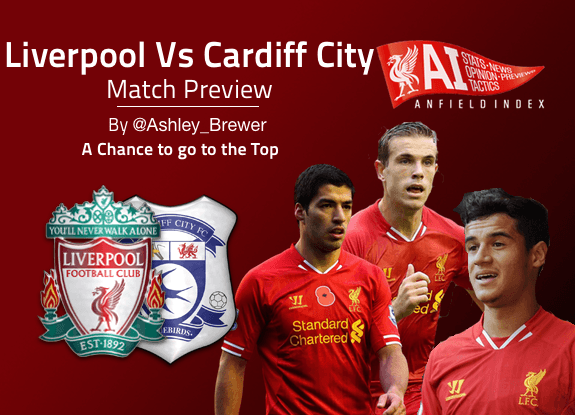 Liverpool Vs Cardiff City | Match Preview

Following a very happy trip to the nation's capital last weekend and Luis Suarez signing a long term contract, Liverpool will host Cardiff City at Anfield in Saturday's lunch time kick off.
It will be the first time since 19th December 1959 that the two sides have met in the league at Anfield, which happened to be the first time a certain Mr Bill Shankly took the reigns of his new team since moving from Huddersfield Town. Unfortunately for him, it wasn't a fairytale start to his managerial career with the Reds as the visitors travelled back to Wales with a 4-0 victory.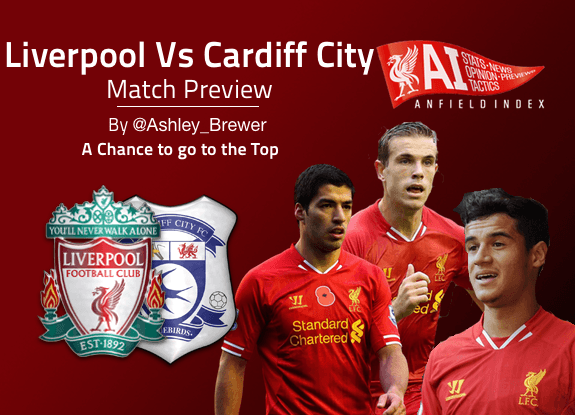 Liverpool go into this game in fine form after winning their last three games against Tottenham Hotspur (A), West Ham United (H) and Norwich City (H), scoring 14 goals and conceding two in the process, in what has been a terrific reaction to their 3-1 defeat to Hull City at the KC Stadium.
Cardiff also come into this game on the back of a win against West Brom Albion – which led to the dismissal of ex-Liverpool assistant manager, Steve Clarke.
Prior to that win though, the Bluebirds had failed to win in five games, losing three to Crystal Palace, Arsenal and Aston Villa, as well as drawing 2 against Stoke City and, perhaps more admirably, Manchester United.
The latter result makes me think that they will not be as easy to dismantle as Tottenham were on Sunday, with Malky Mackay's men proving to be tricky customers when they want to be, having also drawn with Everton, as well as defeating Manchester City.
However, those results came at home, whereas on the road they have not looked as solid, with the travelling support failing to see their side win since the back end of September, when Cardiff beat Fulham at Craven Cottage.
Starting Eleven
As you can see, I have predicted that, unless there are any last minute injuries, Brendan Rodgers will select the same starting eleven he did for the game at White Hart Lane.
Also you can also see, from all of the white arrows I have gone crazy with, the emphasis will once again be on the passing, pressing and movement of the midfield duo of Joe Allen and Jordan Henderson, as well as the obvious influence of Luis Suárez.
In Cardiff's victory over Manchester City, two of the goals, both scored by Frazier Campbell who has only scored three all season, came from corners, so I think our defensive duo of Martin Škrtel and Mamadou Sakho will have to be at their best to nullify any threats from set pieces – especially the threat of Whittingham from any dead-ball situation.
As Spurs defended with a high defensive line, the Liverpool attacks ability to play through balls via the likes of Henderson and Philippe Coutinho was devastating, but in this weeks Anfield Index podcast (which you can listen to here), Cardiff fan, Jed Davies, told the lads that he expects Mackay to play with a much lower defensive line, allowing the home side to keep the ball without much pressure until it is in and around their penalty area, hoping to catch Škrtel, Sakho and Simon Mignolet napping at the back and score on the counter.
After scoring his first ever league goal for the club, I fully expect Rob Flanagan to make the first team yet again, playing at left back with Glen Johnson on the right, with both getting into attacking positions, which of course, will provide Cardiff with even more space to exploit if they are able to attack on the counter, meaning that Lucas Leiva's positioning between the defenders will become vital to breaking down attacks from the visitors, as will Henderson and Allen dropping back and pressuring the ball, the latter won the most tackles in his last game, with 8, despite being half the size of his opponents in midfield.
Raheem Sterling was also brilliant defensively and offensively, recovering the ball seven times, created two chances and scoring the fifth goal of the game, and hopefully he will be able to continue his fine turnaround in form.
Then there is Suárez – With 17 goals in 11 games this season, he'll once again be central to everything Liverpool do, not only scoring goals but being heavily involved in creating goals for others, after picking up two assists last weekend, and defending and pressuring from the front.
Cardiff of course have some key players of their own, especially in the likes of summer signings Steven Caulker and Gary Medel.
The before mentioned Jed Davies mentioned that, unlike most promoted sides, Mackay looked to bring in players who would not only improve the squad, but would also fit in his football philosophy, and in these two he has definitely done that.
To add my own thoughts on that subject, they are also two players who are hungry to make their name and get game time, rather than like in the unfortunate case of QPR, buying players coming towards the end of their career who want a final pay day.
Another signing who has looked solid enough is Kévin Théophile-Catherine, who has made the second most tackles for the side with 2.3 per game on average – 0.1 behind Medel, who has made 2.4 tackles per game. The Frenchman and Chilean international have also made the most interceptions for the side, with the former making 1.9 per game, while the latter makes 2.1 per game.
Liverpool will also have to look to stamping out Peter Whittingham's influence, who is the side's leading creator of goals, with three assists and creating 1.5 chances per game.
Conclusion
As mentioned, I do not see this game being a stroll in the park, especially after the Hull City defeat, in which the Reds were very complacent despite the fans being confident of a win, and like Hull, Cardiff also have an ongoing war with the clubs owner, Vincent Tan, who is trying to tear up history and create a brand new football team which will be more marketable, especially in the mystical Asian market.
Games against Cardiff City have never been a walk in the park when the two sides have met each other in recent cup games, culminating in the 2011/12 League Cup final, which ended 1-1 in normal time, and then 2-2 in extra time.
History also goes against the Reds when you look at the head to head record, with Cardiff boasting 16 wins over their upcoming opposition, while Liverpool have only beaten them nine times.
However, Rodgers will be eased by the fact that the Bluebirds have failed to win consecutive top flight league games since April 1962.
Predicted result: 2-0.
You can also listen to our podcast by using the player below!