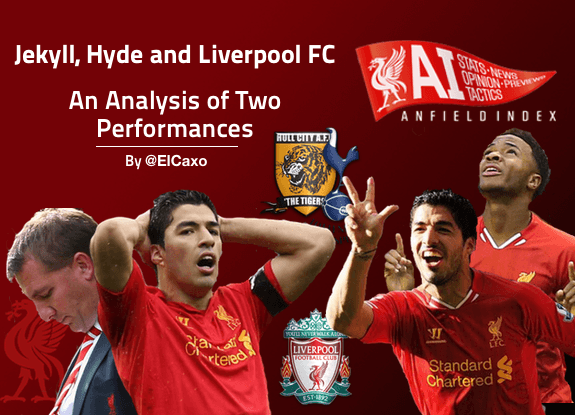 Jekyll, Hyde and Liverpool FC | An Analysis of Two Performances
When the fixture list was revealed at the start of the season, December was always going to be a difficult month for Liverpool and the plan was clearly to secure points in the preceding weeks allowing the Reds to maybe drop harder ones at Spurs, Man City and Chelsea around Christmas. As we got closer to this important run, losing 3 – 1 to Hull and then demolishing Tottenham 5 – 0 probably aren't two results any expected. There were only three changes between the two starting elevens but each one came in defence, midfield and attack. As well as this, Rodgers changed his formation to a more midfield-centric 4-3-3 in order to combat Spurs supposedly excellent midfield. Two away games against, at least on paper, two teams that are quite vastly different in quality. What a difference a few players and a few weeks make!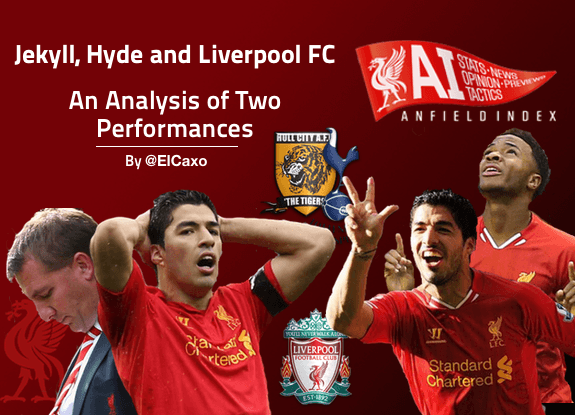 DEFENCE
Against Hull Liverpool were very much out of sorts in defence. Martin Skrtel was moved over to an obviously uncomfortable left sided berth in order to accommodate Kolo Toure who hadn't start a game in a month. The two centre-backs had started 5 games together season in the 3-5-2 formation but it didn't show at all against Hull; a lack of communication and understanding shone through. Skrtel seemed to want to take over Agger's role of bringing the ball out, something he's clearly not suited too. Neither seemed to know whether to stay or go. Glen Johnson had a pretty off day over all as well which only made matters worse. Brendan Rodgers appeared to have just got it wrong against the Tigers.

The Tottenham game however was a different story. Skrtel was moved back to his favoured right side and played in a very no nonsense fashion; he looked much more assured. Mamadou Sakho replaced Toure and looked unflappable when called upon. Glen Johnson again didn't have a fantastic game but Raheem Sterling's huge improvement made him look better than against Hull. Flanagan was beaten by Lennon a few times and I don't think he's a future first teamer for Liverpool FC but his goal was a fantastic cherry on the cake for the team and he performed well for the majority of the game.
The key change was clearly the centre back pairing, Rodgers just made the wrong choice and paid for it. On another day Skrtel wouldn't have deflected in an own goal and it might have been closer at the KC Stadium.
MIDFIELD
Gerrard and Lucas as a holding combination doesn't really work and especially didn't against Hull. Gerrard is too immobile now and doesn't track nearly enough after he bursts up field. Lucas also looks much less confident when left too do the job of two men. When paired with Allen against Spurs he looked rejuvenated and focused. With the Welsh international next to him to share the defensive load and help distribute the ball he was able to contribute rather than being overwhelmed. I'm not saying Gerrard should be dropped permanently but Lucas and Allen worked very well together. Lucas' made more interceptions than tackles against Spurs rather than the other way round at Hull. Allen allows him to play more tactically rather than just attempting to break up attacks cynically after Gerrard has left him high and dry.
Henderson's performance can't really be understated either, so much so that I'm giving him an entire paragraph. The young England international is clearly one for the big games, just look at how he performed at the Emirates last year. He very effectively and repeatedly managed to break in behind Spurs high line which resulted in Suarez's opener and his own goal. It seems his engine cannot be over-estimated.
ATTACK
Quite frankly, Moses and Sterling completely deserved to be dropped after the Hull game. The pair were completely lacklustre and generally seemed as if they didn't want to be there. Coutinho played 27 passes in the 24 minutes he came on for compared to Sterlings 14 in 66. Similarly Luis Alberto played 20 in his 16 minute cameo compared to Moses' 32 over the course of his 74. Obviously passes aren't everything but this clearly shows the level of involvement and desire from the starting wingers. Suarez repeatedly had to come deep to collect ball due to lack of service.
Sterling was obviously much improved against Tottenham, constantly showing his tenacity and the movement inside for his goal was fantastic. He had Kyle Naughton so deep in his pocket that the Spurs left back had to be substituted after just 45 minutes. Sterling doubled his amount of passes from 14 to 29 and made the joint second most tackles in the side. His overall contribution to the team improved massively and credit must go to Brendan Rodgers for showing faith in the young winger.
The return of Coutinho against Tottenham brought much needed balance to the side that lost at Hull. Victor Moses can be useful with his directness but can't match the Brazilian for guile and inventiveness. His ability to control and turn past almost every tackle is magnificent. Even though he had one of his worse games in a red shirt he still added exactly what we lacked against the Tigers.
OVERALL
Steve Bruce fielded 3 central midfielders against us with Koren playing just behind Sagbo. This meant Lucas and Gerrard were overrun in the centre of the park and Koren could drop back onto one of them in possession or push up with Sagbo to press our centre-backs. The deep back line that Hull played meant Suarez had nowhere to run into but he still received a pitiful amount of service.
Three in midfield to counter Paulinho, Sandro and Dembele gave a much more stable base to the team as a whole. We were lucky to see Sandro, Spurs deepest midfielder, go off injured which leaving more room for Henderson to move into and Coutinho could drift inside more. I fail to see why Paulinho played as a centre attacking mid rather than a box to box or holder especially when Tottenham have Eriksen in the wings who would have given us much more to worry about. AVB played a high line much like against Manchester City and they got the same treatment when facing us. Michael Dawson is too slow to chase down the likes of Suarez or Sterling. Again, we were fortunate that they had an untested partnership at the back with one half a midfielder but I'm very happy that we fully exploited it rather than wasting the opportunity.
A pair of Jekyll and Hyde performances from Liverpool, here's to hoping we see a bit more of the Doctor against Chelsea and Manchester City!