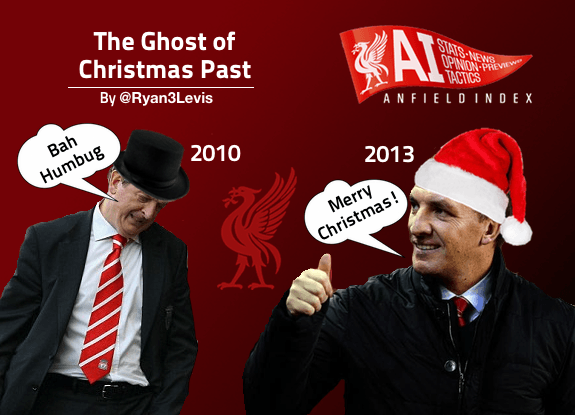 The Ghost of Christmas Past | From Hodgson to Rodgers
'Tis the season to be jolly.
Jolly that the Brendan Rodgers era is starting to move through the gears. Jolly that the cynicism that has plagued Liverpool over the past 3 years is starting to eradicate. Jolly that we have a set of owners who put their neck on the line for a striker that is beginning to knock on the door of the Messi-Ronaldo banquet.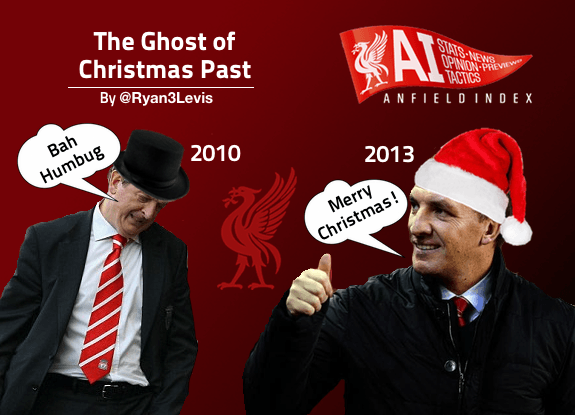 However it also the season to be thankful. 3 years ago, our Christmas dinner and mulled wine was sandwiched in between a 1-3 away defeat at Newcastle, and a 0-1 defeat at home to Wolves. They were truly harrowing times with very little cause for festive cheer or happiness at the prospect of a new year.
Roy Hodgson was in town ladies and gentleman, and by god he left his mark.
Fig 1. 
"But inconsistency has dogged both these mid-table sides this season, with each starting the game on 25 points, and Liverpool showed their incredibly flaky nature by losing their momentum almost immediately."
I didn't see Hodgson's last game in charge of Liverpool when the team lost 1-3 away to Blackburn. However what I do remember is reading this harrowing article on the match the day afterwards. It is forever etched into my mind all because of four words: "both these mid-table sides".
If that sentence isn't enough to send a cold shiver up your spine this Christmas then nothing will.
Liverpool had fallen drastically. The Hicks and Gillett poison was still oozing through the club and Hodgson provided little antidote for it. It was a desperately hard time to be a Liverpool supporter as we fought bitterly with each other over what our club was becoming.
Christmas had never been so bleak.
Hardly a surprise after that introduction but I am not a fan of Roy Hodgson's style of management. However when he first arrived at Liverpool, I too fell for what every other fan simultaneous did as well; belief that Hodgson would bring stability and sturdiness to a sinking ship. When Hodgson was appointed England manager, I remember suffering from a serious case of deja vu as every English non-Liverpool fan fell for the exact same CV-spun, nice-man syndrome, prospect of Roy Hodgson.
Yet just like 3 ago, Hodgson walked into a job above his talent grade as a manager.
WHEN THE NIGHTMARE BECAME REALITY
I can pinpoint the exact moment where my feelings towards Uncle Roy began to turn sour. It was our second game of the season and we were away to Man City. That night, we got pulverised 0-3. Yet it wasn't the fact we were well beaten on the scoresheet, it was the fact we were so negative and uninspiring to watch. That night we sat so deep we might as well of stayed in Merseyside while we left Torres isolated up top, just chasing hopeful punts from Reina and Carragher.
The season carried on like this, no matter who Liverpool played, Hodgson would line out a team that's main aim was to be hard to beat. Whether it was Man City or Northampton, we were going to set-up with two lines of 4 when defending and let the opposition have possession. What Hodgson was hoping to achieve was that Liverpool would manage to block every avenue that led to Pepe Reina and hit the opposition quick on the counter-attack. It was a simple ideology and one that is better suited for teams like Fulham and West Brom.
You just simply cannot deploy these tactics to a team that has ambitions of winning trophies on a consistent basis. No matter how desperate times get for Liverpool Football Club, it is near impossible to envisage a time where just mid-table stability would be enough to be deemed successful. Under Hodgson, it was hard to imagine any other path possible to be taken so hence the outcry for change from the majority of our supporters.
And to set the record straight, it had nothing to do with Kenny. Roy was just simply not good enough. For people to make the comment that he had the rug swept from under him due to an emotionally-driven coup for the return of our king is simply ludicrous, naive and wrong.
Hodgson crumbled under the pressure of a disgruntled support base who demanded better. For everyone who has compared Hodgson's Liverpool record with Dalglish's, they need to look beyond the figures and watch the games and see the genuine and obvious differences between the sides. For all the teams fault in 2011/12 and 2012/13, Dalglish's Liverpool and Rodgers' Liverpool were a lot more adventurous and attack-minded than Hodgson's.
Fig 2.
Fig 2 above portrays perfectly the comparison and contrasts between Hodgson and Rodgers in a vital away game at White Harte Lane around the same time in their respective seasons. In the dangerous areas of defence, midfield and attack (as listed above), the 2013 Liverpool were much more dominant with possession, successful with their tackles and vastly superior in creating genuine chances.
During the Christmas of 2010, I never felt like we could go on and succeed at the level we desperately desired as Hodgson wasn't brave enough to make compromises to his conservative policies.
So when Roy stepped into the England job, it was immediately obvious that the FA had felt the need for the Hodgson safety net, just like Liverpool in 2010.
However what England needed was someone who would have been adventurous and revolutionary with picking the squad. They needed someone who was willing to take risks and to be bold in their decision making. Liverpool needed someone like this too in 2010. However circumstances in the board made this almost impossible. Roy Hodgson was the perfect hassle-free type of manager for the cowboys to appoint as they went about their main business in destroying the club from its foundations.
Thankfully, those days are in the past now. As we cuddle up by the fire and drink eggnog while watching a revitalized Liverpool travel to the Eithad Stadium on Boxing Day, we can rest easy knowing that the ghost of Christmas 3 years ago are well and truly vanquished.
Thank you Santa.
Thank you Brendan.