Episode 6: Top Of The League At Christmas
Date: 24th December, 2013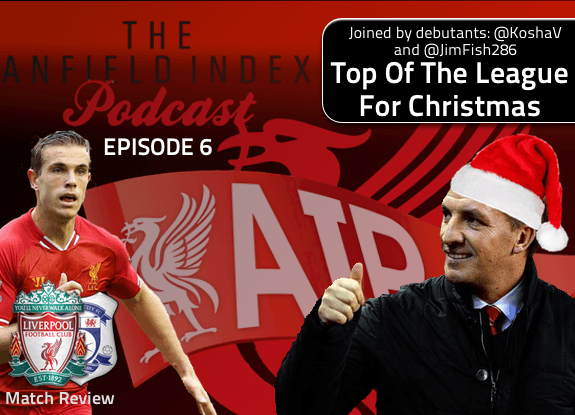 Top of the League for Christmas! The team review the Cardiff game and have stats for Sterling and Henderson's form. Suarez's contract is discussed as well as previewing the two massive games over Christmas with Manchester City and Chelsea. The group finally talk about the impressive Philippe Coutinho also!
The normal team are joined by two debutants: @JimFish286 and @KoshaV. @JohnRitchie84 is the host as usual, @DaveHendrickTLW takes over scouting the opposition and @AnfieldIndex is the statto from the week! All this and more on the AnfieldIndex Podcast!

Download on iTunes
(Only subscribers will receive new episodes immediately)
Host: @JohnRitchie84
Guests: @AnfieldIndex, @DaveHendrickTLW, @JimFish286 & @KoshaV
You can listen to the podcast by using the embedded player or you can use the links beneath it.
Listen to this podcast episode | Download this podcast episode (right click and save)