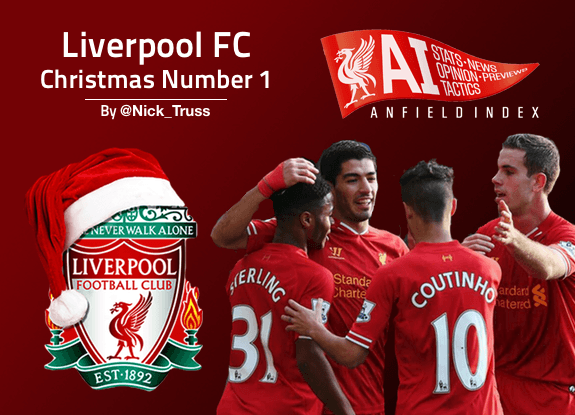 Liverpool FC: Christmas Number 1

First of all I would like to wish you all a very Merry Christmas from myself and the rest of the AI team. I hope you are enjoying reading this on your shiny new devices or on your trusty old ones.
Brendan Rodgers and Liverpool have given the fans the best Christmas present that they could ask for. Liverpool are top yes TOP of the league at Christmas and in this article I will be looking back on the season so far and how Liverpool have managed to find themselves on top spot.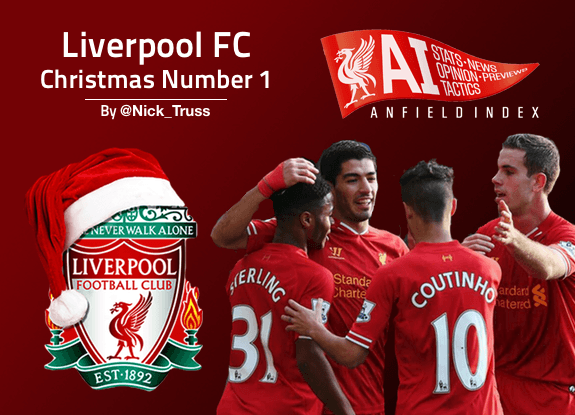 First of all let's take a look at the league table as it will stand on the 25th December 2013
Okay so its close only 2 points separate the top 5 and this season of the Premier League has been touted as the most crazy in recent times if ever, but Liverpool still top the pile so let's enjoy it. Comparing it to the table at Christmas 2012 shows just how far Liverpool have come in the space on 12 months.
At this stage last season we sat where Manchester United currently sit in the Premier League table so we all know how they must be feeling now so let's go easy on them… Actually no let's all laugh at Manchester United! Back onto Liverpool, Rodgers' team have made an 11 point improvement in this period from 12/13 to 13/14 and have played 1 less game, by doing this Liverpool have jumped up 7 places to 1st in the table. Liverpool have scored 15 more goals and conceded 4 less increase their goal difference by 19 goals.
After scraping through the first 3 games of the season with 1-0 Sturridge wins Liverpool dropped their first two points of the season away to Swansea following that up by what many fans suggested to be one of the worst performances at Anfield in a 1-0 defeat to Southampton the following week. Liverpool hadn't scored a goal in the second half before the trip to Sunderland but the fantastic Luis Suarez ended that curse with an easy finish at the back post in the 89th minute. After beating Crystal Palace in the first half at home, Liverpool travelled back up to the North East to draw against 10 man Newcastle.
Following this Liverpool demolished a team who took 6 points from the reds in 12/13 a Lukaku-less West Brom. The next game was arguably Liverpool's biggest test of the season travelling down south to the Emirates to face top of the table Arsenal. Arsenal had surprised at lot of people with their start to the season, with Aaron Ramsey particularly impressing. The before mentioned Ramsey scored a cracker as Arsenal went on to beat the Reds 2-0. Following the defeat to Arsenal, Liverpool picked up their first clean sheet in 7 as Fulham were dispatched 4-0 at Anfield.
Onto the Merseyside derby, David Moyes had gone, Roberto Martinez had come in and replaced 'Moyes-Ball' with expansive, passing, attacking football, the game had all the makings of a true classic and it certainly delivered, the game finished 3-3 in one of the best Merseyside derby's in Premier League history. Philippe Coutinho opened the scoring after 5 minutes only for Kevin Mirallas to equalise 3 minutes later. Luis Suarez restored Liverpool's lead with a stunning free kick on 19 minutes a lead which Liverpool took into half time. On the 60th minute Joe Allen was through on goal with himself and Suarez 2 on 1 with Tim Howard. Howard thought Allen would play the ball to Suarez so moved to his right leaving Allen with a near open goal, but disaster struck when Joe Allen slotted the ball passed the post. This miss gave Everton new belief and they had probably been the better side all game. The man who had haunted Liverpool for West Brom in 12/13 Romelu Lukaku was back and equalised in the 72nd minute before going on to put the blues 3-2 ahead 10 minutes later. However Daniel Sturridge came to Liverpool's rescue when his glancing header hit the back of the net from a Steven Gerrard free-kick in the 89th minute.
After the thriller at Goodison Park Liverpool travelled to Hull in a game most fans expected the Reds to comfortably win. This wasn't the case as Liverpool put in one of the worst performances under Brendan Rodgers and suffered a 3-1 defeat to Steve Bruce and his big fat head. Twitter was raging after this result as the fixture list for the end of December did not favour Liverpool too well so there was great impetus to get 3 points in the winnable games. Luckily Liverpool bounced back with 2 back to back wins at Anfield as Luis Suarez stole the show in a 5-1 win over Norwich scoring 4 of Liverpool's 5 goals. Then came a 4-1 own goal fest against West Ham with 3 of the 5 goals originally being counted as own goals before Luis Suarez was credited with Liverpool final goal by the dubious goal panel.
Pessimism returned ahead of Liverpool trip to White Hart Lane, having not won a game at the Lane since the last game of the 07/08 season where Voronin and Torres netted in a 2-0 victory. However the pessimism was short lived as Liverpool made up for the points dropped at Hull by putting 5 past a very sorry AVB team. AVB was relieved of his duties the following day. On to last Saturday and Liverpool's final game before Christmas against Cardiff. A win would see Liverpool go top of the Premier League and if Arsenal failed to win and Chelsea did not win 10-0 Liverpool would stay top for Christmas. Cardiff made the headlines for all the wrong reasons before the game with their manager refusing to resign and he took charge of Cardiff at Anfield. The game panned out in a similar way to the 3-1 home win against Crystal Palace as Liverpool scored 3 in the first half before taking their foot of the gas to allow Cardiff to get a goal back.
Now Liverpool's biggest test of the season comes in the form of 2 away games. One to 100% Manchester City and the other to Jose Mourinho's unbeaten Stamford Bridge record. Although I have stated this to be Liverpool's biggest test the majority of fans are not expecting much more than a single point from the 2 games and anything more than that is a bonus.
Liverpool Goal Scorers
Liverpool Clear Cut Chances Created
Best Player
Cannot look further than Luis Suarez for this one. The Uruguayan has been outstanding since returning from his ban, scoring 19 goals in 12 games. Suarez has been breaking records all over the show this season, becoming the first player to have 19 goals after 17 games being played and becoming the first player to score 10 Premier League goals in a calendar month with 2 games remaining in December.
Best (non-Luis Suarez) Player:
Henderson for me, he has come a long long way since he was almost sent to Fulham as part of the Clint Dempsey deal, thankfully that deal did not go through. Henderson has started every game so far this season and is a vital part of Liverpool's midfield, his intensity and determination is second to only Luis Suarez.
Best Signing
Toss-up Between Mignolet and Sakho but I'm going to go for Mignolet for this one. Mignolet has saved us vital points so far this season particularly with the penalty save in his first ever game for the club against Stoke and for his performance against Everton making 9 saves stopping Everton from scoring about 5 in the game.
Best Performance
Tottenham 5-0 – not only the best performance this season but the best performance in the 18 months Brendan Rodgers has been in charge.
Worst Performance
As mentioned before the 3-1 defeat to Hull was potentially the worst performance during Rodgers rein.
So there it is. Liverpool are top of the league, and it's fantastic, who cares what anyone else says we are top they are not. Have a great Christmas and lets hope we can stay top come the trip to Manchester City on Boxing Day and if not it was fun while it lasted!
Let's look at that one last time.
Tables From Statto, Goals from WhoScored, other Stats from EPLIndex