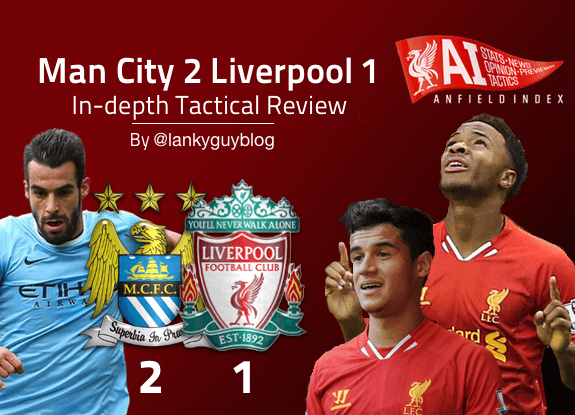 Manchester City 2 Liverpool 1 | In-depth Match Review
Trade offs have been mentioned a number of times in this tactical column. That is largely because they are such a key part to football. Teams cannot fully control all areas of a game. If you press high, you leave space behind. If you defend deep, you leave space in front. If you play long, you get the ball forward quickly but with less chance of keeping the ball. If you change one area of your team, you might expose another area. If one player moves inside, he leaves space on the outside. Football contains these and plenty more trade offs. The game is about maximising your potential in these to give you the best chance of winning. How you equip yourself and balance yourself out is very important.
But it's also about how you view games. There will always be positives and negatives from every match. Sometimes football is actually about what you take from a game and which one of these areas, positivity or negativity, you lean towards in different situations. Do you take the positive from a performance but not the result? Or can you take a positive from a result but not the performance? If you win, do you lean more towards negativity to remind yourself you can still improve? Or if you lose, do you lean towards positivity to remind yourself that it is better than the result may show?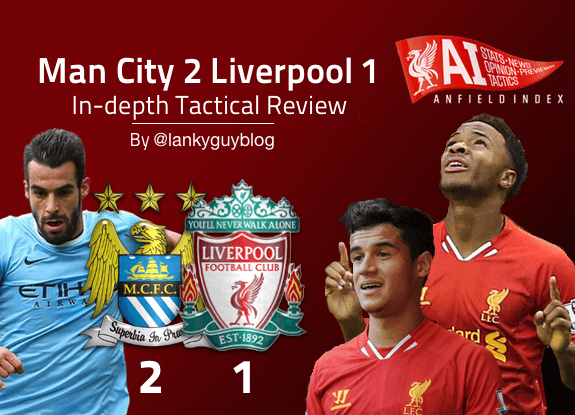 Line ups
There was one enforced change in the Liverpool side – Flanagan wasn't fit enough to retain his place at left back. The only issue was who Rodgers would pick to replace him there. Agger was an option, Ilori and Brad Smith were very unlikely bets but the latter was rumoured not long before the game. In the end Rodgers brought Cissokho back in, preferring his experience at left back to the other options, who in the case of Agger and Ilori, would have been makeshift and with Smith, a risk on a player without any first team experience.
Other than that, Rodgers decided to stick with the line up from the previous two games – he wanted minimal disruption from the previous two performances.
Before the match, there were a few questions for Rodgers tactically. How would he choose to defend against City's midfield? Press them high? Drop and contain? Mix it up? What areas would Liverpool target in possession? 1v1s with Lescott? Space between the lines? Runs behind the backline? Would Rodgers be brave?
The latter certainly, would prove to be a yes…
Key tactical areas
1. Defensive elements
One of the quandaries beforehand for Rodgers, mentioned above, was how to defend the midfield. He had a number of options: he could change the shape of the midfield if he wanted to – Pellegrini's side excel in their combinations and movement in the 'half spaces', an area that can be left open if you play a '1-2' shape triangle in midfield.
He could've decided to press aggressively from the middle of the pitch and try to disrupt Man City's midfield from playing, in a similar way to how Bayern Munich and Borussia Dortmund both did at the Etihad in the last year. He could've chosen to drop the lines and play as a low block. There were many options available to him.
As it was, Rodgers stuck with the same shape in midfield as used against Cardiff and Spurs. However, more importantly he mixed up how Liverpool defended the midfield area. Partly it was about admitting that pressing for 90 minutes against a team of the quality of Man City was never going to fully work – tiredness would naturally creep in and more and more space would open up within the defensive block, allowing City to fully exploit their attacking qualities. But he certainly wasn't going to encourage his team to drop to the edge of the box and defend as a low block. That would naturally have played into Man City's hands, playing closer to the goal, meaning any mistakes or any quality play from City would naturally mean more chance of conceding.
What he actually did was to vary up the defensive strategy in different areas.
For this it's important to look at precise areas to understand what the team were doing.
Against different styles of play, you cannot continue with exactly the same defensive ideas. For example against teams who play long balls from the back, who transition from back to front quickly and look to play very direct, pressing is very easily avoided. Thus it's better to position yourself so as to be compact but in a deeper position so you can win the second ball. If a team mainly likes to play short from the back and link play through midfield, pressing high works better.
Man City obviously favour the latter approach (although they do have the ability to vary it through playing long to the head or chest of Negredo). In the picture above you can see that Man City are just starting to progress the ball through midfield with short passing. Silva has come deep and received it on the half turn but under pressure by Henderson, forcing him to face his own goal. Elsewhere in the picture, you can see that Liverpool have marked the closest options to Silva – Suarez is marking Kompany, Coutinho/Zabaleta, Lucas/Toure, Allen/Fernandinho, Cissokho/Navas and Sterling/Kolarov. The only player left unmarked is Lescott and if Silva were to play it to him, Sterling is close enough for it to act as a trigger to close him down.
This summed up Liverpool's approach when City tried to build play. When the City centre backs had the ball and started their build up, Liveprool moved high up to mark the passing options and stop the City midfield from turning to face Mignolet's goal, thereby shutting off their ability to view the game and to play it in all directions from 360 degrees. This would disrupt City's ability to control the midfield and therefore the game.
What Manchester City had to do was to find ways to get their midfielders to face the play, thereby increasing their passing options and control over the game.
In the previous shot Silva, Toure and Fernandinho were all marked, meaning the only way for them to face forward would be to turn quickly when the ball was played into pressure. Silva plays it back to Kompany, triggering Suarez to pressure Kompany and force him to play it forward by shutting off the sideways pass to Lescott. However, one of City's major strengths is their movement and mobility in midfield. Here as Kompany receives the ball, Silva (marked by Henderson) moves forward. That then opens up space for Yaya Toure to make the opposite movement short. Toure was the furthest forward player in the previous shot and was marked by Lucas. And yet now, because Lucas is meant to be positioned between the lines, he doesn't want to follow Toure as far up the pitch as that. That gives Toure space.
Toure can then receive the ball under no pressure in midfield and is able to turn.
As we move this phase further on, we can see a better example of the way City try to get their midfield to face play. As Toure plays a backwards pass to Fernandinho, Allen goes to put him under light pressure. As this happens, Negredo moves short into the space between the lines caused by the brief loss in shape when Allen goes to pressure. This is the sort of movement that has become something of an automatism to City's play in build up – although things like this initially seem spontaneous and done because of the individual quality of City's attack, it is actually something far more intelligent and collective than what it initially seems.
As Fernandinho plays the ball to Kolarov, causing Sterling to go and pressurise, Negredo then makes the opposite movement, moving forward into a position where he is not a passing option for the City backline. However Nasri makes the opposite movement, the same one Negredo made in the previous image: into the space vacated by Sterling as he goes to close down. Nasri moves a little inside to make himself available to Kolarov as a passing option.
Kolarov plays it into the feet of Nasri. Joe Allen is then forced to drop his position – if he doesn't Nasri on the ball can run into the space behind him. So Allen drops his position and then has to put pressure on Nasri. What this does is free up Fernandinho in midfield. Whereas before, he was the player under pressure from Allen, because of the movement of City's attack, Fernandinho is now free to face play when he receives the ball and City can now look to create in the final third.
When the Man City midfield were able to face the play, Liverpool would not press. The main reason for this was that City are a side that very much like to overload between the lines, particularly the half spaces. If Liverpool's midfield tried to continually close down when Man City were facing the play, not only would they tire but, because the whole scope of the pitch was available for City's midfield because they were facing it, if the pressing wasn't done well enough or if a mistake was made, big gaps would start opening up within the defensive block.
There are a couple of other points to be made defensively, that were not to do with the defensive strategy. One of them was that 42% of Man City's attacks came down the right hand side. Pellegrini's side had a very good linkup on that side between Zabaleta, Navas and often Silva as well. One thing that has been commented on in this column before is how Liverpool's left hand side can be left slightly isolated defensively – Coutinho can pressure well on the inside but frequently leaves the left back on his own and can be lazy defensively. In this game it didn't affect the final score but it was apparent that with the strength of City's right hand side combination and the weaknesses of Liverpool's defensive balance on that side, that the team was vulnerable in that area. On two or three occasions, Cissokho was left isolated 1v1 or 1v2 on that side and Henderson was often forced to cover Coutinho there.The trade off of that was that Coutinho would be in a better position to counter when the ball was regained but this is definitely a problem area for Liverpool defensively and will be an area that teams look to target more and more.
Lucas was also forced to adapt to this. With City's strength in between the lines, Lucas was always going to be in for a difficult game but in this match, it was very clear how off the pace he looked at times. Quite often he was forced  to track runs in the channel and Silva was particularly keen to move either side of him to pick up the ball. However Lucas' lack of mobility at points was another definite weakness defensively and it's safe to say he didn't have his best game in a Liverpool shirt
2. Attacking elements
The area Liverpool really made their mark in this game was the attack. Beforehand, the worry for Rodgers would have been whether the team could get enough control of the ball to make a mark on the match or whether City would dominate the midfield and ultimately the game.
Clearly in a match between the two highest scoring teams in the league, it was always going to be fairly open. But here the team particularly excelled.
The approach Rodgers would take should have been in no doubt after his comments before the game:
"It's just going to be a team that goes there and has the bravery to play and get that wee bit of luck when you need it."
It was no surprise to seem him come out with a comment like this but he used it to set his stall out: if a team was going to end City's 100% dominance at home in the league, they were going to have to be brave.
One of the main things Liverpool did was to not change too much from the matches against Tottenham and Cardiff. Since the change of shape back to a 4-3-3/4-1-4-1, Liverpool have changed the way they position themselves in the build up phase. When the team was playing 4-4-2/4-2-3-1, as it has done for much of the season, Lucas would play deeper than Gerrard in possession but not in such a way that he really became part of the backline. When Rodgers elected to play a 3-5-2 for a few games in October/early November, Liverpool naturally had three at the back in possession and Lucas played in front, almost making a diamond four at the back in possession – the outside centre backs would be slightly higher than Skrtel who played deeper in the middle. Lucas would drop off so that he was not on the same line as Gerrard but was just ahead of the back three.
However in these last three matches, Rodgers seems to have changed not only the basic formation but also the shape in possession.
Although the best way to describe Liverpool's basic shape is a 4-3-3/4-1-4-1, in possession, the team (as you can see from the average positions in the image above) effectively plays a 3-4-3 – the centre backs split in a way they haven't since the first few months of Rodgers' time in charge. Lucas nominally becomes the middle centre back and the full backs push on very high to join the midfield line.
One of the main things this shape does is create numerical dominance in important areas and also creates passing triangles. Man City could have been said to have employed a 'false press' when Liverpool were building up play – they didn't really press in order to win the ball and they didn't put that much pressure on Liverpool's backline when they were on the ball. They merely pressured and positioned themselves high to delay and contain rather than to deny space or time or to win the ball back early. The shape of Liverpool in possession assisted the ability to progress the ball without too much discomfort – Sakho had a bad period on the ball in the second half but generally looks confident passing the ball out from the back, even with the full backs pushing up and leaving them isolated.
The main area Liverpool impacted on the game though was further up the field. Rodgers knew that if Liverpool were going to get anything out of this match, the team would have to use their mobility and technical quality in midfield and attack.
And Rodgers really took the game to City. There were a couple of areas in particular that the team exploited to high effect. One of them was that Man City continually ceded space between the lines. Although Yaya Toure has many great qualities, his defensive work is often lacklustre – he can be lazy in his closing down and in his tracking back and often leaves space behind him. What was interesting was that although Liverpool this season have generally favoured the right hand side in possession, in this match they tended to favour the left.
In general, this was where the space was – Toure often left a lot of space behind him for Coutinho to move into and Suarez generally prefers moving towards that side. Allen and Henderson both played fairly high up to combine with the front players in attack and at times Liverpool's link up play in this area was of the highest order. It was great to see that the team could show, even against such difficult opposition, that they merited being at the top of the table.
One of the most prominent moves  that has also been notable recently and was again in this match was Sterling's movement on transition. Even against Cardiff who preferred to play deeper than City's high line in this match, it was very clear that when Liverpool regained the ball, Suarez would move short and/or wide, creating space for Sterling make a run through the middle behind the backline.
And in this match it caused City so many problems. A number of times when Liverpool regained the ball, Suarez would move short or wide, often taking Kompany with him. If he got free from Kompany, Sterling was immediately available running through the middle between Lescott and Kolarov.
This put City's backline under frequent pressure. They clearly didn't want to turn and run back to their own goal to follow the run; Pellegrini has adjusted their line slightly since he came in, trying to get them to hold a line and play opponent's offside more often or at least make attackers check back. However when Liverpool were countering, City were often disorganised and had to make decisions under pressure. In the example above, Kolarov ended up trying to step up and play a very lazy offside trap, one that City unbelievably got away with, despite the fact that Sterling was two or three yards onside.
This movement from Sterling ended up helping to create the goal. Suarez deserves credit yet again for a clever flick on for Sterling's run but City couldn't handle this run between full back and centre back and Coutinho actually finished off his chance very well.
Even in the second half, Sterling's runs behind were always asking questions of City – to hold the line or go with him?
3. Transition defence
There's a fine line between failure and success if you take risks. In this match, Liverpool showed that they could match any team in the league. And yet their plan was also their downfall.
Let's look at the quote from Rodgers beforehand again:
"It's just going to be a team that goes there and has the bravery to play and get that wee bit of luck when you need it."
Notice the second part of that sentence this time. Clearly City are a team that will cause any side problems – no matter how you play, they are a team with so much quality all over the pitch that if there is an area defensively that you don't control, they have the ability to take advantage. Despite the fact that Liverpool matched and even, for periods, bettered City, it was still going to come down to fine details.
The first City goal was a difficult one. Kompany is a very strong and powerful player and very hard to stop from set pieces. Skrtel knew he couldn't leave him free and so had hold of his shirt. Many players do this when man marking from a corner: they don't want to let their man get free so they stay tight to them anyway they can. Skrtel's mistake was that he didn't let go when the ball was making it's way in. He got so focused on not letting Kompany get free that he didn't challenge well enough for the ball. As the ball came in, Kompany wasn't even on the run because the ball was in his path. In the last second or two before Kompany's header, Skrtel didn't need to be grappling with him – he needed to challenge for the ball. Even then though because of Kompany's strength in the air, it's still a difficult situation 1v1. Allen on the line could possibly have tried to head it instead of kicking it but the ball came so fast and bounced up in front of him, making it difficult to judge.
The second goal though came from a trade off of Liverpool's game the whole way through – defensive transitions. Rodgers had elected to be brave in this match. And the team were mightily impressive at points in attack and created enough to score more than one.
But there was an imbalance. With the full backs forward, Henderson and Allen attacking between the lines and Coutinho and Sterling coming inside, Lucas, Sakho and Skrtel were isolated. Committing so many players forward was brave but ultimately left the team imbalanced when City regained possession. On a number of occasions, City got into promising positions on the counter – their pace is an underrated part of their game and there was plenty of space either side of Lucas, who was off his game and lacked mobility, and on the outside and behind Skrtel and Sakho.
This was the mistake Rodgers made – it would've been possible to keep up the attacking threat yet still minimising the space for City to use their pace on the counter attack. But Liverpool committed so many players forward here, that control was lost when the ball was. In a country like England, where transitions are more frequent and quicker, it is all the more important to have balance behind the ball, especially against probably the best team in the league. Liverpool's wasn't sufficient.
The image above is the immediate build up to City's second goal. Lucas is highlighted in yellow. Liverpool's move breaks down and City immediately move into attack. Cissokho at left back is at the bottom of the shot, trying to get back behind the ball. Johnson is on exactly the same line. Navas, also at the bottom of shot, is already 5-10 yards ahead of Cissokho. Allen and Henderson are ahead of the ball and not in a position to delay defensively.
One pass from Nasri sets Navas free running forward. This shot shows very well how out of control Liverpool were when City attacked quickly. Every single Liverpool player is running back, facing their own goal. Only Skrtel has his body angle any different and even his is towards the corner flag. You can point the blame at Mignolet for not eventually keeping Negredo's shot out but this was started through a complete lack of control on transition defence and basic imbalances in possession. It cost Liverpool the result.
The Second Half?
It's important not to get too negative about the match. In the second half, the team still created good chances to equalise and it was disappointing to see them not taken. Sterling's chance was a little difficult but Johnson in particular had an opportunity where his control completely let him down. His form is a slight worry for Rodgers, whether that's being caused by injury, tiredness (unlikely) or laziness.
City themselves were also very disorganised when they were counter attacked against and had to play more compact and try and close the game out by bringing on Milner and Garcia for Silva and Nasri. Rodgers brought on Moses and Aspas to try and match up City's defence 1v1 and provide more energy in the final third, although neither particularly made a difference, understandably.
What do we take from this match?
Well a mixture of disappointment and pride. Disappointment obviously at the result – a draw was probably the deserved outcome and individual errors hurt Liverpool badly.
But this match was also a big statement of intent. Liverpool created chances, dominated City for periods, matched them in attack and provided a number of moments of very high quality. This was not like against Arsenal, when the feeling was that the opponent was just clearly a better team: Liverpool played an even part in a great contest. It highlighted just how much Rodgers has improved the side in the last 18 months. The team was good to watch, linked up superbly and exposed some of City's weaknesses.
The key is to take this to Chelsea on Sunday, a more winnable game than this. Hopefully lessons will be learnt – the team should try and balance and control the game better in a defensive aspect than it did against City and not as many risks necessarily need to be taken. Chelsea have conceded a lot of goals in the last few weeks and although they kept clean sheets against Swansea and Arsenal, they still have frailties in defence. Without the mobility of the suspended Ramires in midfield and with Sterling perfectly able to make runs behind Terry at left sided centre back, this is another good opportunity to showcase the quality of the team. Hopefully the result will reflect it better on Sunday.