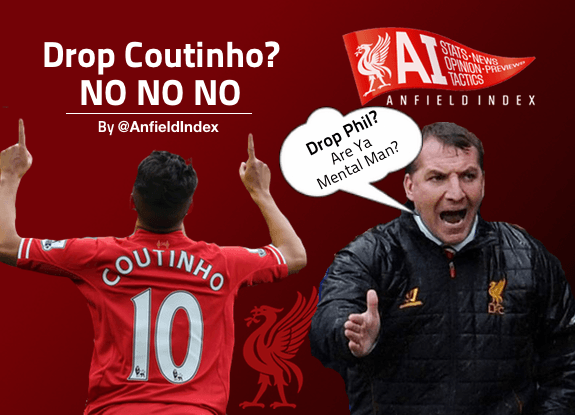 Drop Coutinho? No-No-No!

It wouldn't surprise anyone if defeat at the Etihad was to be the result for all nineteen visiting teams this season. However not many will walk away from facing Manchester City in their home ground with the praise that Liverpool are receiving. Liverpool continued to play the excellent press and counter football that worked so well at White Hart Lane a few weeks ago. So many times Sterling, Coutinho or Suarez found themselves in behind a Manchester City defence that had put a stop to all other teams that had faced them. The result in the end was the same – a Manchester City victory – but Liverpool only had themselves to blame for  missing clear-cut opportunities and committing defensive errors for both goals.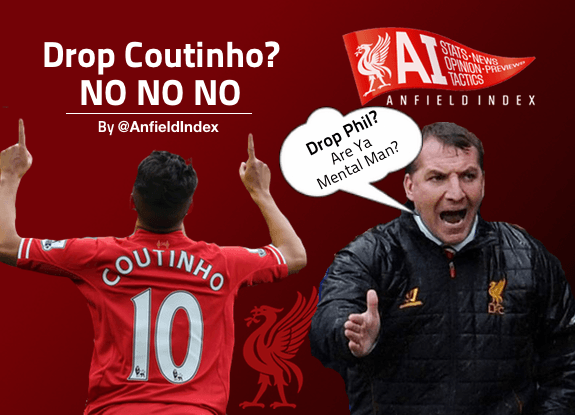 In the fall out today there have been many saying that Philippe Coutinho, a scorer on the day, should be dropped from the side when Steven Gerrard returns and Raheem Sterling switched to the left so that our legendary captain can play on the right of the front three to accommodate him into the side. I suppose you want my point of view on this?
It's an absolutely absurd idea!
Philippe Coutinho is one of the most important reasons as to why this team is clicking the way that it is.
There are many factors as to why Liverpool have been playing so well:
a mobile midfield consisting of Henderson and Allen
great link up play between the front three: Suarez, Coutinho & Sterling
Luis Suarez having the freedom of dropping deep or wide knowing he has midfield runners to latch onto anything he creates
a rejuvenated Raheem Sterling
the inclusion of Mamadou Sakho in the starting eleven
the creativity of Philippe Coutinho
Let's focus on the creativity of Philippe Coutinho since I believe it's one of the factors for our success lately. I want to go to my favourite stat, I know I've been tweeting and speaking about this a lot recently, clear-cut chances. Before this weekend's games Coutinho was the league's most frequent creator of clear-cut chances – also known as sitters! When discussing Coutinho with Paul Dalglish on our AnfieldIndex Podcast (Episode 4: Death By Football) a lot of focus was put on Coutinho's goals and assists this season which makes his productivity to Liverpool's side look poor. At the time I hadn't researched the stats on how Coutinho had been doing but now that I've had the chance I can say that Coutinho's been in super-creative mode in the games leading up to the Manchester City game.
In Coutinho's last six starts he's created six clear-cut chances (sitters) for Liverpool and Suarez has created five (in his last six starts) – Suarez is the leader in the Premier League for creating clear-cut chances with ten so it shows how well Coutinho has been doing. Unfortunately Liverpool have only converted one of Coutinho's clear-cut chances (Suarez's 2nd goal against Norwich) which shows how poorly Liverpool have been converting them this season. Liverpool have created a league high of 56 clear-cut chances but only converted 34% – below the average of 37.5% in the league. Manchester City by comparison are converting 44% (Arsenal 45% / Chelsea 47%) of these and this leads onto my point that it's not Coutinho's fault that he's not being attributed with the goal assists. Had Liverpool finished all of the clear-cut chances Coutinho would have the 2nd most assists in the Premier League this season. So whilst it looks like Coutinho isn't contributing what everyone misses are the clear-chances he's creating for this side.
As discussed with Dave Hendrick in the 5th AnfieldIndex Podcast a goal assist is a two-way relationship – the creator and the goalscorer both required to deliver – and the creator gets no credit at all if the striker fluffs the chance. This is the plight of Philippe Coutinho this season – he's created 8 clear-cut chances so far (6 in his last 6) and only one has been converted – hence my eagerness to stress that he's contributing plenty but getting no plaudits or reward for it!
Yes he had an off day versus Manchester City in terms of creativity – in fact he struggles against the bigger teams away from home – he's not created any chances in the games against Everton and Manchester City but on the flip side – he scored in both which means he's involved or producing in some way or form! So to say that Coutinho is wasting possession or not worthy of his spot in the team is crazy especially when you're talking about Stevie taking his spot. Gerrard has created 5 clear-cut chances and taken 300 minutes more to do so. For clear-cut chance stats before the Manchester City game check out this article on how well Coutinho is actually doing compared to rivals.
The arguments against are that he shoots from distance too often and wastes the ball and oh, his through-balls are overhit and he doesn't defend well enough. To be honest I'd rather see Coutinho continue to attempt those through balls than not attempt any at all – it's his plus point, his vision is what this team lacks when he doesn't play. The way Coutinho can hold a ball has been so important in both away games at Tottenham and Manchester City as is his link up with Sterling and Suarez. In terms of working harder – yes I'd like him to work harder on his concentration so that he doesn't lose a "Zabaleta" overlapping and making Cissokho look poor when really it was Coutinho's mistake not to track the runner so I'd concede on this point but it can be worked upon.
The final point I'd like to make is that the Manchester City game broke one notable record – it was the first time that a Liverpool team with Coutinho and Suarez starting lost a game and the record now stands at won 6, drawn 3 and lost 1. The record of Coutinho with one striker (Suarez or Sturridge) stands at won 11, drawn 5, lost 1.
Finally the record of no Coutinho at all in the starting line-up with just one striker in the team:
Played 4 LOST 4
So you want Coutinho out of the team eh? Be careful what you wish for!
Drop Coutinho? NO-NO-NO!
Heard our podcast? You can check it out on iTunes!