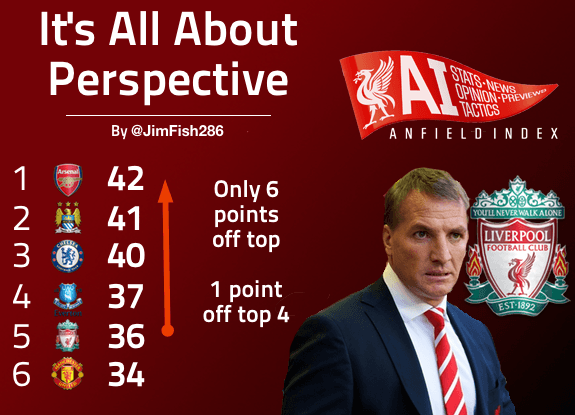 Liverpool FC: It's all about perspective

With 2013 coming to an end, and as people strive to make New Years Resolutions, I find myself looking at some of the reaction to Liverpool defeats on the various social media outlets and forums that I sometimes wonder when all the common sense went out of being a football fan?
Don't get me wrong, I am just as guilty of doing it as anyone and of course, in the heat of the moment it is easy to tweet something or log in and comment on something that has just happened.
But one thing I want to do in 2014 is keep some perspective about Liverpool Football Club.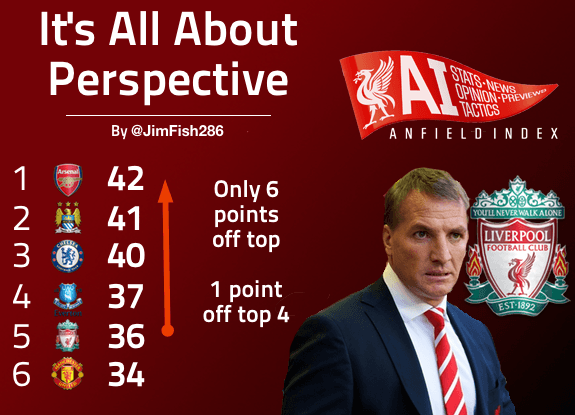 If on 1st January 2013 you would have told me that in 12 months time Liverpool would be in 5th place in the league and only 6 points off the top of the Barclays Premier League then I would have bitten your hand off.
Cast your mind back and you will remember that 12 months ago we sat 9th in the Barclays Premier League table, level on points with Swansea City and behind such teams as Stoke City and West Bromwich Albion. Not only that but we were a massive 21 points from the top of the league and our rivals Manchester United.
January 1st 2013 was the starting point for rebirth of Liverpool Football Club in my opinion. In came Philippe Coutinho and Daniel Sturridge and those 2 players, along with the improving management of Brendan Rodgers sent the Reds on a run of 18 games where they won 9 and lost only 3. Liverpool accumulated 33 points and scored an impressive 40 goals.
Although that run was not able to catapult them into the Top 4 positions or even the top 6 positions, it was enough to give Liverpool supporters some hope going into the new season.
After all, Rodgers had promised more goals, more entertainment and most importantly, more points!
After a somewhat frustrating Summer window we wondered if we could continue on the upwards curve?
We needn't have worried, with Rodgers at the helm and Suarez performing like the World Class player us Reds fans know he is then we have been a fixture in the top 4 of the Barclays Premier League. Even topping the league on Christmas Day.
Unfortunately, even though everyone knew deep down that Liverpool weren't actually going to win the league the romantic in us all couldn't help but dream, with every passing win the dream moved more and more towards reality and then….well then reality actually did hit us.
After all the joy of Christmas Day, the presents, the booze, the good food, Liverpool sitting pretty at the summit of English football, disaster struck!
Well I say disaster but in reality Liverpool went away to Manchester City and Chelsea, the 2 teams almost everyone would have predicted to be the top 2 come May 2014 and not only did they perform admirably but most neutrals would say the Reds deserved to come away from both games with at least a point, if not more.
It was not to be though and Liverpool lost them both.
The most amazing statistic to come from those games however is that it's the very first time Brendan Rodgers has lost 2 Barclays Premier League games back to back as Liverpool manager.
This is the man that some sections of the Liverpool FC fan base still say isn't good enough to lead the club forward. They can't, or won't, see the improvements being made on and off the pitch, they will not accept that Liverpool are on the way back to where they belong.
I can get onboard with being disappointed after a poor result and I will have a moan with the best of them about certain players and even certain decisions Rodgers makes but overall you'd have to be blind not to see the progress that is being made.
This is where the perspective comes in, Liverpool sit 5th on 36 points at time of writing. That's an improvement of 4 places and 8 points on where they sat this time last season.
They've added four first team regulars to the team since January 1st 2013 in Daniel Sturridge, Phillipe Coutinho, Simon Mignolet and Mamadou Sakho. Have they all improved the team? Yes they have.
Has Brendan Rodgers improved Jordan Henderson, Luis Suarez, Jon Flanagan, Raheem Sterling? Yes he has.
Had Rodgers himself improved and proven he is man enough for the job? For me, on the whole, yes he has.
He handled himself incredibly well during the Summer when not only did he have the Suarez saga to deal with but also the disappointment of missing out on at least 2 of his first choice transfer targets.
He didn't moan, he just got on with his job of improving the team and getting the best from the players he has at his disposal.
Rodgers is an excellent man manager. Take his comments after the Manchester City game as an example. Most, if not all, Liverpool fans watching the game will say that Mignolet should have saved Negredo's second goal and I'd agree with you 100%. Did we spend any time talking about that though in the lead up to the Chelsea game? No!
All we talked about was the poor refereeing decisions from that game. Of course, the decisions were there for us all to see but for Rodgers, a man who rarely criticises poor decisions, to come out and be so forceful in his comments shows that he knows how to defend his club and his players, to deflect attention from his players ahead of what was another big test for him and the team.
So as we approach yet another January transfer window there is sure to be more activity in the corridors of Melwood and Anfield, after all the general feeling is that we need a right-back, a left-back, a central defender and a defensive midfielder before we can really challenge again.
When you put it like that, it really does put it all into perspective doesn't it? Liverpool are four first team players away from challenging the top 3/4 positions in this league, but yet they one place and one point away from it.
They haven't done too bad so far have they?
*Thanks to Dan Kennett for providing statistics for this article. Follow him on twitter @DanKennett