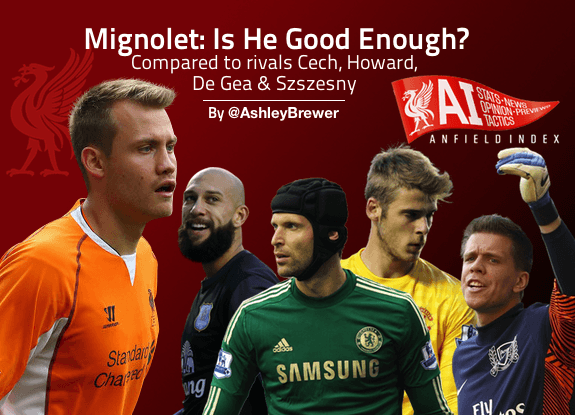 Is Simon Mignolet Good Enough? Compared to Cech, De Gea, Howard & Szczesny
It was the season to be jolly, until Boxing Day, when Alvaro Negredo's awkward strike was helped into the back of the net by Simon Mignolet's hand and gifted Manchester City three points, prompting mass hysteria on Twitter – as always seems to be the case these days.
"He isn't good enough!" and "Bring back Reina!" clogged up the cyberspace for a while as we saw an age old problem for goalkeepers come true, make one mistake and all of the saves and points you have won for your team are rendered irrelevant.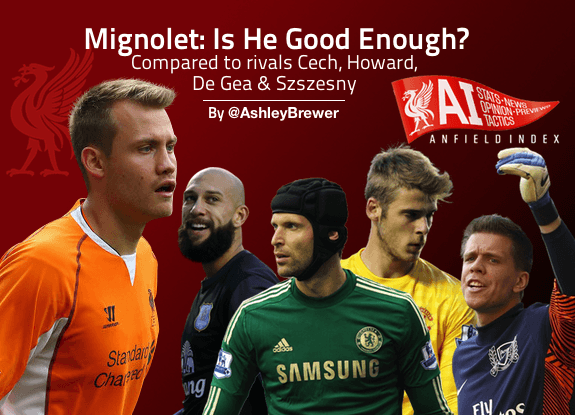 The backlash, regardless of whether it's from a minority or not, has prompted me to look how the Belgian, along with other top goalkeepers in the league have done so far this season.
The goalkeepers used to compare with Mignolet are Chelsea's Petr Čech, Manchester United's David De Gea, Everton's Tim Howard and Arsenal's Wojciech Szczęsny.
City's Joe Hart would have also been included but had to be taken out of consideration due to the fact that he has played less games due to being dropped in favour of Costel Pantilimon.
When I looked at these stats, the most alarming thing for me was the amount of shots that the 25 year old has had to face, compared to the rest of the players being examined, with 87, averaging at 4.6 per game.
To his credit, he has saved 65 of those shots, with a save percentage of 74.7% which, as you can see, is joint highest with Szczęsny, however, the Arsenal man has been able to collect three more clean sheets this season.
The only explanation for this, in my opinion, is that Liverpool's defence allows opposition players to have too many clear cut chances on goal, whereas Arsenal's is a lot more solid and restricts the opposition to far less.
Further research into the Reds backline makes for even more uncomfortable reading when in the 31 games last season with Pepe Reina in net, they only allowed 3.5 shots per game. That is an increase of 1.1 in the space of a few months, suggesting that Rodgers has a few holes to plug somewhere.
What is surprising though, is that Čech, who has conceded the least shots on target, 60 in total or 3.2 per game, also has the worst save percentage and only has 6 clean sheets, whereas Howard who has conceded the second least, with 70 in total or 3.9 per game, and the second lowest save success rate, has the most clean sheets, averaging one every two games.
One thing that stands out negatively for Mignolet is the amount of errors he has made so far this season, which is probably where most of the fan's frustrations stem from in regards to him, but in all fairness, only De Gea has made absolutely no mistakes so far this season.
The Liverpool number 22 has also failed to catch 17.6% of all crosses into the area that he has attempted to get, which is the most within this sample, with Szczęsny having the second worse percentage, with 13.9%.
The total number of crosses that Mignolet has failed to collect is three out of 17 attempts, which looks significantly better than the percentage, but last season with Sunderland, Mignolet only failed to collect the ball three times throughout the whole season.
Also, if you cast your mind back a year to when Reina was in goal, throughout the season he failed to collect 10 crosses which, to me, shows that once again this is an ongoing problem at Liverpool. Perhaps it's down to a lack of proper organisation when it comes to defending crosses or maybe a lack of communication between goalkeeper and defence.
For me, Simon Mignolet is a quality goalkeeper who has saved Liverpool on far more occasions than he has cost them. Stoke City on the opening day of the season as well as his multiple one on one saves in the derby come to mind.
With the amount of work he has had to do due to how porous the defence has been it always seems to be a matter of when, rather than if, Liverpool will concede a goal.
Mignolet isn't Superman and whether or not you think he is or isn't as good as Pepe Reina of 2005-2009, Reina himself isn't at that level anymore. It's time to get behind the new goalkeeper.