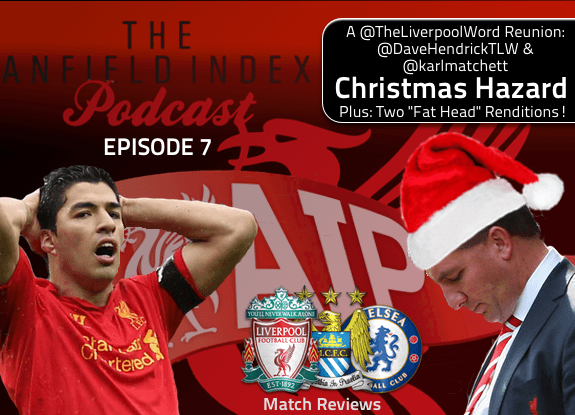 AI Podcast 7: Christmas Hazard
Episode 7: Christmas Hazard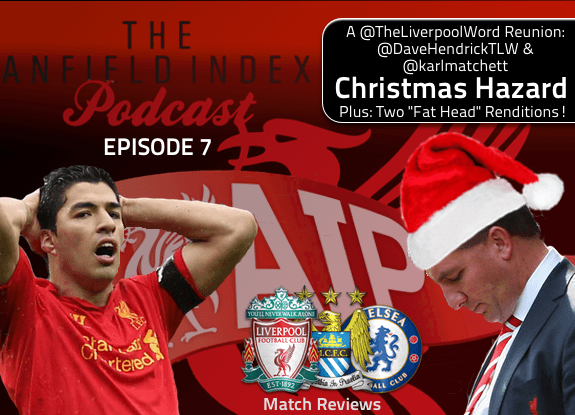 Date: 30th December, 2013
The team focus on reviewing the two losses over Christmas and players that aren't performing tactically and statistically whilst also covering the January Transfer Window!
Gags (AnfieldIndex) reviews the away games this season and how different the two Christmas games actually were in comparison to other games this season.
Jim Fish returns for the second week running and sings the Fat Head song, hilariously, whilst Gags has no shame in singing it! There's plenty of love for referee's and their assistants – NOT – and we preview the Hull City game which is now a must win game! The podcast was once again hosted by John Ritchie!
All this and more… it's The AnfieldIndex Podcast.
Download on iTunes
(Only subscribers will receive new episodes immediately)
Host: @JohnRitchie84
Guests: @AnfieldIndex, @DaveHendrickTLW, @JimFish286 & @karlmatchett
You can listen to the podcast by using the embedded player or you can use the links beneath it.
Listen to this podcast episode | Download this podcast episode (right click and save)