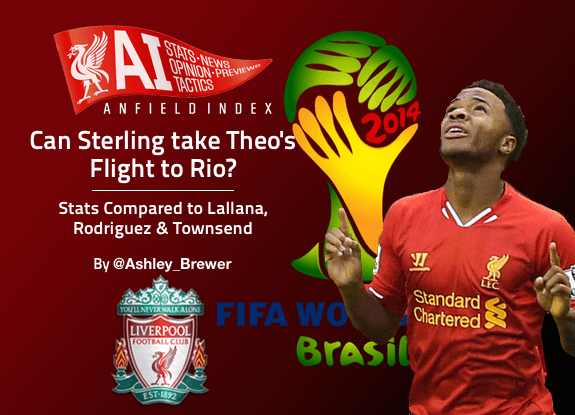 Can Sterling take Theo's flight to Rio?
Following the news that the injury suffered by Theo Walcott, which occurred during Arsenal's 2-0 victory over rivals Tottenham Hotspur in the FA Cup third round, will all but rule the winger out of England's World Cup squad for this summers World Cup in Brazil, maybe it is time for Raheem Sterling to force his way into Roy Hodgson's plans.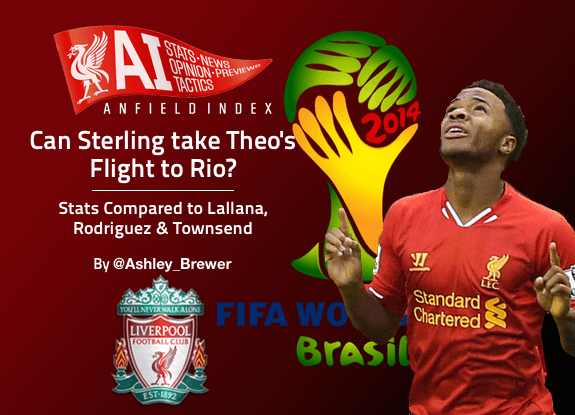 After months of struggling to get into the first team, the 19 year old has been a revelation over recent weeks for Liverpool, bringing speed and direct attacking play, which had been lost with the injury to Daniel Sturridge. He has also been able to find the back of the net, as well as teeing up his team mates, with three goals and two assists since his reintroduction at the beginning of December.

To see if his performances have been that of an international's quality I have compared his statistics to those who have recently represented the Three Lions in the recent friendlies against Chile and Germany – Spurs' Andros Townsend, along with Southampton duo, Adam Lallana and Jay Rodríguez. [Editor's Note – It is worth remembering that as Lallana plays in a central attacking midfield role for Southampton he has more involvement in the play both in an attacking, and defensive, setting so his metrics will naturally be higher]
(The green numbers represent the highest score, while red represents the lowest)
Straight away you can see a huge gulf in the number of minutes each of these players have been on the pitch this season for their respective clubs, with the two from the south coast outfit being relative mainstays in the starting eleven as Mauricio Pochettino's men were the surprise package for the first part of the campaign.
They also come out on top in the first two categories looked at, with Rodríguez having the best minutes per goal stat, with one every 187 minutes, while Lallana has the best minutes per assist stat, with one every 318.6 minutes.
Townsend on the other hand comes out with the worst stats for both, only having scored one goal and is yet to get an assist so far this season, while Sterling has the second best stats in both categories.
The Spurs man makes up for his shortcomings by having the lowest minutes per shot on target, which isn't a surprise really, but his lack of goals from the said shots could be mean this could be turned into a negative due to a terrible conversation rate. He also has the best stat for minutes per successful dribble, with Sterling having the second best stat again.
The former QPR starlet unfortunately has the worst shots on target percentage, but you could argue that he is only 3% behind his nearest rivals.
(The green numbers represent the highest score, while red represents the lowest)
He also has the worst pass accuracy out of the lot, which is topped by Townsend, but once again, there really isn't a lot between the four players in this aspect. This however, isn't the case when it comes to cross accuracy, which is an area that he will have to improve upon drastically, with the other three players all getting 20% or more.
Despite this though, Sterling has the best minutes per chance created and minutes per clear-cut chance created stats, with the latter being by some distance
Since the number 31 has come back into the team, it is not only his ability in creating chances and scoring goals that has impressed me, along with many others, it is also his desire to get back and help out the team defensively, and with some effect.
(The green numbers represent the highest score, while red represents the lowest)
Due to the aforementioned Argentine manager's football philosophy he has instilled at St. Mary's Stadium, it is no surprise that Lallana and Rodríguez both share equally impressive defensive stats, with them having the best and second best minutes per tackle stats respectively.
The Southampton captain, Lallana, tops all three defensive stats, while Sterling can boast the second best stats for tackles won and minutes per interception.
Conclusion
After looking at the stats, there is one observation that I feel I must be put to bed first of all – Andros Townsend shouldn't be anywhere near the first eleven in Brazil over the three other wingers.
Regarding Sterling, so far this season he has done himself no harm whatsoever to his chances of going to the World Cup, but out of this lot he is not quite better than Adam Lallana, but if there is room for both of these players on the plane for both of them you won't hear me complaining.
Of course, it is only January, and the tournament kicks off in June, meaning that the remaining months are the perfect length of time for Sterling to carrying on improving, with the possibility of cancelling his summer holiday to Ibiza, or wherever, to partake in a, for some, once in a lifetime opportunity to represent his country in the back of his mind.
What is key for him now is consistency and to show the maturity to keep on producing week in and week out, but even if he does all he can and ends up watching the tournament on television at home or in a Spanish bar with a bit of a hangover, Liverpool will go into next season with a much improved teenage player with a newfound determination to make his former manager, Roy Hodgson, look silly (well, even more so) for excluded him from the trip to Rio de Janeiro.