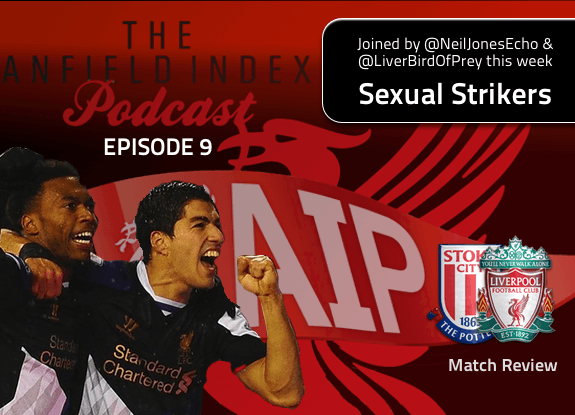 AIPodcast Episode 9: Sexual Strikers!
Episode 9: Sexual Strikers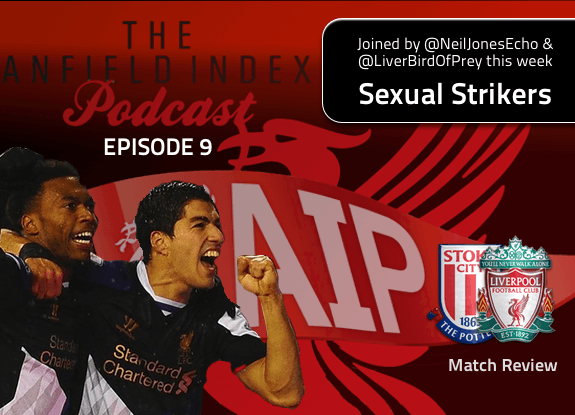 Date: 14th January, 2014
On this week's episode we are joined by special guest Neil Jones from the Liverpool Echo talking about all things LFC. Enzo (@LiverBirdOfPrey) makes her debut on the show as well as a return for Jim Fishlock (@JimFish286) who replaces Dave Hendrick as he galavants in Russia on the search of M'Vila.
As usual the podcast is hosted by John Ritchie and supported by Gags (@AnfieldIndex).
Plus there's analysis of Liverpool's first win at Stoke in the Premier League as well as a reaction to John Henry's recent comments and the destruction of Sky's commentary team – talk of sexual strikers – all this and much more – it's the AnfieldIndex podcast!
Download on iTunes
(Only subscribers will receive new episodes immediately)
Host: @JohnRitchie84

Guests: @AnfieldIndex, @JimFish286, @LiverBirdOfPrey & @NeilJonesEcho
You can listen to the podcast by using the embedded player or you can use the links beneath it.
Listen to this podcast episode | Download this podcast episode (right click and save)