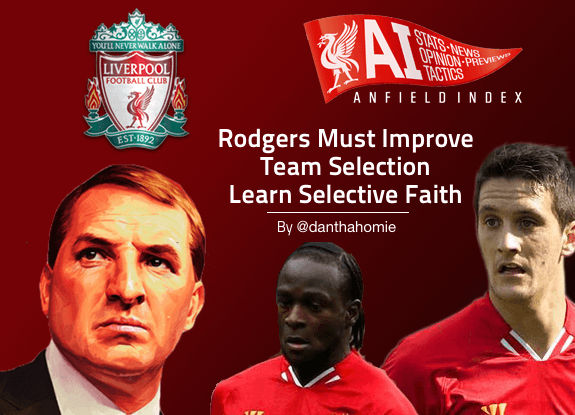 Rodgers Must Improve Team Selection, Learn Selective Faith
With a 2013 bolstered by tangible progress, Brendan Rodgers earned the trust of the mainstream Liverpool faithful. However, the 40-year-old manager is still learning the art of proper team selection — if there's one big knock on Rodgers, it's his propensity to show seemingly blind faith in players that flounder repeatedly.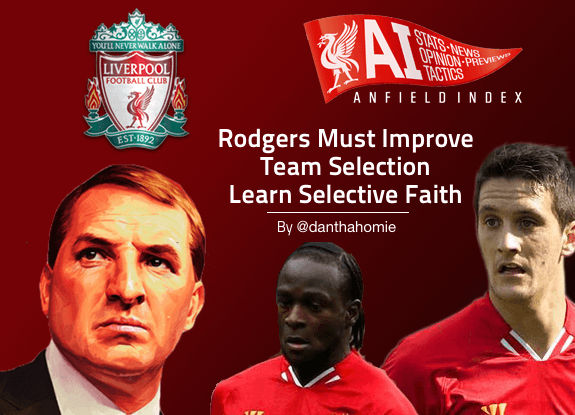 In the doghouse after a catastrophic 2012-13 season, Martin Skrtel appeared destined to leave the club, with Napoli his most public suitor. However, Rodgers displayed unwavering belief in the defender when he thrust him into the starting lineup against Manchester United on the first of September. Sure, the move was heavily influenced by injuries, but it still took guts for Rodgers to play Skrtel, who had only started once for Liverpool since mid-March. The dicey decision proved brilliant, as the Slovak had 100% accuracy in both his ground and aerial duels, and fearlessly involved himself in a multitude of vital challenges, all of which he seemed to win. His excellent defensive effort played a huge role in Liverpool's 1-0 victory.

Skrtel earned himself some leeway and a couple of starts with his positive performance against Manchester United, but the ongoing support Rodgers has shown him despite his dipping form is frustrating. It's been over four months since the United game, and he arguably hasn't had an above average showing in all that time. It's really been a full platter of errors for Skrtel, from comedic own goals to his sickening habit of backing off attackers and letting them shoot freely. Daniel Agger and Mamadou Sakho have battled injuries as of late, but throughout November and December there were opportunities to drop Skrtel that Rodgers passed up. The options behind Skrtel might well have faltered, but at least Rodgers could have explored using more of Toure or Agger (who was healthy and stuck behind Skrtel for awhile) rather than staying with his miserably out of form 29-year-old center back.
The holiday season proved costly for the Reds in terms of injuries, and the thinness of the squad was amplified by the way Rodgers stuck with Victor Moses and Iago Aspas over Luis Alberto. We still don't know whether Alberto is anything special, but it quickly became apparent that Moses and Aspas are not the kind of productive subs one can expect to win football matches. After playing solidly in a short appearance at White Hart Lane and garnering an assist on a lobbed through ball to Luis Suarez, Alberto was not allowed an opportunity to grow, as Rodgers stubbornly kept his faith in the struggling duo of Moses and Aspas. Alberto was passed up against Manchester City, Chelsea, and Hull City. Even Brad Smith got a nod ahead of Alberto in the Chelsea match when Joe Allen had to leave due to injury.
The point isn't that Luis Alberto is necessarily some superstar being blockaded, it's that he simply could have been good enough to change the holiday games in the short term for Liverpool while simultaneously carrying more long-term potential than Victor Moses and probably Iago Aspas.
The problem for Rodgers is that his commitment to underperforming players has also reaped some big benefits, as it's led to the rapid growth of budding stars such as Jordan Henderson and Raheem Sterling. Both Henderson and Sterling faced tumultuous periods when they were doubted by their own supporters, yet Rodgers continuously granted them chances until they found success. Faith isn't inherently a negative trait for Rodgers, it's just one that he needs to refine.
What sets the Henderson and Sterling situations apart from Skrtel and Moses is the matter of potential gain. The club obviously believed (and still believes) that both Henderson and Sterling have the ability to develop into stars, and because of this, it was worth the short term risk for Rodgers to continue trotting out these players for the sake of the future. Luckily for Liverpool, the support given to Henderson and Sterling payed dividends relatively quickly. Meanwhile, Skrtel and Moses have pretty much no future at Liverpool, so there's little reason to keep them in the playing rotation if they perform poorly. Skrtel, as mentioned, is 29, and Moses will be headed back to Chelsea at the end of the season.
Rodgers needs to differentiate between players that logically deserve managerial faith (the ones with potential), and those that should have shorter leashes. Rather than being blindly committed to all of his primary players, Rodgers needs to transition into a state of selective faith where he learns to maintain trust in certain players while being unafraid to cast off others.
Are you from near the Midlands area? If so you should attend A Night in Birmingham with John Barnes, John Aldridge and Jason McAteer!

Former Anfield Index Podcast guest host Noreen Khan is the host and there's a three course curry on the menu! All proceeds to charity!