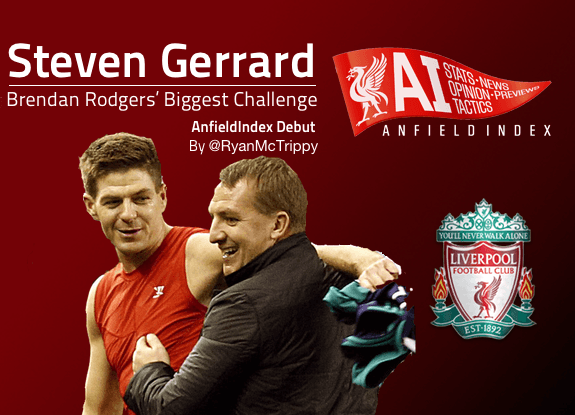 Steven Gerrard: Brendan Rodgers' Biggest Challenge
To many Liverpool fans, particularly of a younger age, Steven Gerrard and Liverpool are synonymous with one another. In fact, they are inseparable. They did not grow up with title winning teams of the 60s, 70s and 80s. There was no Kenny Dalglish, no John Barnes, no Ian Rush, only stories and the occasional YouTube clip of the brilliance these players possessed. Steven Gerrard is an icon to millions, and has given so many Liverpool fans of every age, moments that they will simply never forget.
But now, at the age of 33 and following a number of injuries in recent years, most recently to his hamstring, Gerrard's dynamism is slowly being wiped from his game. This has been highlighted under Brendan Rodgers' regime at Liverpool, as fans have seen the Liverpool captain play in a number of positions under the Northern Irishmen's tenure.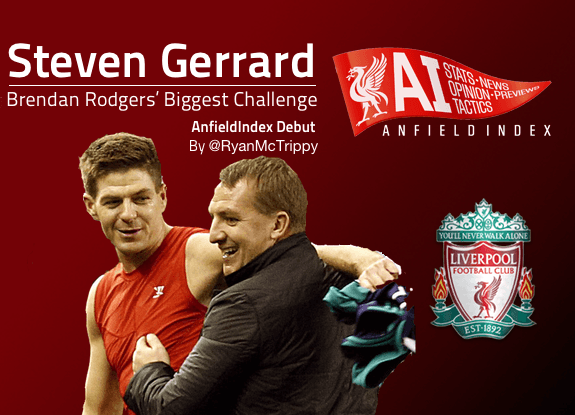 When Rodgers first took the reigns at Liverpool, his squad was a mixture of Rafa Benitez, Roy Hodgson, and Kenny Dalglish signings. But throughout the tenures all of these managers only Steven Gerrard, along with now Sky Sports Pundit Jamie Carragher, had been a constant. He has been the club's captain since Gerard Houllier's penultimate season with Liverpool ten years ago, and has gone on to cement himself in club folklore as a true legend of the game.
Early indications from Rodgers were that Gerrard would be deployed as an attacking midfielder in his initially favoured 4-3-3 formation, which brought him unprecedented success at Swansea, playing attractive possession based football and finishing 13th in their debut season of the Premier League. Gerrard would operate in a similar vein to Gylfi Siggurdson; the tip of a midfield three behind an attacking trio.
Fans were salivating at the prospect of Gerrard being unleashed behind Luis Suarez, rekindling memories of the Gerrard-Torres axis of destruction.
Alas, it was short-lived.
After a promising start with a goal at Anfield against Belarusian outfit FC Gomel in a Europa League qualifier, an injury to Lucas Leiva, as well as subsequent underwhelming performances from the skipper soon forced him into a deeper position. As the 2012/13 season entered its second half, Gerrard was now beginning to operate in a deeper position, alongside the returning Lucas as Rodgers soon began to implement a 4-2-1-3 formation, due to the arrivals of Brazilian wonder Philippe Coutinho from Inter Milan, and Daniel Sturridge from Chelsea.
In his new role, Gerrard seemed to find a new lease of life. Although given defensive duties, he still contributed to the attack, albeit in a different way. In 36 appearances, all of which were starts, he played an incredibly high 2,378 open play passes, as well as an 86% completion rate on all passes. In fact, over half of Gerrard's passes were attempted in the attacking zone of the pitch, with 1,637 passes. Gerrard created 4 clear cut-chances last season, a severe drop from his highest in the last four seasons, which were 12 clear-cut chances in 2010/11, and in only 21 games, albeit Gerrard was deployed in a more disciplined role last season than under Hodgson and Kenny Dalglish in the 2010/11 campaign.
In terms of contribution in front of goal, Gerrard managed to rack up 9 assists in total, with 5 coming from open play and the remaining 4 from dead-ball situations. Gerrard also managed to score 9 goals, 4 of those being spot kicks. Stevie managed to offer a lot more to the team playing deeper; however many aspects of Gerrard's game were in need of improvement. When compared against Manchester United's Michael Carrick, a player with a similar role to Gerrard's in 2012/13, we begin to see the areas of Gerrard's game that needed to develop over preseason and into the 2013/14 campaign.
Their passing and pass completion stats are quite similar, as Carrick managed to complete 88% of his 2,774 passes. Out of the two, Gerrard played 15% of his passes backwards, where Carrick only played 8% of his. This dramatically affects Gerrard's passing percentage in a forward direction and from side-to-side, with 34% going forwards and the remaining 51% of Gerrard's balls were played to the left or right. Carrick played more passes from left to right with 55%, but his forward balls came in at a total 37%. Of course, the setups of both teams must be taken into account, as Rodgers team in the second half of the season played with a deeper line giving Gerrard less options forward, and more behind him in comparison to the Champion's attack-minded structure.
One particular statistic that is vastly in favour of Carrick is the amount of interceptions made by both men. Carrick managed to intercept 82 passes, while the Liverpool skipper only managed to make 53 interceptions. Both players were asked to operate in a similar way; to dictate the play from a deep position. However, they were also expected to shield the defence and break plays if possible, and Carrick's passing and reading of the game may be ahead of Gerrard.
Gerrard has always been fond of a "Hollywood Ball", and in the position Rodgers deployed him, he needed to keep it simple. Rodgers likes to retain possession, for his team to pass with conviction and patience. And without it, he wants them to pressurise and force the opposition into mistakes.
Speaking in an interview with The Guardian less than a month before signing for Liverpool, Rodgers said:
"I like teams to control and dominate the ball, so the players are hungry for the ball… I believe if you give a bad player time, he can play. If you give a good player time, he can kill you. So our emphasis is based around our positioning both with and without the ball. And for us, when we press well, we pass well."
Rodgers expects his players to control the game as he wishes. But Gerrard's tendency to force the play did not correlate with this vision, although Jamie Carragher's introduction to the team for the second half of his final season in Red also forced Rodgers to play a deeper defensive line.
As Liverpool fans eagerly anticipated the 2013/14 season with a number of new signings, Steven Gerrard continued in the role he played in the second half of the previous season. However, it soon became apparent that a midfield duo of Lucas and Gerrard was not working for Liverpool. After an initial tentative start to the season, Rodgers' newly implemented 4-2-2-2 formation was adopted into a 3-4-1-2, with wing backs flanking Gerrard and Lucas. At home, Liverpool were shaky at times, but the attacking prowess of Sturridge and Suarez, as well as Coutinho and Henderson behind them, simply overwhelmed teams and scored for fun, bar a blip against Southampton.
However, a 2-0 away defeat to Arsenal highlighted the weaknesses in the Liverpool midfield, as they were outclassed in and out of possession. Eyebrows were raised, but fans accepted Arsenal were an in-form team, but the embarrassing performance in a 3-1 to Hull City at the KC Stadium truly sent ripples through a number of fans indicating the calamity performances of Liverpool's midfield away from home.
And so Rodgers was forced to rethink his midfield. Joe Allen was the man to step into the midfield in place of Lucas Leiva, as Luis Suarez put in one of the greatest individual performances many supporters are ever likely to see in a 5-1 trashing of Norwich City. In the following game against West Ham, Liverpool managed to brush aside the Hammers in a 4-1 victory, but the game ended early for Gerrard as he pulled up with an apparent hamstring injury.
Gerrard was ruled out for four weeks, and while some were frightened at the loss of their captain, many were excited to see the chance to see a midfield three of Allen-Lucas-Henderson. And their first challenge would be one of the toughest games Liverpool would play this season, away to Champions League hopefuls Tottenham Hotspur at White Hart Lane.
Many were in fear of what would happen to Liverpool, particularly being overrun in the midfield battle by Spurs' vast choices in this position. But an injury hampered team forced then manager Andre Villas-Boas into putting French defensive-midfielder Étienne Capoue in at centre-back alongside Spurs captain Michael Dawson. A Spurs midfield trio of Paulinho-Moussa Dembélé-Sandro would be the challenge put to Brendan Rodgers' midfield, and while some were quietly positive, many braced themselves for the worst.
It turned out to be the finest performance Liverpool have produced under Brendan Rodgers. With Steven Gerrard in the Sky Sports pundit booth, the Reds managed to press, pass, and destroy Tottenham with tenacity and precision.
Death by football.
Jamie Carragher jokingly said to Gerrard after the game that he doesn't know how he will get back in the team after recovering from injury; and neither did many Liverpool fans.
Until Gerrard's return against Hull City, Liverpool's new look side blossomed with Joe Allen, Jordan Henderson and Raheem Sterling shining in their new roles. Henderson's productivity and output for the team elevated to a different level. A well-taken volley as well as an audacious back-heeled pass leading to Jon Flanagan's first professional goal was the icing on the cake of what was a sensational performance against Spurs from the former Sunderland man. This continued against Cardiff City, where another back-heel was left in the path of the world-class Uruguayan Luis Suarez who put a beautiful curling effort past David Marshall in the Cardiff goal.
Up until Gerrard's injury and Allen's resurgence into the team, Henderson had been shackled by the lack of athleticism from Lucas and Gerrard. Now, in the knowledge of Joe Allen's presence alongside him in the midfield with Lucas in the deepest position of the three, Henderson was free to express himself on the ball, finally starting to show the quality of a £16 million player.
So now Rodgers was left with the task of managing his captain, and deciding what his position would be. The only position Gerrard could get into was on the right hand side of the Liverpool attack, but Raheem Sterling's form meant it would have been wrong to drop him in order to accommodate Gerrard. Against Stoke City at the Britannia Stadium, Liverpool fans witnessed another new position deployed by Rodgers to ensure he has his captain in the team.
Although the 4-3-3 shape remained, Steven Gerrard now played in the deepest position of the midfield three, with Lucas and Henderson ahead of him. Similar to the regista position occupied by the great Andrea Pirlo at Juventus and for the Italian national team, Gerrard was expected to dictate the play, picking the ball up from the centre-backs and orchestrating attacks with precision passing.
Although Gerrard managed to win the ball back for Liverpool an impressive 16 times in the defensive and midfield areas of the pitch, he also gave it away 18 times. From his 58 open-play passes, only 76% of his passes found their target. As a player deployed to retain the ball and maintain possession, Gerrard did not do that. His passing was erratic, and lacked control and concentration. His determination in winning the ball for Liverpool was an inspiring effort from the captain, his 4 tackles were all successful, but his decision making was simply not good enough.
Rodgers indicated after the game that Gerrard would be deployed in a deeper position.
"I have spoken a lot to him about it. It was just about the timing of him playing the role. I just feel he's someone who fits the profile of that role. 

That position is perfect for him. He's got the personality to play it. When you play in that controlling role, you need someone who can get on the ball.

He gives us great variety with his passing – it allows him to stretch the game with his vision and quality, and he has shown great leadership there too, blocking lines of passing and controlling from there."
Gerrard has vision and quality, there is no denying that. But his discipline in holding his position for the benefit of the team must come first. If Gerrard is to play this position, then he must gain the necessary tools quickly. However, having had a preseason to discipline and familiarise himself with the expectations of a holding playmaker, Gerrard is yet to show he has the mentality to play this position.
Rodgers sees Gerrard as a symbol of Liverpool. He is more than just a captain in the team; he holds symbolic power over not just his peers, but the opposition. Rodgers has attempted a number of ways to fit Gerrard into his plans as he feels he has the quality of a world-class player. When defending his skipper after Sir Alex Ferguson's nonsensical comments in his latest autobiography, Rodgers stated that:
"He may not have won the title but that's more because of the teams he's been in rather than him, himself. He's a world-class player and playing at the highest level."
Many fans are still unconvinced by Brendan Rodgers so far at Liverpool. He is a young manager who is learning the expectations of being a manager at one of the biggest clubs in Europe. Rodgers knows that he has one of the toughest challenges in football in dropping Steven Gerrard, especially considering the hostility it will be met with. Rodgers may have had the chance to slowly incorporate a different midfield with Gerrard on the bench, but Joe Allen's injury forced Gerrard back into midfield, and it is unclear when Rodgers may be able to implement the midfield three Liverpool fans witnessed in the month of December.
Brendan has tried a number of positions to keep Gerrard in this Liverpool team, and if the latest developments of his deployment as a regista fails to work, as have the other three positions Gerrard has played under Rodgers, then there are not many places in the team for the Liverpool icon. Although we are still yet to see Gerrard on the right-hand side of the attack, there are no guarantees of its success. After that, there will be no excuses or options for Rodgers, or his captain.
If Rodgers wants to maintain the symbolic power of Steven Gerrard, he must think effectively and rationally. Because then, the true power of Steven Gerrard can be exploited, as will the frailties of his opponents.
Maintaining his greatness is a challenge for Rodgers, but one that all Liverpool fans want him to succeed at.
Are you from near the Midlands area? If so you should attend A Night in Birmingham with John Barnes, John Aldridge and Jason McAteer!

Former Anfield Index Podcast guest host Noreen Khan is the host and there's a three course curry on the menu! All proceeds to charity!