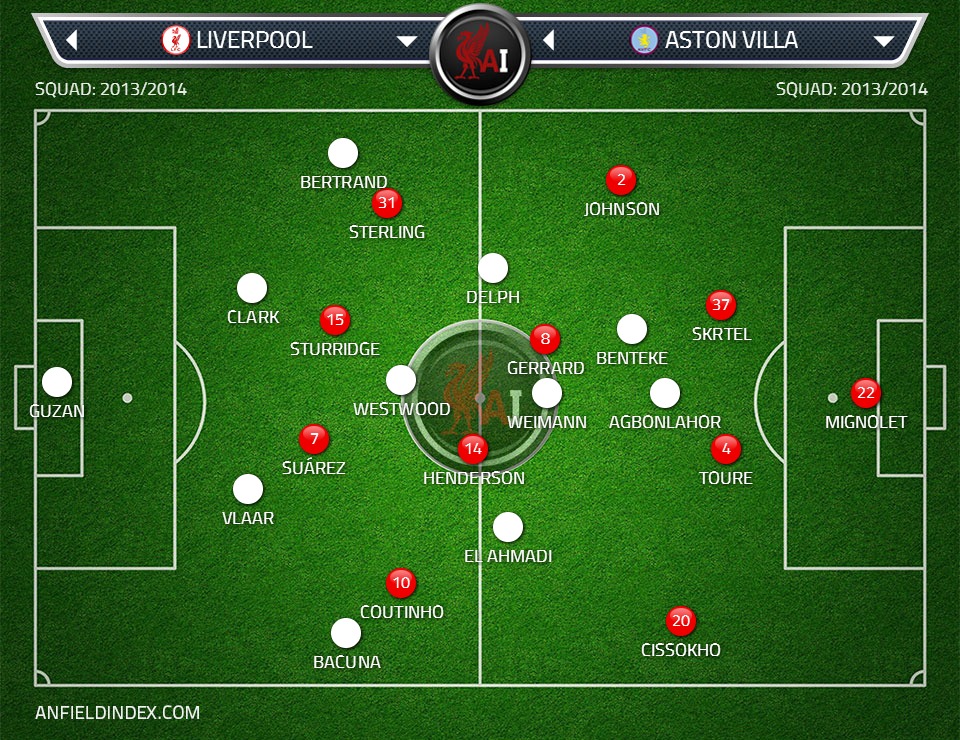 Reviewing Liverpool's imbalance & openness in the 1st half vs Villa
 "It's (the Premier League) less tactical, with more space, and more physical than in Spain. You don't have to wait until the second half here for a game to open up and that is good for me." Michu
Traditionally, people think of English football as direct, as physical, as high intensity and sometimes a battle.
But there's another aspect that is traditional to English football. And that's the openness within games. Whereas abroad, teams traditionally concentrate more on control of the tactical side, there has often been cynicism to treating football as a science in England. This has obviously changed over the years due to the influence of foreign players and coaches and the realisation that football is constantly evolving. However, it is still something that is evident in English football. On the one hand, you can see it as exciting and fun to watch. On the other, you can see it as a plain deficiency.
Brendan Rodgers is an interesting coach in that when he came to Liverpool, many spoke about him as having continental ideas. This is certainly true; he's had plenty of experience studying methods in Spain, he's very well informed when it comes to tactical and coaching ideas from abroad. Indeed his training methods certainly take the form of having very little influence from the traditional English ones – he doesn't make the team do lots of physical work without the ball, even in pre-season, instead being a big advocate of 'periodisation'.

However, it seems more and more that Rodgers is combining his ideas of technical ability and control of the ball with the English tradition of playing very open in midfield. Whether this is by design (probably not) or just a result of making a trade-off, he seems to have no problem allowing a game to be played in an open way.
Sometimes this works because of the quality in attack. Other times, it can be completely exposed…
Starting line ups
Rodgers started the team in a 4-4-2, with Sturridge and Suarez up front and Henderson and Gerrard partnering each other in midfield. It was a line up that looked immediately open – not completely unfamiliar in Rodgers' reign – although one that was workable in certain circumstances (more on this in a second).
Lambert, for his part, started Aston Villa in a 4-3-1-2 diamond midfield shape. Some said it was a 4-3-3 but it wasn't – Weimann played centrally, off Benteke and Agbonlahor up front, with a very hardworking three of Delph, Westwood and El Ahmadi providing balance behind him.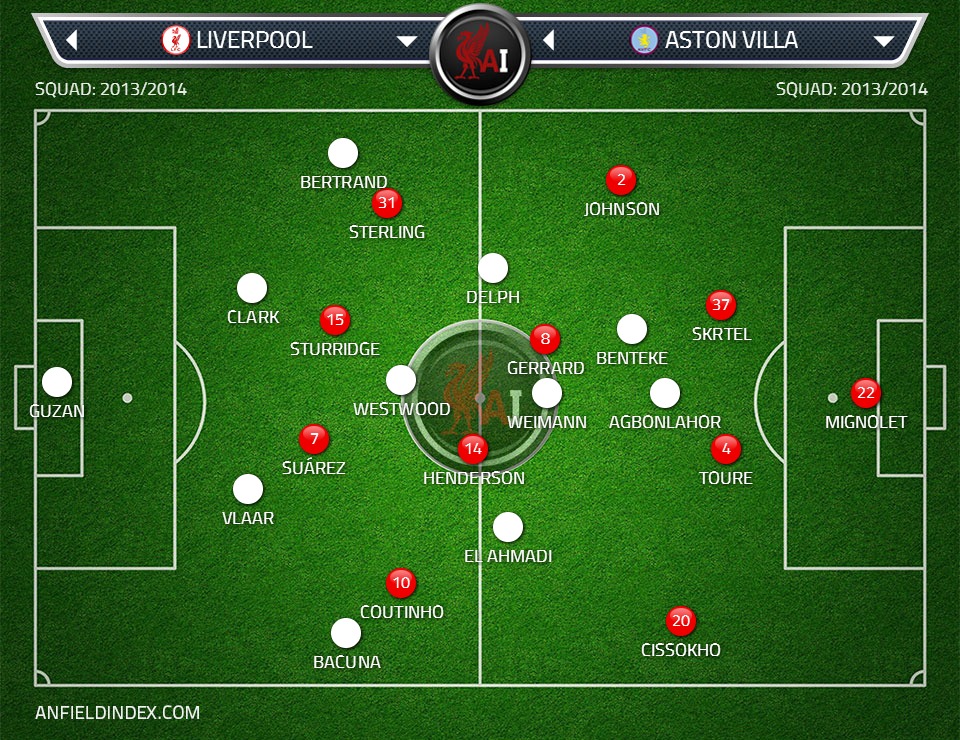 The Match-up 
This piece will concentrate on the first half performance, of which a number of different areas summed it up. The first was the way Villa played.
Beforehand, it could have been, and indeed generally was, predicted that Villa would set up deep, falling back into a low block and ceding space in the middle third in order to restrict space for Liverpool to exploit in the final third. That was how they had played versus Arsenal and considering their counter attacking strengths, it was by no means naive to think that that would be how they would approach this game.
On the other hand, it would have been the wrong decision. Such an approach has suited Liverpool this season – it fails to exploit the openness in the midfield, it hands the initiative to a very good attacking setup and it means any defensive mistakes, which Villa are vulnerable to, would almost certainly be punished by Suarez or Sturridge. The teams who have gone to Anfield with that game plan this season have always been comfortably beaten.
Lambert therefore, very intelligently, altered his approach: before the game it was speculated whether he would play 4-4-2 or 3-5-2, instead, he changed to play a diamond midfield. This gave Villa the platform to press high up the pitch and play with a high intensity,  stopping Liverpool controlling, pushing Suarez and Sturridge away from Villa's goal and also allowing the team to exploit the space in midfield.
To fully understand the success of this approach, it's important to understand the way Rodgers set out and the imbalances that were created by this. As mentioned, Liverpool came out in a 4-4-2. The formation wasn't necessarily the issue in the first half – Atletico Madrid for example also play a 4-4-2 but they play very compactly and organised; the whole team defend as a tight block, even the forwards. The personnel Liverpool set out with on Saturday clearly didn't suit that.
The disappointing thing about the structure of the team was the clear imbalances in it. Suarez and Sturridge don't play like Villa and Costa do in Simeone's system; they don't defend with the rest of the team by falling back and squeezing the space in midfield. They prefer to remain high up the pitch, trying to exploit the vulnerabilities of the opponent's backline. This leaves space in midfield and makes it very difficult to control defensively there when without the ball and when, as in this game, facing a diamond midfield.
Coutinho started on the left again but the high tempo and tight space in the middle third meant he was unable to perform at a high enough level. Sterling was playing right wing and was probably one of the better performers but was clearly not able, by himself, to cover up the deficiencies in midfield. Henderson didn't exert any positive influence on the game in the first half, apart from his assist for the goal; he worked hard and ran a lot as usual, but left Gerrard very exposed and isolated at times and highlighted his lack of intelligence within a midfield two with a number of runs forward that were too aggressive and without timing or positional intelligence.
These five players basically took away Liverpool's ability to exert any control on the game. The reason for that was that one of the main parts of Lambert's game plan was to stop Gerrard being able to pass the ball from deep. While certain issues with his game have been gradually increasing for Gerrard, his passing ability, particularly his switches of play and ability to play high quality balls from deep, are still top quality. What Lambert did was to realise that without Lucas and Allen, with Henderson playing further ahead and with Coutinho playing on the left rather than in the middle, Liverpool would be very reliant on Gerrard to orchestrate in possession. Villa pressed Gerrard at a very high intensity in the first half, stopping him get into the game, leading to very poor turnovers and thereby halting any control Liverpool had in possession.
While collectively, the balance within the team was without any control, this was also a bad day at the office individually. The high rhythm Villa tried to exert led to some very poor and isolated decisions throughout the first half from Liverpool. In hindsight, the chance for Agbonlahor in the first minute summed it up. Suarez and Sturridge were very high up the pitch, not supporting the midfield in winning the second balls. Weimann was able to run past Gerrard with ease. Toure completely ignored the run Agbonlahor was making between him and Cissokho, instead going for an aerial duel with Benteke that wasn't even a 50/50, certainly not considering the skill-set of the player he was up against. It was an imbalanced mess at points and Villa's game plan exposed the structure of the team.
What was also alarming, certainly not for the first time this season, was just how open Liverpool were on transition defence. It's been commented on before on here, but the team have a strong tendency to commit too many players into attack. If teams attack quickly when the ball is regained, the defence is very vulnerable. This was exposed for the first goal. Liverpool had five players in the box when possession was lost; Gerrard was loitering outside. The midfield was completely free for Villa. There were certain things the defence could have done better but it was clear that again Liverpool were caught having every outfield player having to run back to their own goal. Gerrard tracked Weimann's initial run from midfield fairly well but then completely switched off in the box, leaving Weimann free to tap in.
Rodgers DID try to alter things in the first half. Not long after the first goal conceded, the team switched to a rough 3-5-2; Johnson stayed deeper and moved narrower, pretty much as a third centre back. Sterling played deeper as a right wing back, while Cissokho pushed high up on the other side. Rodgers saw how much Villa were exploiting the middle and tried to shore it up through three centre backs, as well as pushing Coutinho permanently inside to try and gain more control of midfield. The changes didn't have a massive impact initially, but they did show that Rodgers was trying to alter things in the first half. In the second half, Lucas came on for Coutinho and the triangle in midfield reverted from a '2-1' to a '1-2' and the team, partly due to Villa dropping off, gained more control through these changes.
How can we start dealing with this lack of control and balance?
The lack of control, particularly in midfield, has been an issue this season. Collectively, this is partly a tactical problem. The backline doesn't push up consistently or in a coordinated manner. Very rarely, if ever, do you see the defence catch someone offside. Nor do Sturridge and Suarez help condense space in the middle third. The team doesn't particularly press or control space in a coordinated and compact manner. The result of these issues is that when opposition teams compete and press in midfield, the team lacks control.
In such an open league as the Premier League, teams who control space effectively immediately gain an advantage. It was why Rafa Benitez setup the way he did. The feeling is there that Rodgers could perhaps adopt a more collective approach to the defensive work, one that was shown in the 0-5 win against Tottenham. Clearly the attack of Sturridge and Suarez, backed up by Coutinho and Sterling, is of a very high calibre. But considering the individual quality of the front two, it could be argued that concentrating more on control would give Liverpool a better balance whilst not taking that much away from the attacking play.
The other issue that is a problem and may need sorting is the transition defence. It's one thing to commit lots of players forward in an attack – but, it is still possible to do that whilst maintaining balance. The problem is that there is often a lack of cover when the ball is lost. This becomes a further problem when Henderson is forward, as he generally is. When Lucas holds, his lack of mobility can be exposed on the counter attack. It can be the same problem with Gerrard. If there isn't cover because there are lots of players in the box, then without a quick, mobile player in midfield who can get across the pitch to delay or shut off counter attack possibilities, the backline is left immediately exposed. This was one of the great strengths of Mascherano a few years ago – his ability to cover across the ground very quickly. If Gerrard or Lucas are left isolated, it becomes more of a problem. Lucas for example is very good at killing a ball dead immediately when the opposition try to get out of their own box. However, if he is run at or if the ball is played into the space either side of him, he struggles. One thing Rodgers might have to think about doing, even if Lucas if going to be out for a while with injury now, is to address this balance in attack and to gain better positional control: i.e. have more players behind the ball or outside the box when the team is attacking.
It's very unlikely Rodgers is going to become a cautious manager per se; he consistently plays attacking line ups and allows or even seems to encourage games to be open at times. But this game may confirm to him that bringing more balance and control to the side, however he does that, may be the way to move forward not only in the short term, but also in the long term.