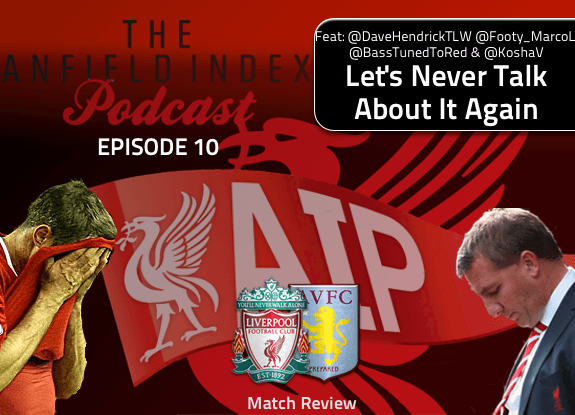 AI Podcast | Episode 10: Let's Never Talk About It Again
Episode 10: Let's Never Talk About It Again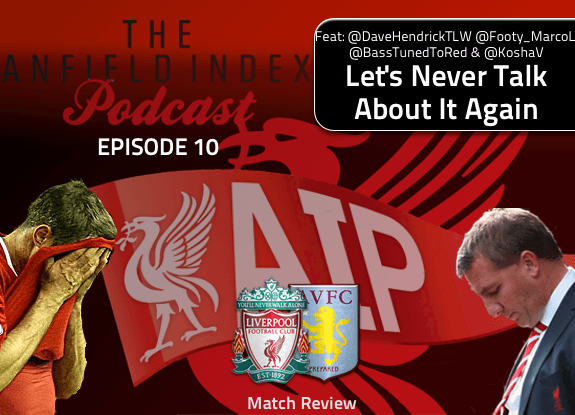 Date: 21st January, 2014
On this week's episode we are missing regular host John Ritchie who is off sick! Kosha (@KoshaV) is back on the show as well as a return for Marco, Andrew Beasley and Dave Hendrick as he returns from his Russia search of M'Vila.
For the first time the podcast is hosted by Gags (@AnfieldIndex)!
Plus there's analysis of Liverpool's disappointing draw with Aston Villa in the Premier League as well as a look at the stats, some transfer discussion and a look at whether Gerrard was to blame for the first half display against Villa – all this and much more – it's the AnfieldIndex podcast!
Download on iTunes
(Only subscribers will receive new episodes immediately)
Host: @AnfieldIndex

Guests: @KoshaV, @DaveHendrickTLW, @Footy_MarcoL & @BassTunedToRed
You can listen to the podcast by using the embedded player or you can use the links beneath it.
Listen to this podcast episode | Download this podcast episode (right click and save)