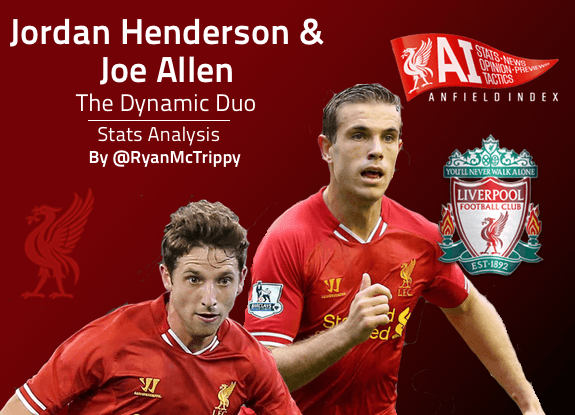 Jordan Henderson and Joe Allen: The Dynamic Duo
Partnerships.
Throughout the history of Liverpool Football Club, there have been many. Keegan and Toshack, Rush and Dalglish, McDermott and Souness, Aldridge and Beardsley, Fowler and Collymore, Hyypiä and Henchoz, Alonso and Mascherano, Gerrard and Torres, and of course the latest affiliation between Suarez and Sturridge. These combinations were/are at the heart of the success of their respective sides, and to look at the great European outfits, a similar pattern emerges.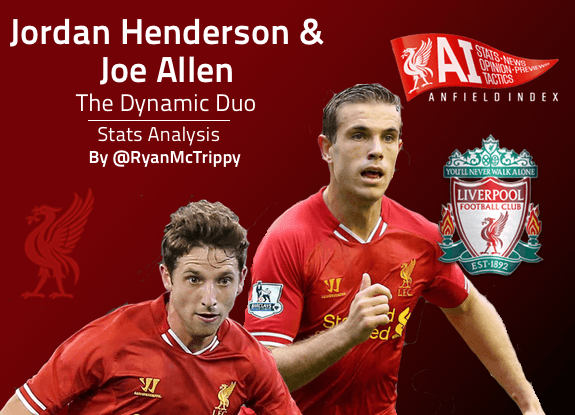 However, there is one possible pairing beginning to take structure in recent weeks that has gone unnoticed by Liverpool fans. Amazingly, it is not Kolo Touré and Martin Škrtel, but Joe Allen and Jordan Henderson.
Now, until Joe Allen began playing frequently for the Reds at the midpoint of November, Jordan Henderson had been an ever-present figure in the Liverpool line-up. Alongside Steven Gerrard and Lucas Leiva, Henderson found himself as the designated driver of a midfield which managed to stumble through games at home, but was found out in the big fixtures away from Anfield. Henderson was working beyond realistic expectations; he was left to do the running for the two central midfielders around him. Whether he was tucking infield from an attacking right hand side position to support Gerrard and Lucas, or utilised as a wing back in the 3-5-2, the Sunderland native found himself alternating between roles as much Rodgers did formations.
Henderson was a man cast aside by many Liverpool fans; a £16 million price tag on a young man at one of the largest clubs in the world, let alone England, was enough pressure for most players to have on their shoulders. But being deployed on the right of a midfield four by Kenny Dalglish resulted in a detrimental cocktail of abuse and hatred; Henderson became one of the primary outlets of frustration for the Anfield faithful.
Nonetheless, Brendan Rodgers managed to inhale a breath of confidence into Henderson, as he has now cemented his position in this Liverpool side.
Yet, it was the addition of Joe Allen that allowed Jordan Henderson to declare the ability he has, and showcase the work Brendan Rodgers has invested in a man he almost traded to Fulham in the exchange of Clint Dempsey.
Joe Allen is a player that not many fans have taken to. They have cited his lack of contribution in front of goal, his sideward passes, and his inflated £15 million pound price tag as reasons that the diminutive Welshman is simply not good enough for the red of Liverpool. But this is simply not Joe Allen's game. Allen is in the Liverpool team to keep the flow of Rodgers' side as consistent as possible, while also breaking down the opposition's play.
Rodgers has spoken about Allen, particularly when he first joined, and went as far as christening him the "Welsh Xavi". In the same interview, Rodgers also declared Allen's role in his possession based side:
"Joe's role is to keep the ball. And that, in Britain, is a special talent. It is why Paul Scholes is still playing to his age. It is such a rare talent for a midfielder to rarely give the ball away."
Mentioned in the same breath as Manchester United legend, Paul Scholes, Rodgers makes another unnecessary comparison that has ultimately lead to Joe Allen receiving superfluous abuse from Liverpool fans. Allen operates similarly to these players, but there is no questioning that he simply does not posses the world-class talents of Xavi or Paul Scholes.
Disregarding Rodgers' exalted comments, Allen is still a player with fantastic qualities when on the football pitch. Having recovered from a hamstring injury which kept him out until his return in October, Allen made his first Premier League start in a fantastic (for the neutrals) Merseyside Derby as Everton and Liverpool played out a dramatic 3-3 draw at Goodison Park. It was a rusty performance from Allen, who was left supporting a disappointing Steven Gerrard and Lucas Leiva away from home, while Henderson was playing on the right side of an attacking three.
Unfortunately for Allen, he was substituted off after missing a sitter at 2-1, which ultimately may have finished Everton off and given Brendan Rodgers his first Merseyside Derby victory. Many fans were waiting for Allen to give them the opportunity to highlight his deficiencies, but the skewed effort from the Carmarthen native was truly woeful.
Allen did not feature in the deplorable display at the KC Stadium, as Hull City ran out 3-1 winners. It was in the following performances at home to Norwich City and West Ham United that Joe Allen began to remind Liverpool fans of his fantastic start to his Liverpool career, following his standout displays for Team GB in the Olympic Games of 2012.
Coming in for Lucas Leiva, Allen offered a different outlet to the Brazilian, dictating the tempo and control of Liverpool's midfield with crisp and uncomplicated passes. Many will fault Allen for his lack of ambitious passes, but in a possession based team, sometimes the right pass is the overt one. This is one of the main things that Liverpool has been lacking in recent months. Lucas Leiva is typically deployed as the deepest midfielder, where he is expected to break down the opposition's attacks. As well as this, Lucas' role requires him to receive the ball from the centre backs and goalkeeper and recycle possession into attacking moves. However, whenever Lucas obtains the ball, he frequently sends it back to whoever passed it to him, resulting in pressure on either the Liverpool goalkeeper Simon Mignolet, or whatever centre back pairing Rodgers has selected.
Joe Allen is able to gather the ball and has an understated turn of pace that enables him to shift his body, as well as the ball, out of trouble and create space for the attack to develop.
Allen's athleticism and reading of the game allow other players to utilise their talents elsewhere, and that is exactly what Jordan Henderson has done. When Steven Gerrard pulled up with a hamstring problem against West Ham, the captain would be ruled out for the away fixture at White Hart Lane, a true test for Liverpool who had not beaten Spurs at home in five years. A midfield trio of Allen, Henderson and Lucas had yet to be deployed by Brendan Rodgers, but it resulted in a masterful performance from the Redmen as they beat a Tottenham side, albeit reduced to ten men, 5-0 on their own soil.
The display from the Liverpool players that day was the best the club's supporters had seen since Rafael Benitez's second last season in charge. Liverpool pressed and forced Tottenham into submission, achieving one of Rodgers' wishes as a coach: death by football. Allen and Henderson were prominent in this performance, as they managed to outmuscle and outplay Tottenham's formidable midfield alongside Lucas. Both players showed dynamism, intensity and resistance in an exhibition that deserved all the plaudits it received.
The performances against Cardiff City, Manchester City and Chelsea included this new midfield triad, and bar the exhausted performance against Chelsea, Liverpool continued to show the potential their squad possesses when dynamic and energetic midfielders accompany the attacking talents that may be deployed. Henderson was unleashed on teams, particularly Cardiff, where he managed to rack up two assists, as well as a beautiful pass to Luis Suarez, leading to a Raheem Sterling tap-in.
Henderson and Allen are not an obvious partnership, but their performances and roles on the pitch complement one another marvellously. The final third pass that Joe Allen may fall short on, is accounted for by Jordan Henderson's new-found ability in attacking positions.
But this is a correlative relationship; Henderson cannot advance in a secure manner without knowing he has insurance on his attacking policy, and that insurance is Joe Allen. Allen sits and dictates, knowing when to advance and when to drop deeper, resulting in a midfield cooperation with efficiency, ability, and security.
Without Gerrard and Lucas alongside him in place for Joe Allen, Jordan Henderson is no longer on his provisional licence as a midfield dynamo; he now has the ability to drive the team forward through the accompaniment of his colleague Joe Allen. With a physical and imposing defensive midfielder behind them, this midfield pairing may go on to achieve great success playing together for Liverpool. Neither man is Steven Gerrard's successor, nobody ever will be. Yet, their conjoined efforts may breed the standard for this Liverpool side, as the benchmark of Brendan Rodgers' team.
Simplicity, Intensity, Technicality, and of course, Dynamism.