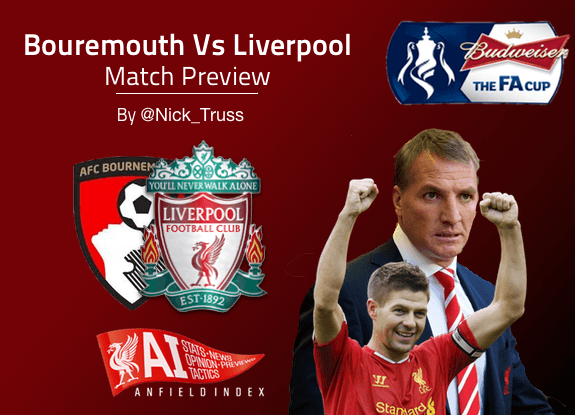 AFC Bournemouth Vs Liverpool | FA Cup 4th Round Preview
The FA cup returns on Saturday as Liverpool fans make the 524 mile round trip for a 12:45 kick off against a team which they have never faced before.
The Hosts
Championship side AFC Bournemouth currently sit in 16th place in the table having not won in 4 league games. Bournemouth's league record stands at 26 games played, 8 won, 7 drawn, 11 lost scoring 32 and conceding 45.
Bournemouth were promoted to the Championship last season after finishing in 2nd place meaning automatic promotion from League 1 . However late drama in the game between Brentford and Doncaster where Brentford won a last minute penalty which if converted would have sent Brentford to the Championship. Fulham Loanee Marcello Trotta took responsibly for the kick away from usual penalty taker Kevin O'Conner only to see his effort from 12 yards rattle the crossbar, the drama continued as Doncaster quickly broke scoring on the counter meaning that they denied Bournemouth the title, clinching the trophy for themselves.
At 36 years old AFC Bournemouth manager Eddie Howe is currently the 6th youngest manager in English football. Howe returned to Bournemouth on November 2012 after spending 22 months in charge of Championship side Burnley. Howe had guided Bournemouth to promotion to League 1 during his first spell at the club, and on his return he guided the side into the Championship.
Bournemouth entered this seasons FA Cup at the 3rd round stage being pulled out of the hat at home to Burton Albion. The original fixture was postponed due to a waterlogged pitch which left Liverpool waiting till the 14th January to learn their 4th round opponents. Bournemouth eventually booked their place in the 4th round with a 4-1 victory over Burton, scoring 2 goals in the last 8 minutes to secure the win.
Liverpool
Liverpool head into this weekend's match on the back of a disappointing 2-2 draw at Anfield against Aston Villa. Brendan Rodgers got his team selection horribly wrong deciding to drop Lucas Leiva in favour of a 2 man midfield and his 4 attacking options of Suarez, Sturridge, Coutinho and Sterling. Captain Steven Gerrard struggled throughout the first half playing in the defensive midfield position with Aston Villa exploiting this and taking a 2 goal lead. Liverpool pulled the game back with a goal just before half time from Daniel Sturridge and a second half Steven Gerrard penalty.
Liverpool will be looking to bounce back in this game and reach the 5th round but with the ever crucial Merseyside derby to follow on Tuesday Brendan Rodgers may choose to rest a few key players in preparation for that potential 4th place decider.
Although I would love a cup run with the Merseyside derby  in mind, I would hope Brendan Rodgers chooses to field a weakened side for this match as 4th place is much more vital for Liverpool than an FA cup win at this period in time, if we can mount a challenge for both then brilliant but top 4 has to be the priority. The team I would like/expect to start the game at Bournemouth on Saturday is as followed.
GK – I would like to see Mignolet start this game after his recent mistakes I believe a potential clean sheet could do his confidence the world of good. However it's potentially a game which he may not have much to do and a mistake or a defeat could have an adverse effect ahead of the derby. Brad Jones started the 3rd round tie against Oldham and did well so I would expect him to return to the side for this match.
RB – With Johnson seriously out of form and with reports of him picking up an injury, I'd expect Martin Kelly to slot in at right back as he did against Oldham.
CB – After having what seemed to be an abundance of centre backs at the start of the season injuries to Agger and Sakho has meant that Toure and Skrtel have been Liverpool centre back partnership for the past few games. Sakho is reportedly back in training ahead of the derby but I do not expect him to return to the side for this game, leaving LFC with no other real choice apart from to continue with Skrtel and Toure.
LB – Left back still provides Brendan Rodgers with a selection headache. Jose Enrique is still out injured and Aly Cissokho well, is Aly Cissokho. Before Saturday I had thought Cissokho could have done a job for LFC but that performance was the final nail in the coffin for me, although I would not be surprised if he starts. Jon Flanagan is back in training following a short spell on the side-lines and reports suggest he could make his return for this game ahead of the derby. If Flanagan is not available Rodgers may choose to give Brad Smith his full debut after throwing him at the deep end at Chelsea in December.
Midfield – With Lucas Leiva picking up an injury in his brief appearance against Aston Villa and expected to be out for a month and Joe Allen reportedly missing training on Thursday, Liverpool's options in midfield are incredibly short. Therefore Jordan Henderson probably won't get the rest he deserves. Steven Gerrard will be looking to make-up for that first half performance against Villa and with no Daniel Agger available (and a rest for Luis Suarez) the captain's experience could be vital for Liverpool in this game. Luis Alberto played well in his brief appearance against Oldham in the 3rd round before he was hauled off with the reds still being held at the half way point. Hopefully he will get another shot in the first team against Bournemouth on Saturday.
Forwards – Daniel Sturridge hasn't looked like he's been away since he returned from injury against Stoke, 2 goals in 2 games for Liverpool's number 15 suggests that he hasn't lost his knack for goal in the 6 weeks he was out for. Allowing Sturridge to lead the line could be a benefit for his fitness and gives Liverpool a chance to rest Luis Suarez and still have a world class strike option up top. Lots of shouts for Jordan Ibe to start this game having missed the Oldham game through injury however with Raheem Sterling in top form after a consistent run of games Rodgers may be reluctant to drop him. Iago Aspas scored in the 2-0 victory over Oldham but apart from his goal he failed to win over his critics, Rodgers may give him another chance but with Sturridge back I would doubt he would lead the line and will probably be pushed out to the left or right side in either a 4-3-3 or a 4-2-3-1 formation. Either way it will be better than having Victor Moses there I'm sure!
Subs – Hopefully a mixture of youth and experience of the bench for Saturday's game with the latter not needed and are rested for the game on Tuesday.  If Mignolet if not starting the game I'd prefer him not to travel with the squad and for Rodgers to take young goalkeeper Ward with the Squad. Other subs could include, Flanagan, Cissokho, Moses, Rossiter, Coutinho and Suarez (just incase)
Prediction
Potential banana skin against a Championship opponent but the team predicted should have enough to win this game another 2-0 will do just fine.