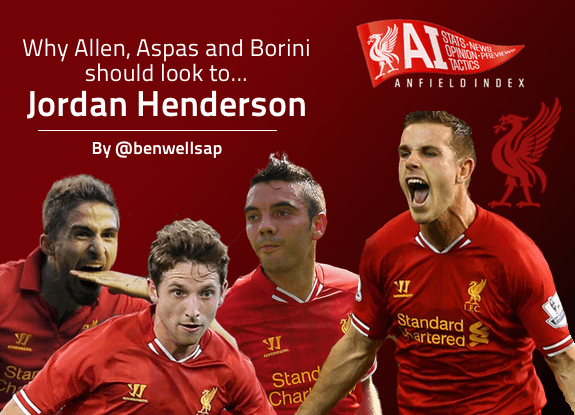 Why Allen, Aspas and Borini should look to Jordan Henderson

'Overpriced', 'Useless' and 'Not good enough' were just some of the phrases banded about a few months after Jordan Henderson joined Liverpool from Sunderland as part of Kenny Dalglish's spending spree. Sound familiar? Well, it should, as these are the exact phrases that have been used to describe the first few months of Joe Allen, Iago Aspas and Fabio Borini's Liverpool careers.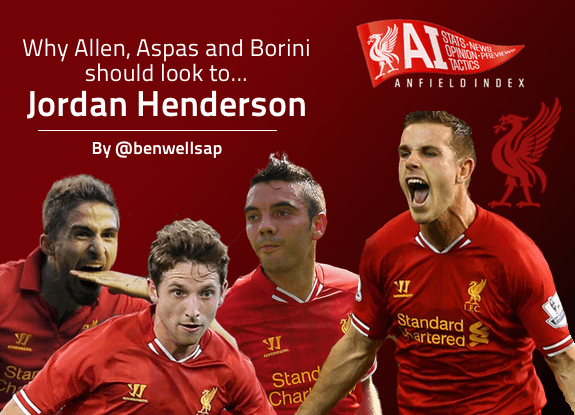 As a group, fans can be very judgmental. If a player does not show promise in the first few months of their career, the knives really come out quickly. Henderson was berated during his first few months at Liverpool, and I have to admit, even I tended to shift the blame onto his shoulders when all was not well.
However, it is safe to say that his resurgence has been phenomenal. Now a fixture in the Liverpool squad, and is looking to be nailed on for a place on the plane to Brazil for the World Cup. His passing statistics this season have shown a marked improvement, with an 86% completion rate and on average 2 key passes per match. Add this to his 6 assists, which makes him joint top with Gerrard, and one could be forgiven for thinking that Henderson was one of our top players this season.
As I mentioned before, Allen, Aspas and Borini need to follow in Henderson's footsteps if they are to become as successful, if not more so, than the England man.
Joe Allen has had a lot of problems with injuries during his time at Liverpool and this has had an obvious effect on his confidence. Remember the first game he played against West Brom? Ok, so Liverpool lost the match, but the one thing a lot of fans will take from it is the enormous amount of praise Allen got for his performance. There was a player who was comfortable on the ball and not afraid to look for the harder pass.
Now however, Allen looks somewhat of a shadow of that player, with rare glimpses of his old self. His performances against Manchester City and Norwich this year proved that when given a chance, he can more than hold his own in either a holding position, or a more advanced one.
Allen came to Liverpool at a similar age as Henderson and hopefully his career can now follow a similar path. Once he has shaken off his injury problems of the past 12 months, he can go on to become a regular fixture in our midfield. A lot of people this transfer window have been calling for a defensive midfielder in the mould of Yann M'Vila, but given the chance, Allen can provide a more than adequate alternative until the summer at least when it is expected Allen will be moved into a more central role for the next season.
Recent signing Iago Aspas' career started in a similar vein to Joe Allen's. During pre season he looked like just what we needed, a poacher in front of goal who can nick a goal or two when the game is tight and came to Liverpool having scored 12 league goals for a struggling Celta Vigo side. Since then however, his form has dwindled and he is now on the verge of being out of the side altogether with rumours of Valencia coming to sweep him away back to Spain.
There is no doubt in my mind that Aspas can be a success at Anfield. I have been very vocal in my opinions that he should be given more of a chance before being judged so harshly. His performances have not been good, it has to be said. And, his confidence is at rock bottom right now. Having gone to Anfield to see the Hull match, the one thing I noticed was that every time Aspas was on the ball he would always look back to pass rather than go to take on his man, a trait he was well known for in Spain.
The most shocking stat on Aspas is that in 10 league appearances he has managed just two shots on goal. Yes, two. Now, for a striker, that is not very good and just goes to highlight that Aspas is simply not confident at all right now. Part of the problem is that he has been shifted out wide, or behind the striker. Not once can I recall him playing as an out and out Centre Forward. Aspas' frame and build do not help him out wide as he is too often eased off the ball by the opposing defender.
The one thing Aspas needs to succeed more than anything is game time. But this is a commodity that cannot be afforded right now. In a competitive side challenging for the top 4, Brendan Rodgers would much rather stick with the successful Sturridge and Suarez partnership, than test Aspas' credentials up top and risk a goalless game.
Fabio Borini is a player in a very similar situation to Aspas. After being played out wide the majority of his first season with Liverpool, he was shipped out to Sunderland on loan with the hope that goals and a regular starting berth up front would prevail.
Unfortunately for Borini, he has once again been played out wide, whilst Steven Fletcher is preferred up front due to him being more of a target man than Borini is. Whilst Borini has played well for Sunderland, scoring some brilliant goals and showing a work ethic similar to that of Henderson, there is only so much he can do out wide. If Gus Poyet plays him just off Fletcher up front then this could potentially be a fruitful partnership for the Black Cats.
Borini still has a lot to prove though as work ethic alone does not put you ahead of the lethal SAS partnership. Having only scored one premier league goal last season, Borini has managed just two in the league(four in all competitions) this year for Sunderland. More goals will be needed if he wants to play regularly for Liverpool. Confidence is certainly not an issue as he has on average 2 shots a game, from a wide position this is not too bad at all.
Borini, as a player, is very likeable and hard working and has the right mentality to eventually succeed. His movement off the ball is second to none and his dribbling has certainly improved during his time at Sunderland, making more successful dribbles than last season and drawing the foul from the oppsition more often.
Like Aspas and Allen, the key word once again is confidence. You can really tell the difference between a confident player and an unconfident one. Just compare the performances of Victor Moses and Raheem Sterling for example.
All three of these players can still succeed at the club. Joe Allen can eventually become a key part of our midfield and  Borini can provide adequate backup to Sturridge and Suarez if he wants to stay. Aspas is the only one I am really worried about, maybe a loan next season would help him out. Oussama Assaidi, as well as Borini, has profited from a decent loan spell at Stoke.
Progression is needed from all three, but to do this, they first have to instil confidence into their games. Jordan Henderson did this through playing regularly, and look at his now. Talk of starting at the World Cup and 'Gerrards heir' has resurfaced and he looking every inch the player we thought we had signed for £16million. Lets hope that in a year, the same can be said for our underachieving trio!
Are you from near the Midlands area? If so you should attend A Night in Birmingham with John Barnes, John Aldridge and Jason McAteer!

Former Anfield Index Podcast guest host Noreen Khan is the host and there's a three course curry on the menu! All proceeds to charity!