Editors Note: This article was written before the thumping of Everton and does not include numbers from that game.
Back in September I wrote a piece about Liverpool's defence and how we were blessed with some excellent defenders. How were were able to almost mix and match our defenders if required and how, even with an injury crisis we should be able to cope extremely well.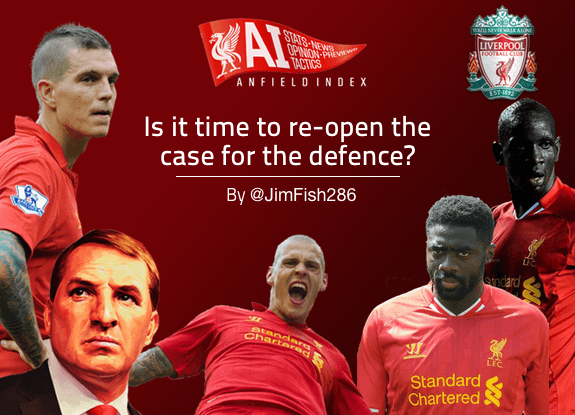 I wrote that Glen Johnson, Kolo Toure, Daniel Agger and Jose Enrique were, back then, in my opinion the first choice back 4 for Liverpool this season. That left us with Mamadou Sakho, Aly Cissokho, Martin Skrtel and Martin Kelly as back ups, not to mention new signing Tiago ilori and the out-on-loan Andre Wisdom. There was no mention of the renaisance man, Jon Flanagan.
Now, without a crystal ball it would have been impossible for me or anyone else to predict the injuries and loss of form our defenders have suffered in the months that have passed since September. If you look at my first choice back 4 from then, how many of you would agree on? Would any of the named players get into your first choice Liverpool teams right now?
I know I have changed my mind.
Injuries have robbed us of Glen Johnson, Jose Enrique, and Daniel Agger. Injury question marks hang over the heads of Martin Kelly and Mamadou Sakho and both Ryan Mclaughlin and Tiago Ilori have headed out on loan. We really are down to the barest of bones.
Due to these injuries we have never had a settled defence this season, we have switched from a back four to a back three and bacl again, and we have tried practically every combination you could thing of. The only pairings we have not seen is Kolo Toure and Mamadou Sakho and Daniel Agger and Mamadou Sakho.
Personally I would like to see a Toure and Sakho central defensive partnership but it would seem unlikely given Toure's lack of form in recent weeks. I also feel there is no chance that we will ever see an Agger and Sakho axis at the back for us.
That leaves us, in my opinion with one almost fit first choice defender in Mamadou Sakho. This is the player who will be a Liverpool captain in the future, he is the man we need to build our back four around for years to come.
I wonder if Martin Kelly could be the man to play next to Sakho for the remainder of the season? He surely cannot perform any worse than Martin Skrtel, is a centre-back by trade and with his physical limitations restricting him from playing at full back then centre back really is his only way into the side.
The full back area is a real concern right now. Glen Johnson has gone from offering nothing going forward and nothing in defence,to being out for an un-specified period of time with an un-specified injury.  What other options do we now have? Jordan Henderson? Raheem Sterling? Neither are ideal solutions especially with Henderson being so vital to the reds midfield. Sterling is playing so well in the front three then it would be foolish to drop him back to right back. The obvious and only solution is Jon Flanagan.  Although the general consensus was that he had done brilliantly earlier in the season my thoughts are that we all had such a low opinion of him that it was almost impossible for him not to exceed our expectations. Throw in the goal away at Spurs and all of a sudden he was lifted to the answer to all our full back prayers. The fact is he is not.
Left back is an even bigger mess. If Aly Cissokho is the answer then I really cannot work out what the question is. Somewhere over the last 24 months he has decided to no longer be a professional footballer, he just hasn't bothered to tell anyone else about his decision. His performances have been shocking, whether it be indecision in the opposition half to struggling to cope with any attacks down his flank, he just does not have any answers.
All of that means that Jose Enrique is benefitting from being out of the team. Every game that goes by and Aly Cissokho play at left back then Enrique improves. It's a curious aspect to football but when players are missing the more we build them up and the better we all think they are. In Enrique's case he is the  benefiting a lot from this enforced break. Now fans are desperate for him to return, for him to be the saviour that the back 4 requires. The reality is that when he returns he will still make the same mistakes and still look lost when in possession. The positive side though will be that he can link back up with Luis Suarez and resume his role as the best shepherd-er out of the ball in the Premier League.
I could go on and on about individual errors this season, they have even started creeping in to Simon Mignolet's game. After a wonderful start to his Liverpool career he has been culpable for goals in Liverpool's last two games and arguably in the defeats to Chelsea and Manchester city also.
The problem itself though is not just limited to this season, Once we concede 1 goal, we will almost always concede more. Since Brendan Rodgers took over, we have conceded 2 or more goals in 22 matches. We have only gone on to win 4 of those games.
If you look back at Brendan Rodgers' time at Swansea, they conceded 2 or more goals on only 14 occasions and only won 2 of those matches during his one season with them in the Barclays Premier League. Of that back four I would happily bring both Steven Caulker and Neil Taylor to Anfield, they would improve us both in and out of possession.
Those particular statistics show that you cannot keep outscoring the opposition. You are putting far too much pressure on your attackers, even if they are Luis Suarez and Daniel Sturridge.
Is signing new players simply the solution though? Or is it that Rodgers is not a good defensive coach? Do we need to employ a specific defensive coach? Is it that until we get an actual defensive midfielder to shield the back four we will always concede sloppy goals?
One thing I do know is that to be in the top four come the end of the season we need an alternative plan to just go out and out score the opposition.
Are you from near the Midlands area? If so you should attend A Night in Birmingham with John Barnes, John Aldridge and Jason McAteer!

Former Anfield Index Podcast guest host Noreen Khan is the host and there's a three course curry on the menu! All proceeds to charity!