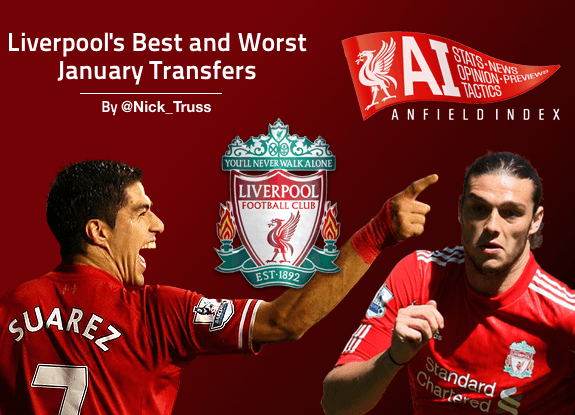 Liverpool's Best and Worst January Transfers

Transfer deadline day has just gone and I have decided to look back at Liverpool's transfer dealing since the January window became compulsory in 2002/2003 picking my 5 worst deals followed by my 5 best deals made by Liverpool Football Club.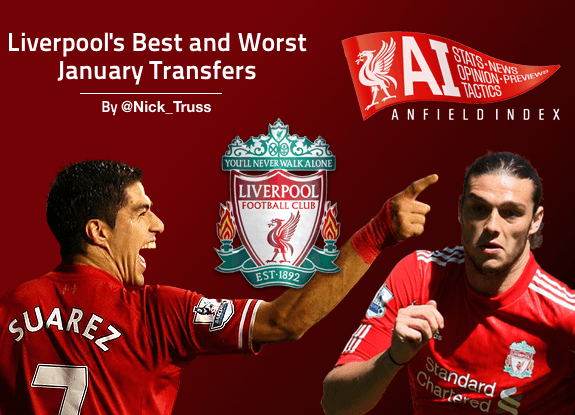 The Worst
5: Mark Gonzalez
Mark Gonzalez was regard as one of Chile's brightest young talents after a highly promising season with Spanish side Albecete. Gonzalez has been tracked by Liverpool throughout the 04/05 season and a cruciate knee injury late in the 2005 season threatened a potential move to Liverpool in the summer of 2005. Liverpool eventually agreed a £1.5 million deal in October 2005 to bring Mark Gonzalez to Merseyside in January subject to a work permit being accepted. Unfortunately his work permit application was rejected so he spent the remainder of the season on loan at Real Sociedad scoring 5 goals in 16 appearances. Gonzalez was granted a work permit in the summer of 2006 where his move to Liverpool became a reality. Gonzalez got his Liverpool career off to a flying start coming off the bench to score a crucial goal in a Champions League Qualifier against Israeli side Maccabi Haifa. This would turn out to be his best moment in a Liverpool shirt as the Chilean looked lost in the Premier League and was shipped back to Spain in July 2007 signing for Real Betis.
4: Fernando Morientes
Fernando Morientes arrived on Merseyside in January 2005 after a fantastic season with Monaco the previous season reaching the Champions League final as top scorer with 9 goals an achievement that resulted in him being awarded the European Striker to the Year Award. Understandably there was a huge buzz when Benitez got his man from Madrid, however Morientes was cup tied for Liverpool's remaining Champions League games having already featured in the competition for Madrid earlier in the season. Even without their new striker, Liverpool went on to win the Champions League in Istanbul. Morientes suffered from a lack of appearances this coupled with a few slight injuries resulted in a lack of game time for the Spaniard. The 05/06 season soon came and Morientes continually failed to impress, scoring a measly 5 league goals in 28 league games a goal every 5.6 games. Morientes returned to Spain at the end of the 05/06 season signing for Valencia. On his return to Spain he regained some form scoring a goal every 2 games in his first season back in his homeland, however this was short lived and his career began to wind down in the 08/09 season.
3: Jan Kromkamp
Jan Kromkamp arrived  after only 5 months with Spanish club Villarreal  in a swap deal which saw Josemi head in the opposite direction. Kromkamp failed to make an impact on the Liverpool squad and was unable to push Steve Finnan out of the team. Kromkamp finished his debut season with the reds coming off the bench to replace Xabi Alonso in the FA Cup final which Liverpool went on to win on penalties. Kromkamp's last appearance came in a 0-0 draw against Sheffield United at Bramall Lane. Kromkamp left the club on transfer deadline day making a move back to his homeland joining PSV.
2: Mauricio Pellegrino
[polldaddy poll="7751855″ align="right"]A crucial member of Rafael Benitez's Uefa Cup and 2 time La Liga winning Valencia side 33 year old Pellegrino re-joined his former manager at Liverpool in January 2005. After arriving at Anfield with a wealth of experience and a cabinet full of winner's medals it was painfully obvious that Pellegrino was past his best and, after a five torrid months, he returned to Spain with Deportivo Alaves.
1: Andy Carroll
Through no fault of his own Andy Carroll makes the top of this list. Signed for a Club record transfer fee of £35 million on deadline day 2011 Andy Carroll will forever go down as one of the biggest flops in transfer history. He arrived at the club with a thigh injury which prevented him from playing and, possibly, carrying on the form he had shown during his 6 months in the Premier league with Newcastle. Scoring the winning goal in the FA Cup Semi Final against Everton at Wembley and almost helping Liverpool win the trophy with one (and a half) goals in the Final went some way to help his reputation. However, when Brendan Rodgers took charge of Liverpool in 2012 Andy Carroll was shipped out to West Ham on loan as he did not fit in Rodgers plans. West Ham made the deal permanent in the summer of 2013 with Liverpool recouping £15 million of the £35 million originally spent.
The Best
5: Maxi Rodriguez
Maxi Rodriguez signed for Liverpool in January 2010 on a free transfer from Atletico Madrid. Most Liverpool fans were aware of the Argentinians ability after he had scored a goal at Anfield in a Champions League group game against Atletico in 2008. Maxi was a player who could play in midfield or out on the wing which made him a very useful player for Liverpool. Maxi's best spell for Liverpool came at the end of the 10/11 season under Dalglish scoring 7 goals in 3 consecutive games with hat-tricks against Fulham and Birmingham. He averaged a goal every 202 minutes during his time at Anfield before moving back his hometown club where it all began for him at Newell's Old Boys.
4: Daniel Agger
Voted Denmark's most promising player in 2004, 2005 and 2006, Daniel Agger made his move to Liverpool in January 2006. The Dane only made 4 appearances in the remainder of the 05/06 season. Agger opened his Anfield goal scoring account in front of the Kop with a goal of the season candidate against West Ham. Daniel Agger's injury record has not been great during his 8 year spell at the club, with his inability to go a whole season fully fit being his main downfall. However, despite this, Agger has cemented himself as a fan favourite, becoming club Vice-Captain this past summer following the retirement of Jamie Carragher at the end of the 12/13 season.
3: Daniel Sturridge
A more recent January addition Daniel Sturridge became Liverpool's first signing of last season's transfer window. Sturridge scored in his first 3 games from Liverpool, a feat no player had achieved since Ray Kennedy in 1974. Sturridge ended his first half season with 11 goals in 16 appearances. These goals took the pressure off Luis Suarez who had been leading Liverpools attack on his own for the first half of the season. When Suarez received a long ban after biting Branislav Ivanovic it gave Sturridge the chance to lead the line at Liverpool and showcase his talent, which he did scoring 11 goals in the 10 games Suarez was missing, including three in the first three games of the 13/14 Premier League season which saw Liverpool win each game 1-0 and go top of the league.
2: Javier Mascherano
Regarded as one of the best defensive midfielders in the world but unable to break into the West Ham team, Javier Mascherano arrived at Liverpool on loan in January 2007. The tough tackling Argentine soon became a fan favourite after some impressive performance including one in the 2007 Champions League Final. Mascherano established himself as a key member of the 'best midfield in the world.' A proposed move to Barcelona fell through in the summer of 2009 which, combined with nagging injuries lead to a string of poor performances. Mascherano admitted he found it difficult to motivate himself after the move fell through but he eventually rediscovered his form and went on to have an excellent season. Barcelona came knocking again in 2010 and Mascherano left Merseyside. He has gone on to win a succession of honours at Barcelona including the Champions League in 2011 when the Catalans outplayed Liverpool's great rivals Manchester United.  After that victory over United at Wembley, Mascherano dedicated the victory to the Liverpool fans who had been disappointed when he left the club.
1: Luis Suarez
Signed for £22.5 million in the same window as Andy Carroll, the two transfers could not have worked out any differently. Despite his problems both on the field and his off the field declaration to leave Anfield last summer, the Uruguayan striker has been a revelation for Liverpool. At the time the signing of Luis Suarez was overshadowed by the departure of Fernando Torres and the arrival of Andy Carroll. Since then, it's Suarez who has done the overshadowing. After scoring just 21 goals in all competitions during his first season and a half at Liverpool under Kenny Dalglish, it was the arrival of Brendan Rodgers that saw the best of Luis Suarez. The 12/13 season saw Suarez become the first Liverpool player since Torres in 07/08 to score 30 goals in a season, with the form he was in he was odds on to be league's top goal scorer and potentially win the PFA player of the year award. However after receiving a 10 match ban for biting Ivanovic in April 2013, Robin Van Persie went on to win the golden boot and last year's golden boy Gareth Bale picked up both PFA Player and Young Player of the Year with Suarez getting his named booed at the award ceremony.
[polldaddy poll="7751874″ align="right"]This past summer saw Luis Suarez state his intention to leave Liverpool Football Club but owner John Henry blocked any more for Liverpool's number 7. The transfer window shut and Suarez was still a Liverpool player. He returned from suspension in a 3-1 victory over Sunderland at the Stadium of Light scoring two goals in the process. Luis Suarez has broken records left right and centre so far this season, becoming the fastest player to score 20 Premier League goals and becoming the first player to score 10 goals in a calendar month. His four goals against Norwich saw Suarez become the first Liverpool player to ever score a hat-trick of hat-tricks against one club,  become the first South American to score four goals in a Premier League game and surpass Carlos Tevez for the most Premier League Hat-Tricks by a South American player.
If Luis Suarez continues his current form he is on track to break the record for most goals scored in a Premier League Season which currently stands at 34 set by Alan Shearer and Andy Cole who both reached 34 goals in a 42 game season. His goal against Everton saw him equal his Premier League goal tally from last season after 18 games.
Luis Suarez is by far the most talent player I have ever seen wear the famous red shirt, this makes him Liverpool's greatest ever January Transfer Window signing.
Are you from near the Midlands area? If so you should attend A Night in Birmingham with John Barnes, John Aldridge and Jason McAteer!

Former Anfield Index Podcast guest host Noreen Khan is the host and there's a three course curry on the menu! All proceeds to charity!