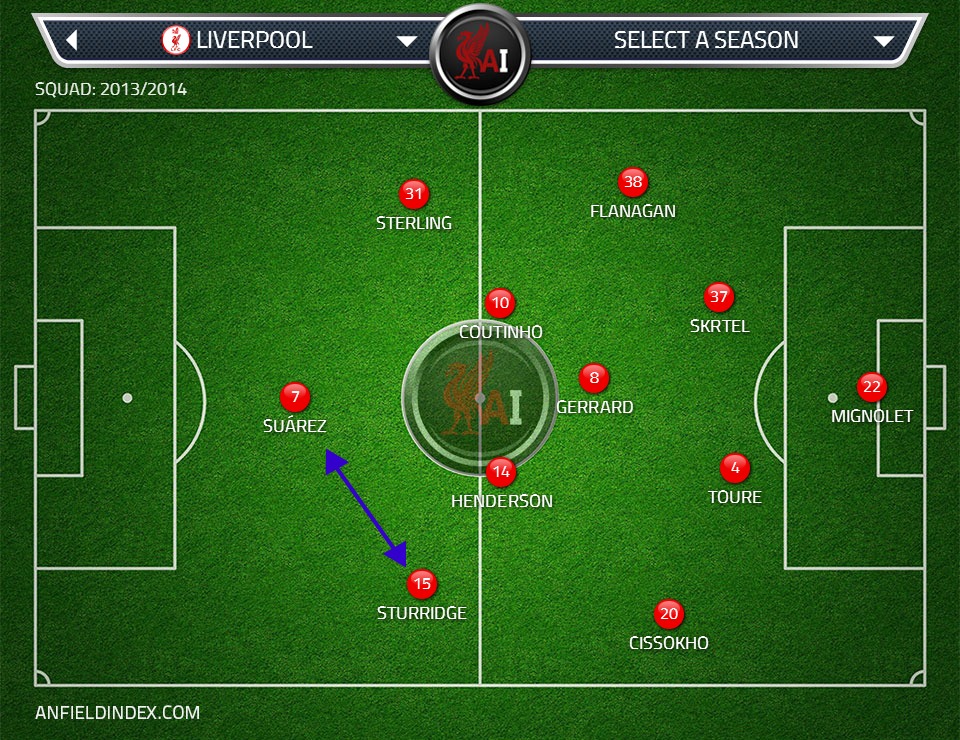 Liverpool 4 Everton 0 | In-depth Tactical Analysis
A fantastic result at home, matched by a superb performance that could and should have been rewarded with more goals.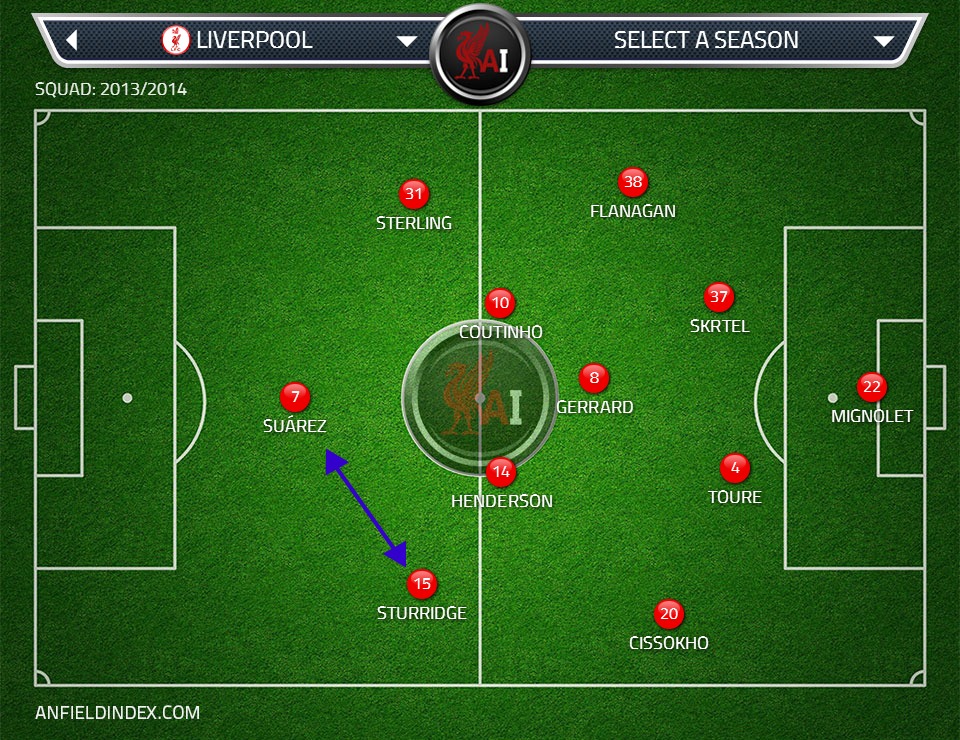 Game plan
One of the main changes Rodgers made in this match was to shift his focus to an area of the pitch he has often left open this season – midfield. Rodgers, significantly in certain games, has often left this area relatively uncontrolled. Much of this is tactical; the reflex reaction of the backline is often to drop rather than push up (the team has never properly pressed under Rodgers because of this). The forwards, Suarez and Sturridge, as has been mentioned a number of times in recent tactical reviews, don't generally remain compact with the rest of the team. The team doesn't generally move together in a compact and organised way.

This lack of coordination between defence, midfield and attack and the imbalances which cause the team to be open in midfield is further compounded by the problems with the personnel in midfield – Lucas' mobility has never been a strength and his decision making with open space around him can be poor, Gerrard is prone to switching off and being slow to track on defensive transitions, Henderson can lack intelligence as to when to control space instead of pressuring in the middle. It was no coincidence that the team hit a rich vein of form in December when Joe Allen came back into the mix.
The worry before this match was that without Allen and Lucas in the squad through injury and with the team looking as open as it did against Aston Villa and Bournemouth, the team would be very open defensively and wouldn't be able to control the match because of this. This was further extended by being without Sakho, Agger, Johnson and Enrique in defence.
Rodgers did a number of things to change the focus of the team. The first was to switch to a 4-3-3. Generally with Suarez and Sturridge, the preferred shape has been based around both of them playing up front together and altering the shape behind them, be it 4-4-2 or 3-5-2. Against Bournemouth at the weekend, Rodgers changed this, playing a 4-2-1-3, with Suarez and Sturridge taking turns at playing right wing when the team lost possession.
Here, he further adjusted. Coutinho, who played as a number ten against Bournemouth, moved further back into central midfield, alongside Henderson, just in front of Gerrard. This enhanced the midfield control the team would be able to gain during the game.
Sterling played right wing – against Baines it was important to make sure there was a player who could track him and was experienced and disciplined enough to play there. This is an aspect of Sterling's game that has really developed and is a crucial reason, aside from his attacking threat, that he is first choice starter at the moment. His intensity in this game was again very good.
This time Suarez and Sturridge took turns at playing on the left when the team was out of possession – had Coleman been available for Everton, Rodgers might not have done this but clearly against Stones, the thought was not only would there be no attacking threat but much less experience defensively as well and that could be exploited on the counter attack in this area.
One of the other shifts of approach Rodgers took was to play narrower in shape. At Goodison in November, Everton were often able to play the ball through the lines, into the spaces either side of Lucas. Passing lanes weren't blocked and the midfield was very open to be exploited.
In this game though, Rodgers changed this. The team pressed high in stages when there were triggers to (and they did this very well) but generally the team settled in a medium to low block – i.e. just in front of the half way line or inside their own half. What the interesting part was though was the multi-layered approach from Rodgers:
When Everton had the ball in deep positions in defence or midfield, Liverpool forced them to play wide. The team played narrower than usual in order to try and control the space in midfield and to stop Everton playing through the lines. This wasn't done perfectly – there were a number of times Everton were able to receive the ball between the lines but generally it was difficult for this to happen and they Martinez's side were barely able to create anything through the middle because of this. They played a total of one through pass the whole game.
This change (or at least better-performed) approach to the midfield zone made it far easier for Liverpool to control the space in this area. Barkley had a shot early on from the middle, Mirallas also went close from a similar position at 1-0 but there wasn't anywhere near the level of open space the team left at Goodison in November.
As mentioned though, this was a multi-layered approach. Liverpool looked to forced the play wide when Everton were building play in midfield but when the team dropped into a low block there was a different approach:
In the above image you can see Liverpool have been pushed into a low block, with the defence just in front of the area. As play is switched wide by Everton, Cissokho curves his run and immediately goes out to close Stones down on the flank.
The whole Liverpool backline shifts across. Henderson, the closest player in support of Cissokho, blocks the route inside. This stops Everton being able to get to the byline and get into good crossing positions. This also forces Everton to play backwards from the flanks. This was an example of the multi-layered and organised approach from Liverpool. Again it wasn't perfect – Everton on a number of occasions got into good crossing positions on the flanks with plenty of space but it was very clear what the team was trying to do.
These were just little tactical points but they were very significant. Everton rarely created anything despite all their possession and by defending in their own half  in an organised way, Liverpool were able to counter ruthlessly into the spaces Everton left.
Martinez left Everton very under resourced defensively. One thing that is so clear now is just how ruthless and quick the team can be on the break. Everton very much walked straight into the hands of Rodgers' game plan. By forcing the play wide, Liverpool forced Everton to switch play to the full backs moving high. Indeed, John Stones at right back was often the player with the most amount of space on the pitch:
Everton were extremely inefficient in regards to this. Although Stones frequently found this space, he wasn't able to create anything going forward and he was leaving massive spaces behind him. In short Liverpool enticed him to go forward with the way they defended and that opened up space to attack into. This was fully taken advantage of for the second goal. It was interesting that even though Everton had the ball under pressure on the left hand side in the build up when they gave it away, Stones at right back never dropped to cover in case possession was lost. He only started recovering once it was too late – by that time Sturridge, who was outstanding, had already moved into the channel for Coutinho's pass.
Individual highlights from this game
There were many highlights from this game, not least the collective performance as a whole but there were a number of individual performances that stood out. Sturridge stood out for obvious reasons – his finishing was again clinical and superbly composed but his all round play was also brilliant. The idea of him and Suarez taking turns at defending one of the flanks looks like one that could take place more permanently in the medium to long term. I've commented lots of times before on the problems of them both playing up front together and how this unbalances the team in a defensive sense and so a move to them being able to support the team better defensively and yet retain most of the freedom in attack is one that looks very promising.
Coutinho's shift into central midfield was very much rewarded. He put in arguably his best performance for the club (possibly only matched his performance in the 6-0 win over Newcastle last April). He contributed very impressively to the defensive work, not getting caught going forward too high and controlling space well in front of Gerrard. Playing in the middle also gave him far more involvement in possession; when he plays on the left he gets less touches and is restricted by playing wide, both by his defensive responsibilities and also due to the fact that if teams force him against the touchline, he has nowhere to go. Playing in the middle permanently allows him the freedom to get more touches on the ball, be able to get involved more with the build up and to help orchestrate play, something he is very good at. Interestingly, despite Everton having almost 61% of the possession, the most frequent passing combination was Flanagan to Coutinho. Clearly Coutinho looked far more settled playing in midfield and was much more involved in the play.
Gerrard, playing behind Coutinho and Henderson, also had an outstanding game. Despite the doubts about his ability to play in a deep midfield role, the strengths of the way the team played in this game (narrow and compact, forcing the ball to the flanks, counter attacking) suited him. He didn't generally have massive gaps either side of him to fill in. He wasn't required to push forward or support a midfield partner – he had four players in front of him who were assisting him in controlling the midfield space. He didn't really play the regista role in this game either – he played long switches a few times but generally wasn't the player controlling possession for Liverpool. In essence he was more a defensive midfielder in this game than he was a deep playmaker. And he put in an extremely good performance.
Conclusion
It was a brilliant performance and largely unexpected. The shift in approach in order to control the midfield better worked perfectly and it forced Everton to open up, leaving space to counter into. The beauty of this team is that it seems capable of more than one way of playing – in this game it counter attacked superbly and yet the same line up seems more than capable of dominating possession at home and creating chances through that. If Rodgers uses this game to focus more on the midfield area and leaves it less open, like he did here, then there's no reason why this team cannot comfortably finish in the Champions League places this season.
Are you from near the Midlands area? If so you should attend A Night in Birmingham with John Barnes, John Aldridge and Jason McAteer!

Former Anfield Index Podcast guest host Noreen Khan is the host and there's a three course curry on the menu! All proceeds to charity!