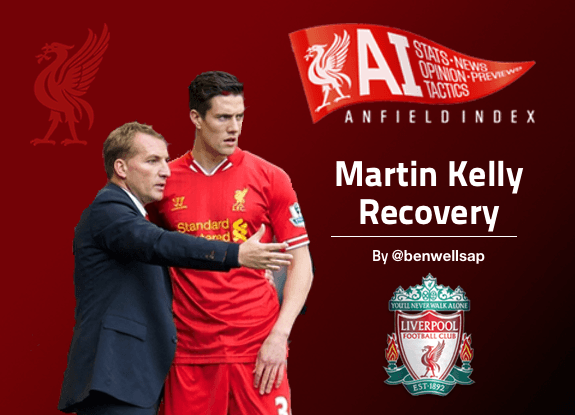 Martin Kelly: Recovery
Martin Kelly has returned from injury at the perfect time for Liverpool.
Liverpool are currently experiencing a defensive crisis, with Mamadou Sakho, Daniel Agger, Jose Enrique, Glen Johnson and Sebastian Coates all out injured. This leaves Liverpool with just five fit regular first team defenders. Without Kelly, this number would fall to four. His return from the awful anterior cruciate ligament injury that ruled him out of action for over a year could not have come at a better time.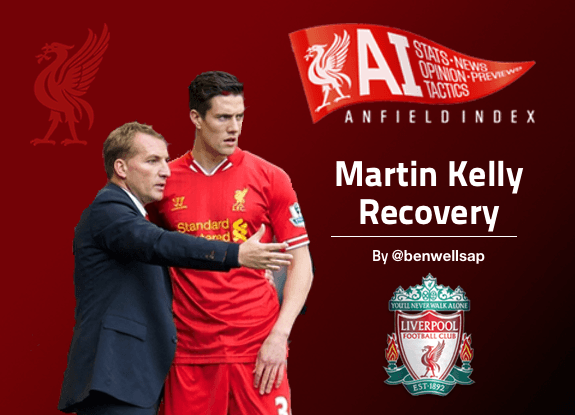 However the question remains, is Kelly the same player he was before he got hurt? His problems with injuries have been well documented, the recent ligament injury comes after a hamstring injury ruled him out of the second half of the 2010/11 season, and a 2011/12 season that was littered with little injuries. At the age of 23, Kelly has played in just 32 league games for Liverpool.
Since making his debut for Liverpool in the 2009/10 season, Kelly has always been regarded as one of Liverpool's top youngsters. Originally a centre-back, Kelly was moved to the right-back position under Rafa Benitez and Roy Hodgson due to the competition for places at the heart of the defence.
Kelly prospered at right back, garnering praise from around the country. In his breakthrough season he made 10 first team starts. Arguably this has been his best season so far in a red shirt as injuries have hampered his career since. Kelly showed that he was able to play at right-back due to the surprising amount of pace he generated going up and down the pitch. Kelly made 10 key passes and 6 successful dribbles that season, proving he was more than capable of playing a 'Wing Back' position.
The next two seasons were meant to cement Kelly in Liverpool's first team, and maybe even earn himself a slot at centre-back, just as Carragher did after originally playing most of his games at both fullback spots under Gerard Houllier. However despite earning a call up to Roy Hodgson's England side and winning his first cap, hamstring and ligament injuries meant that his progress was severely halted.
Now, Kelly finds himself on the mend from an injury that had stolen a year of his career from him. At a young age, any injury that keeps a player out for over 6 months can potentially damage a career. Just look at the unfortunate case of Samed Yesil. Brought into Liverpool for £1million after becoming one of Germany's top performing young strikers, Yesil was expected to do wonders for the youth team and even made his first team debut against West Brom that season. However, two anterior cruciate ligament injuries later and it looks very unlikely that Yesil will ever fulfill his potential, and more and more likely that he will be moved on.
I have kept a close eye on Kelly this season as he is a player I really thought would do well when he first came into the side. I respected how despite him being a centre back, he was ready to fill in where he could for the team. When it was revealed that he was starting the F.A Cup 4th round tie with Bournemouth I was over the moon, here was a chance for the lad to really show that he had recovered from his injuries and was ready now to tie down a first team place.
I was left disappointed. Kelly did not perform well in that match and looked a yard or two off the pace. He was constantly being caught out higher up the pitch and the Bournemouth left hand side was the most fruitful area for them. Kelly's pass accuracy in that match was good, hitting 89%. However, he won just 1 tackle, had less touches of the ball than anyone else, and was constantly being found out by Bournemouth's left back Charlie Daniels. In his defence the whole team struggled, but Kelly hardly covered himself in glory.
At the age of 23, Kelly is no longer a youngster in footballing terms and the argument has been made to move him on now. With other youngsters coming through the academy and money available to invest in new players, Kelly's future looks relatively bleak right now. Kelly however, has the determination and ability to get himself back into the side. Like I said, his return could not have come at a better time. As well as the injuries, it has to be said Glen Johnson has not been playing particularly well and looks as though he may leave when his contract is up next season. This opens up a gap for Kelly to potentially fill.
His ability is undoubted. He has proven that when fit, he is an international standard player. He was after all, on the fringe of the England team for Euro 2012. I personally think that Liverpool should start coaxing Kelly into a more central role in defence now that it seems he may have lost a little of the pace that made him so good at right-back. This may however be a confidence issue, but can Liverpool hang around for a player to regain his confidence and start bombing up and down the wing again? I think not.
Kelly has always had the frame and ability to succeed in the centre so why not give him a chance there? If I remember correctly the only time I have ever seen him start a game in the middle was during his debut. He deserves the opportunity to impress there before people write him off completely.
Like I mentioned in my previous article, time is a commodity that cannot be afforded at Liverpool right now. Liverpool cannot wait for Kelly to regain his confidence forever. I honestly believe that if there is no opportunity for him to start more games, the best thing the club could do for him this season is send him out on loan to another Championship side for the second half of the season. This may be a controversial view seeing as we are short enough at the back already without Kelly leaving, but keeping him on the bench will do his progress no good at all and a loan spell could see him find the form that got him his plaudits in the first place.
Kelly's age is working against him right now, but his ability is dragging him back into the side. It will be interesting to see what happens to him over the course of the rest of the season now that Glen Johnson is out for an undefined period of time. Many would rather let him go, take the money and send him to a side where he can prosper. But why can't that side be us? We owe it to Kelly to give him one more chance to fulfil his potential and I believe he has what it takes, if given game time, to catapult himself back into the first team and become a very good player both for club and country.
Are you from near the Midlands area? If so you should attend A Night in Birmingham with John Barnes, John Aldridge and Jason McAteer!

Former Anfield Index Podcast guest host Noreen Khan is the host and there's a three course curry on the menu! All proceeds to charity!