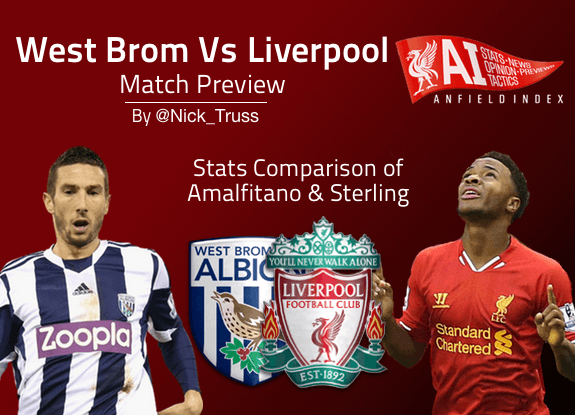 West Brom vs Liverpool Preview | Sterling Vs Amalfitano Stats

Liverpool travel down to the West Midlands for a Super Sunday match against West Bromwich Albion at the Hawthorns.
The two teams head into this game after very different results in their local derbies last time out. Liverpool demolished local rivals Everton 4-0 at Anfield on Tuesday night,with Daniel Sturridge scoring 2 goals in the process. West Brom however gave up a 2 goal lead against Aston Villa in the thriller at Villa (Park) with 6 goals being scored in the first half. A solitary 2nd half Christian Benteke goal from the penalty spot sealed the win for Aston Villa.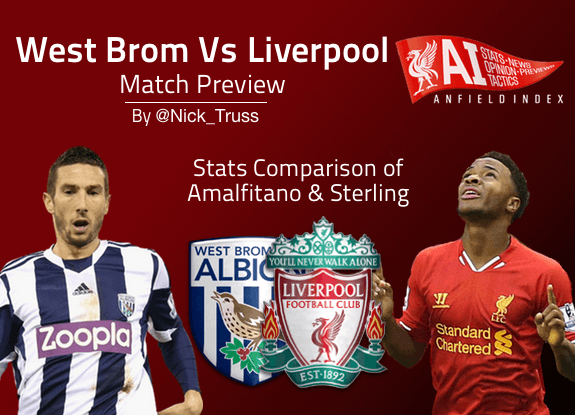 West Brom
West Brom currently sit in 15th in the Premier League with a measly 4 wins in 23 games and only 8 wins since the start of 2013. This form completely contrasts that from the beginning of the 2012/2013 season and resulted in former Liverpool assistant coach Steve Clarke losing his job. West Brom announced that Pepe Mel would take the helm on the 9th January 2014. Mel's first game in charge was against Everton at the Hawthorns, the game finished in a 1-1 draw after Everton had a dramatic late winner ruled out for offside.
Player Watch
Raheem Sterling has been a revelation for Liverpool over the past month or so, showing fans the same spark that earned him so much praise at the start of the 12/13 season. So far Sterling has made 39 successful dribbles, with 2 assists creating 26 chances, 5 of those being clear cut chances, meaning that he is creating a clear cut chance every 229.6 minutes.
An area which Sterling needs to improve is his finishing. He has scored 3 goals in 12 starts this season, but it is evident that he could have a much larger tally. Sterling has had 10 clear cut chances this season, scoring from 2 of those and missing 8 a conversion rate of 20%. If Sterling could add finishing to his game it would take him to the next level and he could well be considered as one of the true great young talents in the world of football.
West Brom's Morgan Amalfitano has made 22 successful dribbles but also has 2 assists and has created 5 clear cut chances. Amalfitano has played more minutes than Sterling so his minutes per clear cut chance created comes in at 264.6 minutes. Amalfitano has scored 2 goals so far this season but has a far better clear cut chance conversion rate of 50% however he has only had 2 clear cut chances so the sample size is rather small.
Line Up
With Liverpool's current injury problems Brendan Rodgers has little choice when it comes to squad selection. Because of this the team that goes out to face West Brom will probably be the same team that was so successful against Everton.
GK – Simon Mignolet will keep his place in goal, despite not being troubled by Everton the clean sheet will do his confidence no harm.
RB – Jon Flanagan returned to the starting line-up against Everton and performed admirably, after watching out of form Glen Johnson for weeks it was refreshing to see at right back get stuck in.
CB – The Toure-Skrtel partnership is not one that breeds confidence but having played together for a few games on the bounce the pair got their first clean sheet against Everton on Tuesday, hopefully they can continue to build on this partnership.
LB – You can't knock Aly Cissokho's effort but his ability lead a lot to be desired, after having a decent game defensively against Everton and with a lack of options at full back it look as if he will keep his place in the team for the foreseeable future.
Mid – Liverpool's current lack of midfield options means that the 3 who have started the last 2 games will more than likely remain the same. This means Gerrard will play in the deepest role which he has occupied in the past 2 games with differing outcomes.  This game will be another great test of his ability to play this position and confirm whether his performance on Tuesday was down to it being the Derby. Coutinho recent performances have come in for a lot of criticism, however he stepped up to the mark with a fine display of strength and ability on Tuesday night assisting Gerrard and Henderson in the midfield whilst also picking the locks of the Everton back 4. Jordan Henderson had an understated but greatly effective performance against Everton and will no doubt keep his place in the side.
FWD – The SAS have been devastating defences all season, and with the rise of Raheem Sterling this attacking trio is one of the most frightening in the Premier League. Luis Suarez equaled his goal tally from last season with his goal against Everton whilst Daniel Sturridge will be looking to amend for his penalty miss despite scoring 2 goals in the game on Tuesday.
Prediction
Liverpool's recent record at the Hawthorns has not been great, losing 2 of the last 3 Premier League meetings at the ground. So far this season Liverpool have managed to get results where they have previously struggled, wins at White Hart Lane and the Britannia being the prime examples. Liverpool also owe West Brom some payback after the two defeats last season and will be looking to add to the 4-1 victory they recorded in the reverse fixture at Anfield. If Liverpool are serious about their top 4 credentials they need to build on their 4-0 derby success and if they play as they did on Tuesday night, they could win comfortably and extend Pepe Mel's wait for a first win. However a new manager waiting for a first win it could all go wrong. Despite this I'm going for a 3-1 Liverpool win.