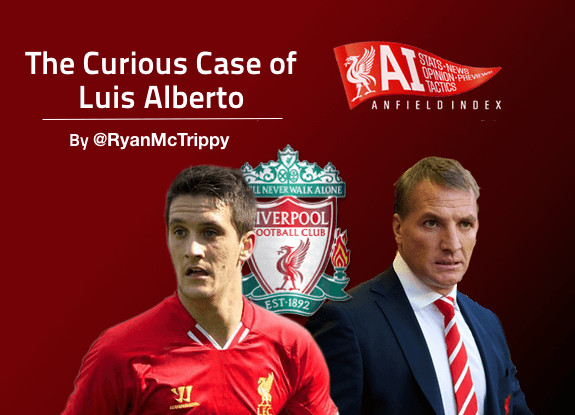 The Curious Case of Luis Alberto
The Rules of Luis Alberto:
"1st RULE: You do not play Luis Alberto.
2nd RULE: You DO NOT play Luis Alberto."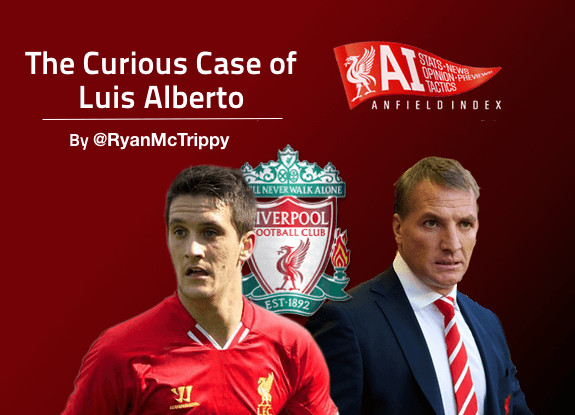 Okay, so maybe that is a bit harsh on Liverpool's number 6, but in light of recent injuries, fans have been calling out for Brendan Rodgers to hand Luis Alberto Romero his first Premier League start for the Reds. Limited to only 9 substitute appearances so far, equating to a total of 135 minutes, Alberto has yet to be given a true chance to stamp his presence on a league game.
Yet, many fans are still scratching their heads as to where exactly the Cadiz native's most influential position is within Brendan Rodgers' numerous setups. A loan spell at Barcelona B last season saw Alberto predominantly deployed on the left wing or as a false nine for Eusebio Sacristán's Segunda outfit.
What Alberto has showcased to Liverpool fans is that he is intelligent, an efficient passer, possesses good vision (see his assist for Luis Suarez's second goal versus Tottenham Hotspur), and is technically sound. Unfortunately, he is not blessed with a great deal of pace, meaning this forward position, particularly at left wing, may not work out for Alberto in England or in Rodgers' system.
With this in mind, it is worth discussing the potential positions Liverpool fans may witness Luis Alberto play in relation to Rodgers' formations.
Number Ten Role
Rodgers has utilised Alberto as a trequartista against Notts County in the Capital One Cup victory at Anfield, as well as against Oldham in the FA Cup, his only professional starts for Liverpool. As well as this, in his 9 league appearances, Alberto has often come on for Philippe Coutinho, indicating the position behind the striker may well be the role Rodgers sees Alberto occupying, in the short-term at least.
Alberto's statistics this season are limited, particularly considering the lack of game time he has received. (The longest Alberto has been on the pitch in the league is 27 minutes, which he received in the frustrating 2-2 draw against Newcastle). Yet, when compared to his counterpart within the squad Philippe Coutinho, statistically we see an unusual pattern emerge.
Coutinho has played almost exactly ten times the amount of minutes as Alberto, and in a peculiar coincidence, the statistics roughly follow the same trend. Is this proof of Alberto's ability, or a gauge of his success? No, definitely not. It is a peculiar phenomenon of statistical chance. Both players possess different characteristics of an advanced playmaker: Coutinho is a gifted dribbler with the ball at his feet, and has the ability to create space by beating men at will and finding the killer pass. On the other hand, Luis Alberto has the ability to collect and shield the ball to find a killer pass; adjourning the play without displacing himself from his initial position.
As noted above, until Alberto consistently starts league games in this position, it is difficult to truly develop a sense for how he will cope against high quality opposition on the ball as a trequartista.
Number 8 Role
A similar task to what Coutinho carried out in the 4-0 demolishment of Everton in the 222nd Merseyside Derby, Alberto has the potential to play as the attacking midfielder in a 1-2 midfield.
Although not as quick as Coutinho, Alberto's passing coupled with his vision indicates his ability to recognise plays ahead of him, with the attacking trio of Luis Suarez, Daniel Sturridge and Raheem Sterling tormenting defenders and creating space for passes to land in. Another element that Alberto could possibly bring to the midfield is his goal scoring ability. 11 goals from 38 games, albeit from an attacking position, indicate Alberto knows how to find the back of the net. His first and only goal for the club in the pre-season friendly against Valerenga exemplifies the technique and quality Alberto has when shooting on goal. A beautiful shot taken on the volley, Alberto demonstrated his capability in front of goal.
Although Liverpool are second only to Manchester City in terms of goals scored, there is a dearth of goal-scoring midfielders in Rodgers's squad. Whether Alberto can develop into that type of player is questionable, but his ability from range and dead-ball scenarios are certainly factors to be accounted for.
Regista
Recently, Brendan Rodgers expressed his desire to prolong the career of Steven Gerrard by situating his captain in the Andrea Pirlo role; more commonly referred to as a 'Regista'. For this to work, Gerrard requires the two midfielders in front of him to operate in a similar way to Vidal and Pogba at Juventus; by shuffling and covering for Gerrard's diminishing mobility. Allen and Henderson, a dynamic partnership that press and harry the opposition into conceding possession would allow Gerrard to dictate the game with his passing ability.
Although unlikely, if Rodgers wishes to continue this setup in the future, Alberto's passing ability and vision may be utilised in the deepest position of a midfield three.
With two midfielders working in front of him, Alberto will be given the freedom to drift into positions to receive the ball and begin attacking moves, while also covering for the defence.
A lot of work would require this to work. It would involve a commitment from Rodgers to discipline not only Alberto into playing this position, but the Liverpool side as well. Although his passing ability is evident and the fact these statistics are from an attacking midfield position, Alberto would have to improve his defensive duties for this role to work.
What next for Luis Alberto?
From initial indications, whenever Luis Alberto features for Liverpool it will be as an attacking midfielder. And that is if he features that often. Rodgers has used Alberto, to many a fan's frustration, sporadically. Nobody knows the exact reason why this is the case (unconfirmed rumours of him being unsettled have appeared on social networking sites, but are yet to be proved).
Many Liverpool fans were expecting a similar impact to be made by Luis Alberto that Philippe Coutinho did. However, it appears fans must be patient before they begin to see Luis Alberto on a frequent basis in the Red of Liverpool.
Ironically, it may be the fact Liverpool failed to sign a first-team quality attacking midfielder in the Summer that is limiting Rodgers' use of Alberto. Rodgers is relying on his strongest sides to force Liverpool into the top 4, and he may not trust Alberto just yet. Whether it is a mentality issue or Rodgers simply believes the Spaniard is not ready, fans will not receive a definite answer just yet.
But, it is hoped that Luis Alberto realises his full potential while at Liverpool, and whether it is in one of the positions discussed above fans will have to wait and see.
And hopefully, one day in the not too distant future, there will be new rules at Liverpool Football Club.
"1st RULE: You do not drop Luis Alberto.
2nd RULE: You DO NOT drop Luis Alberto."
(…well, unless his form drops or something necessitating his exclusion from the side…)
Are you from near the Midlands area? If so you should attend A Night in Birmingham with John Barnes, John Aldridge and Jason McAteer!

Former Anfield Index Podcast guest host Noreen Khan is the host and there's a three course curry on the menu! All proceeds to charity!