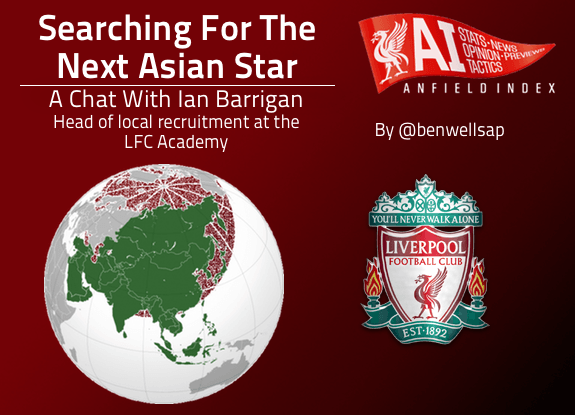 Searching for the Next Asian star | A chat with Ian Barrigan
Steven Gerrard, Jamie Carragher, Martin Kelly, Michael Owen. All of these former and current Liverpool players have something in common, they all came through the academy during Ian Barrigan's time at the club.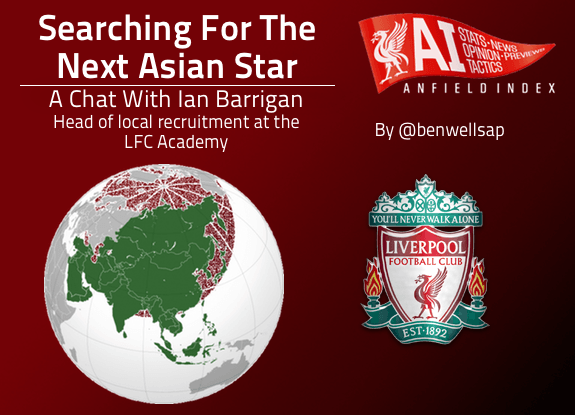 Ian Barrigan is the head of local recruitment at the academy, this basically means he  goes out in Liverpool and the surrounding areas and searches high and low for the next Michael Owen or Steven Gerrard. Liverpool of course have a reputation of bringing quality players through the academy and into the first team, but they are now looking to find the next Asian footballing star to grace the Premiership.

Just three British-Asian players have ever graced the Premiership; Zesh Rehman being the first, followed by Michael Chopra and Neil Taylor. Now, the Liverpool Academy is harbouring hopes of finding the next star to showcase his talent in England's top league.
"We look for technically gifted players that are exciting to watch and who express themselves. We are very careful to select players from September through to August and not just select the biggest and oldest!
We must make sure we move with the times and ensure we select from a large range of backgrounds and ethnic groups as Liverpool and the surrounding areas have change dramatically in the last 20 years" Barrigan stated.
It is a fact that Liverpool have never had a British Asian player in their side. Very recently, the talented 14 year old Yan Dhanda became the first ever player of Indian origin to sign for the club. Dhanda has the hopes of many on his shoulders yet seems to be thriving in the spotlight, and recently won the 'Up and Comer' award at the prestigious Asian Football Awards.
The lack of young Asian footballers coming into clubs' academies is not an issue that stops in Merseyside. There is an obvious lack around the country and Ian Barrigan believes it is an untapped resource that Liverpool can pounce upon.
"We are open minded to all players and very positive in regards to Asian players because it is an untapped resource that needs developing, just like African players who have  dramatically impacted football in the last 10 years.
We are certainly trying to open our Academy to the Asian youth but this will take time."
Liverpool remain the only club in the Barclays Premier League to have official social media accounts specifically for Indian fans, showing that they have realised this is an opportunity they can capitalise on.
Shirt sponsors Standard Chartered stated in 2011 that they would like to see more players of an Asian origin playing for the club. And whilst this may have been more of a corporate interest issue, it is certainly true that the club could do with expanding its horizons. India is a country that has become more and more involved with the sport over the years and a young Indian player playing for the club would do wonders for Liverpool's image on the subcontinent.
Aside from corporate interests, it would be brilliant if Liverpool could pave the way for more young British Asian lads to get involved with the club, and the game. Chelsea realised this was a massive opportunity a few years ago when they started the 'Asian Stars day', a day that revolved around coaches and scouts looking for the next  young Asian talent.
It is true that many people around the country still see Asian footballers in a different light to players from other backgrounds. Some still believe that they do not have what it takes due to their upbringing and diet, generalisations that are definitely not true. This issue was much worse twenty years ago and a lot has been done since to make sure that everyone is treated equally within the game of football.
Barrigan told me however that Liverpool were aware of the rewards that could potentially be reaped from this, and they were pushing forward with plans to get more young Asian players from the Merseyside area and further afield involved with the club.
"It is very important to involve all ethnic groups and funnily enough we will sign a British Asian in our Under 8's group this year. Also we are trying to spread the Liverpool way by opening Soccer Schools in India."
It is important to select the best players when looking for the next crop of Academy stars. Let's hope that with Liverpool's plans to start sourcing more from the Asian talent in the surrounding areas, we will be able to see the next big Asian star grace the hallowed turf of Anfield.