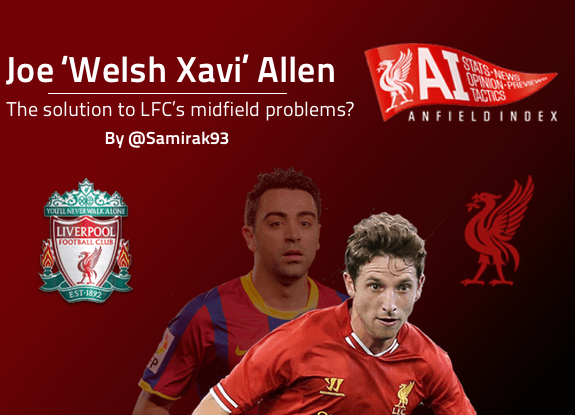 Joe 'Welsh Xavi' Allen: The solution to LFC's midfield problems?
2013/2014 season, for Liverpool fans, has been a roller-coaster ride with the brilliance of Daniel Sturridge and Luis Suarez in the goal scoring department while Liverpool's midfield has been exposed quite a lot this season by teams ranked below us.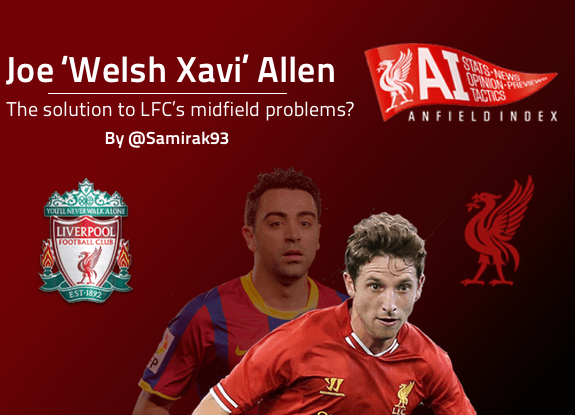 Joe Allen, playing with Lucas Leiva and Jordan Henderson in the middle 3, dominated the opposition midfield and injected some extra dynamism into the team. This combination worked much better than the Gerrard-Lucas pairing . Games against Tottenham, Manchester City and Chelsea were played much better with the Lucas-Allen-Henderson combo than the ones against Aston Villa, Hull city and West Brom with Lucas-Gerrard pair. Allen, in the absence of Gerrard, played well against tough opponents and to be frank he is a much better technical player than he's currently viewed as and looking at his previous seasons could give us a clear idea as to how he could be the answer to our midfield problems and as to how we could get the best out of him.

2011/12 Season:
Joe Allen, at Swansea under Brendan Rodgers, played alongside Leon Britton as a double pivot in 4-2-3-1 formation. Joe Allen was given the licence to go forward when required with Britton playing as the defacto defensive midfielder.
This resulted in Allen getting into key attacking and defending zones and influencing Swansea's attacking play to a large extent. This attractive style of play under Brendan Rodgers caught the eye of many and it's fair to say that Allen's presence in the team had some significant contribution to the cause.
This game against Blackburn Rovers is an evidence of the free role Allen played with much higher productive outcome.
One thing that singles out here is his passing range and passing direction.
Large percentage of his passes is outwards and some are them are long balls too. This can also be seen from a game against Fulham.
This style of football was the blueprint of Brendan Rodgers' philosophy of attacking football. This can be seen in Liverpool's play now with most of the attacks building up from wide areas. This figure below is the 2013/14 passing and attacking pattern of Liverpool. It's no surprise that Brendan Rodgers wanted Allen at Liverpool to implement his philosophy.
Brendan Rodgers likes to spread the game outwards and would want the wingers to take on the full backs and whip in crosses. This has now changed to at Liverpool to some extent with Luis Suarez, Daniel Sturridge and Coutinho using the inside midfield to build-up plays more often than wings.
The "Leon Britton" Effect:
One of the most under-valued players in the premier league is Leon Britton. Being a perfect match for Allen, He played a key part in Swansea midfield in 2011/12 season. For example, Allen, being given the freedom to do a free role, was duly helped by Britton as a cover in defence. Allen never had the worry of leaving his defensive zone as Britton covered the region with ease.
The game against Arsenal at Liberty city stadium is one of the many examples that illustrate the role of Britton in the team and his influence on Allen.
Allen's position is all over the field, pressing high up and giving width to his teammates and increasing the passing options up-front. Meanwhile Britton does the defensive duty and limits his own movement to cover up the defence and support other players defensively.
Rodgers arrival at Liverpool was immediately followed by the arrival of  "Welsh Xavi" at Anfield.
"He's five foot six but, in terms of a footballer, he is seven foot six. He is absolutely immense – his courage to get on the ball; his body work is fantastic; how he reads the game; his football intelligence. This kid will play at the top and is playing at the top." Brendan Rodgers on his new signing, September 2012
2012/2013 Season:
Joe Allen's arrival at Liverpool meant Brendan Rodgers had the chance to implement his philosophy straightaway but the opening tough fixtures hindered his progress. Lucas's fitness too caused few minor hiccups in the season's plans.
Games against Manchester City and Arsenal were highlighted by Allen's performance rather than Liverpool's failure to win these games at Anfield.
Yaya Toure, after the Liverpool game, confessed "It's the hardest game I've played in since I've been in England." referring to the midfield battle he had to endure against Allen.
A man of the match performance against Arsenal overshadowed Liverpool's weaknesses and few critics backtracked on their criticism on the hefty transfer price Liverpool paid for Allen.
A shoulder injury suffered in October hindered Allen's progress during the season and his performances worsened until he was forced to undergo a surgery later in the season.
His performance pre and post injury is given by @BassTunedToRed
Pre-injury, he had 92% of pass accuracy which is similar to his Swansea stat (91.2 %)
Tackle win is 67% pre injury while he had won 3.1 tackles/game at Swansea.
His post-injury stats clearly show his fall in form towards the end of the season.
On a tactical note, his passing ranges were similar to what they were during his time at Swansea even though his role in the team was not fixed that season.
A key factor which contributed to his poor performance, other than his injury, is the fact that he couldn't find a perfect partner in the midfield.
Lucas, who could have done the job that Leon Britton did at Swansea, couldn't play alongside Allen for long periods due to his own injury.
Steven Gerrard is not an ideal partner for Allen in the defensive region. As much as Allen likes to get forward, Gerrard also loves to venture into attacking spaces, thereby leaving gaps in defence. This was shown by teams like Aston Villa and West Brom against whom Gerrard played as a deepest midfielder.
So a lack of proper partner for Allen haunted Liverpool's midfield that season and it still continues to do so.
2013/2014 Season:
This has been a mixed season for Liverpool and their fans, considering Daniel Sturridge and Luis Suarez have enthralled us with their sublime quality upfront. But on the contrary, Liverpool as a team have failed to show up in the games against quality opposition even more so against weaker oppositions.
This is mainly due to the fact that Liverpool's midfield has been outplayed on many occasions.
But on certain limited occasions, Liverpool has played the style of football once promised by Brendan Rodgers. The passing, movement and pressing were seen in games against Spurs, Cardiff, Norwich and few others.
These occasions coincided with the fact that Liverpool played their pressing and fluid game whenever Steven Gerrard didn't play.
It meant, Lucas paired up with Allen, and Henderson, in the midfield and this emulated a similar situation Allen was used to in Swansea (with Leon Britton and Gylfi Sigurdsson).
Allen played quite well in these games and Liverpool's pressing game was back on track and players like Henderson and Sterling played well and Liverpool's defensive worries too were reduced as a result.
The following is the Lucas-Allen combination against Manchester City at Etihad.
The pattern is quite identical to the Allen-Britton pair. Lucas did the defensive work thereby freeing Allen. Allen's pressing role can be seen above and his movement pattern was wide and Liverpool dominated City right from the start. Even though Liverpool were unlucky to lose, the performance of the team was positive and was acknowledged by the fans and pundits. Allen'd defensive work rate were limited due to Lucas's presence and this added an extra bit of dynamism up front against the city back 4.
One game that Liverpool should have won is the one against Everton at Goodison Park. Liverpool dominated the game right from the start and was unlucky to draw 3-3. Liverpool could have won the game if Brendan Rodgers hadn't committed a tactical blunder by replacing Allen with Moses when the game was under Liverpool's control.
Liverpool dominated Everton's midfield with Lucas-Gerrard-Allen. After Allen was substituted, Everton opened up spaces Allen's position had left and created higher chances and scored 2 goals.
Everton's passing in attacking 3rd was less consistent but the number of chances they created was much higher as a result of Allen's substitution. Liverpool, after Allen got injured, have struggled to dominate games despite Suarez winning the games.
Now, his arrival at the critical stage of the season is a welcome sign for Liverpool and Brendan Rodgers would have more options to choose from.
Allen's Heat map this season:
His role is more defensive than it was at Swansea. If he's give able support at the back, his movement to the either wings and upfront would add a new dimension to Liverpool's "dull" midfield.
Gundogan and Bender pair:
One of the promising pairs in football, who have helped Dortmund reach new heights in both Bundesliga and Champions League is that of Sven Bender and Ilkay Gundogan. This pair is quite similar to Britton-Allen or Lucas-Allen but with more quality in the technical aspect of the game.
Bender, playing the Defensive midfielder role, helps out Gundogan (who plays a similar role to Allen). Note, I am not trying to compare Gundogan and Allen here. I'm just looking at a quality midfield pairing in European football.
The above is the performance of Gundogan and Bender against Real Madrid at Signal Iduna Park. Bender's tackles are deep inside his own area while Gundogan has freedom to play into wide regions where width is offered by the likes of Reus and Blaszczykowski.
This is quite similar to what I believe Liverpool should do with Allen and Lucas/Gerrard.
Joe Allen's overall Stats:
It's worth noting that Allen is just 23 and he has a long career ahead of him. His role in the Liverpool team is under-valued at present but that could change in the near future.
Are you from near the Midlands area? If so you should attend A Night in Birmingham with John Barnes, John Aldridge and Jason McAteer!

Former Anfield Index Podcast guest host Noreen Khan is the host and there's a three course curry on the menu! All proceeds to charity!