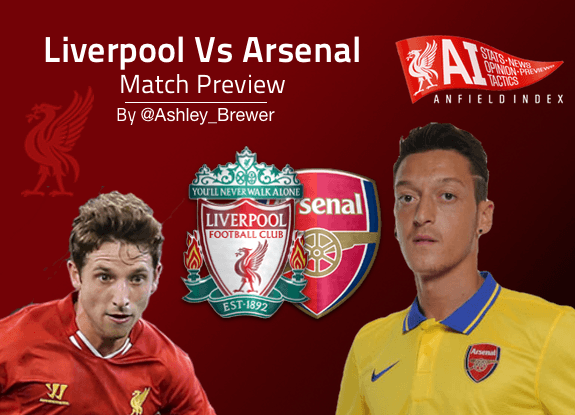 Liverpool v Arsenal Preview | Key Men & Prediction
It is time for Brendan Rodgers to learn from his mistakes at the Emirates Stadium earlier in the season as Liverpool face Arsenal at Anfield.
From the start of the reverse fixture back at the start of November it seemed that the Reds were on the back foot in the 3-5-2 formation they set up in, hoping to catch the home side on the break.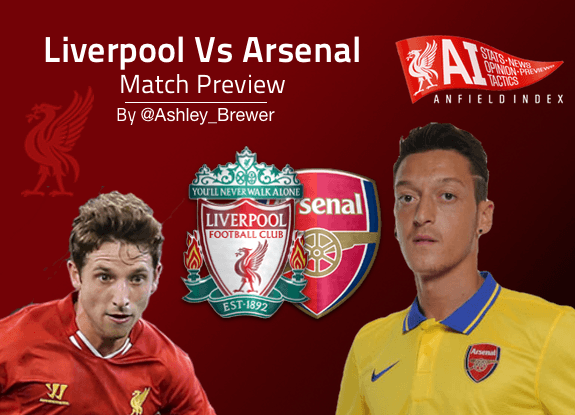 Unfortunately for Liverpool this break never came leaving their strike force of Luis Suárez and Daniel Sturridge relatively anonymous for the majority of the game, as the Gunners midfield suffocated any attempts to hit the counter early on.
Line up
I would suggest that Liverpool's starting line from remains relatively unchanged from the weekend draw at West Brom Albion, with the exception of Joe Allen coming in for Phillippe Coutinho, but would line up in the formation which was so lethal against Everton on the counter attack.
My reasoning for this is that he will help the team out more defensive which will be essential if we are to get any points out of this fixture. The thought of Steven Gerrard being the man in front of the centre back pairing of Martin Škrtel and Kolo Touré while the likes of Mesut Özil are drifting around makes me feel uneasy – especially after his pretty anonymous performance alongside Lucas Leiva in the reverse fixture.
Having only two proper centre midfielders like we did at the Hawthorns would also be a bad move, with Arsenal coming into this game hoping to win the game using their usual possession based game – A lot like Everton last Tuesday.
I also feel Joe Allen would be more capable of being more defensively disciplined than the captain, which is why I have put him at the deeper lying midfielder role, and he would also be able to initiate attacking play and counter attacks much more successfully.
This would leave Gerrard and Henderson to play the more attacking roles, with the overall midfield being pretty much the one which dominated against West Ham United in the 4-1 victory at Anfield.
It was hoped that Daniel Agger and Mamadou Sakho would have been fit to return for this game, which would have been a massive boost, but unfortunately, Rodgers had to be the bearer of bad news as he told the Liverpool Echo that they would not feature:
"Daniel and Mamadou are not far off, but I'm not expecting to have either of them back for the weekend."
The attack picks itself really, with Luis Suárez being flanked by Daniel Sturridge and Raheem Sterling. I fully expect the front three to interchange continually, giving the Arsenal back line a bit of a headache, but it is up to the Liverpool midfield trio to match their opposite numbers so that their celebrated strike partnership have the chances to make Arsene Wenger leave the north west in a bad mood.
Key Men
For me, it will be the reintroduction of Joe Allen which will give Liverpool the best chance of winning this game.
He has been unlucky with injuries so far this season, making on seven starts and playing 652 minutes in all, but when he has played it is no coincidence that the entire side plays a more fluid game.
For somebody who is only 5'6, his tackling and breaking up of opposition attacks is pretty impressive with the Welshman going in for a tackle every 23 minutes with a tackle success rate of 82.14%. He has also made 10 interceptions, which is one every 65.2 minutes.
Prediction
Arsenal will be without a few of their key men for this game including Aaron Ramsey, who is out injured, and Mathieu Flamini, who started a three match ban against Crystal Palace last weekend.
It's hard to predict which Liverpool side it is that will mentally turn up, but should things go our way and we are able to attack then it will be a very interesting contest, due to the fact that both sides are having great seasons, and are playing some great football, which has led to them being higher up the table than pundits thought they would be as we come into the last few months of the season.
Liverpool are yet to beat Arsenal under Brendan Rodgers, having lost two and drawn one from a winning position, so if there was a time to get that first victory over the Londoners now is the time, however, I feel it is more likely to end in a draw.
Predicted result: 2-2.
Are you from near the Midlands area? If so you should attend A Night in Birmingham with John Barnes, John Aldridge and Jason McAteer!

Former Anfield Index Podcast guest host Noreen Khan is the host and there's a three course curry on the menu! All proceeds to charity!