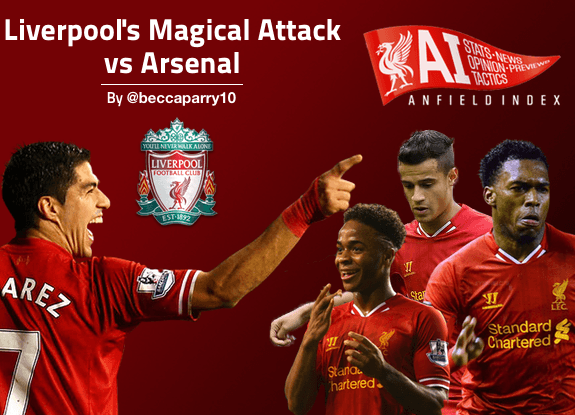 Liverpool's Magical Attack vs Arsenal

Liverpool's attack is now being recognised as a complete and destroying movement. Although they are still at the heart, it's now not just the SAS who are being praised. As Liverpool power forward, everyone from the defensive midfielders forward are involved in how the Reds are just destroying the defences they come up against.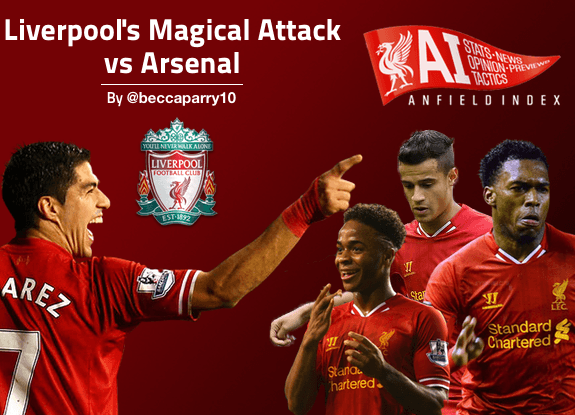 The first 20 minutes against Arsenal was described as one of the best in Premier League history. It's practically unheard of to be 4-0 up in 20 minutes of a league game against a team who are relegation fodder, let alone against the league leaders. All pundits, fans, and neutrals saw the penetrating attack of Liverpool as something magical.
As a whole, Liverpool managed a total of 19 chances compared to Arsenal's 7, although this stat didn't necessarily reflect how much and how menacingly the Reds dominated the game. For a side who's defence has been pretty solid for the season so far, the league leaders were made to look nothing more than average. And although Arsenal had a bad day at the office, it was more a case of Liverpool simply being just too good for them.
And there's still room for improvement – it could have been more. Liverpool only scored 4 of their 8 clear cut chances, some which were could have easily been yet another to add to the already growing tally against the Gunners. This included the chance that everyone's talking about – Luis Suarez's volley would have been a definite goal of the season contender, only the post was stopping him from scoring an absolute screamer. Earlier in the season, who would have thought that we could have beaten Arsenal 5-1 without Suarez even getting on the scoresheet?
Individually, each of the attack has played their part and added their different qualities to the overall end product (sounds like a Brendan Rodgers line…).
Of course, nothing would looking as flowing as it does if it wasn't for the Brazilian magician Philippe Coutinho. In the Arsenal game alone, he created 5 chances, 4 of them from open play, as well as grabbing himself an assist. As well as Suarez, he was definitely a good pick for fantasy football at the start of the season!  But it's not just the significant assists that are the best in his game, it's the sometimes unnoticed flicks and simple passes that just opens the space needed for Suarez, Sturridge, and even the likes of Jordan Henderson to burst forward.
Raheem Sterling has definitely come out of his shell since he's come back from his spell out of the first team. His pace, skill, and overall determination to come charging into the box hasn't gone unnoticed in the past few games, and it was the same again against Arsenal on Saturday. He attempted 6 dribbles, adding to his astonishing 12 that he got in the West Brom game, and completed 3 of them successfully. He was also the most involved in terms of shots for Liverpool, averaging a shot on target every 18 minutes. For a youngster who could easily get lost among the strong defenders of Arsenal, he bossed the forward line, and his two goals deservedly proved that.
Luis Suarez didn't bag himself a goal on Saturday, but he played his part as much as he normally does. He had 5 shots, the same amount as star man Sterling,  as well as creating 4 chances, 1 from a set play. His tracking back also showed that his stamina, including his desire and will to win was key in how Liverpool just rampaged through the Arsenal defence.
Daniel Sturridge will also be pleased that he managed to get his name on the scoresheet. Coutinho's cute pass was the perfect set up for the striker as it didn't take much for him to carefully place it past Szczęsny, as it was important to retain his composure after missing that penalty at the Kop end in the derby. He averaged a shot every 16 minutes, and was constantly involved and available – another player who did have the chance to make the score even more embarrassing on Arsenal's part.
The type of football Liverpool are playing at the moment is as exciting as it has been in years, and a joy to watch. It's nice for others to be able to recognise that the Reds are a force to be reckoned with – Liverpool just have to carry this on in the week against Fulham, they're more than capable of doing so.