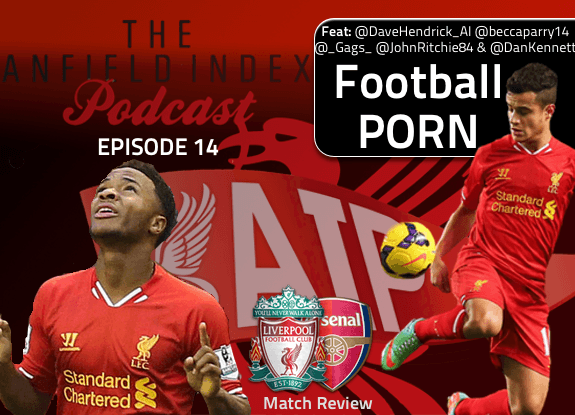 Anfield Index Podcast 14: Football PORN
Episode 14: Football PORN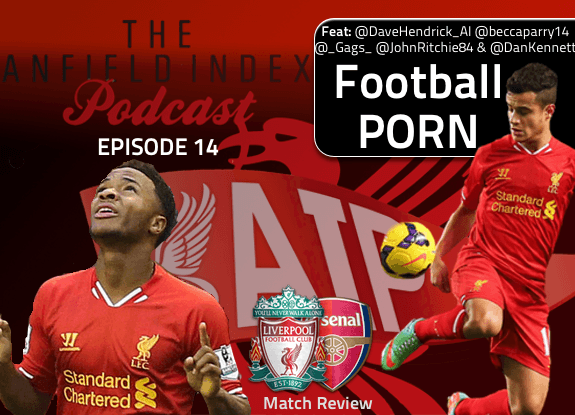 Date: 10th February, 2014
This week the Anfield Index Podcast Team welcome back Dan Kennett and have a debut for Rebecca Parry to gush over the demolition of Arsenal, although Gags and Dan referred to it as "Football PORN".

John Ritchie once again hosts the show whilst Dave Hendrick is a happy camper this week with much praise for the epic performance!
Gags analyses the pressing game deployed against the Gunners whilst Dan Kennett goes on a stat attack with chance quality and a lot lot more!
The guests preview the Fulham game (hopefully it goes ahead) and also go off on one against Fulham officials trying to get the game cancelled!
All this and more, it's the Anfield Index Podcast!
Download on iTunes
(Only subscribers will receive new episodes immediately)
Host: John Ritchie
Guests: Dan Kennett, Rebecca Parry, Gags Tandon & Dave Hendrick
You can listen to the podcast by using the embedded player or you can use the links beneath it.
Listen to this podcast episode | Download this podcast episode (right click and save)