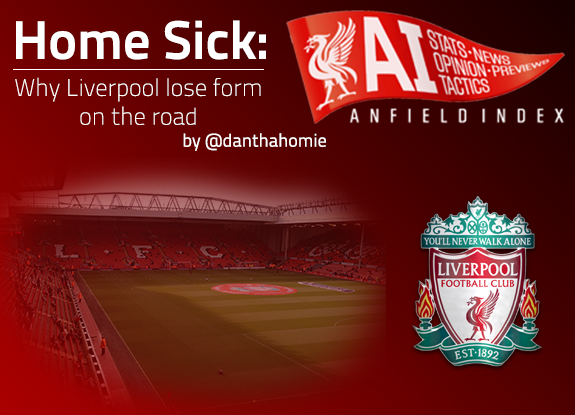 Home Sick: Why Liverpool Are Less Dominant Away From Anfield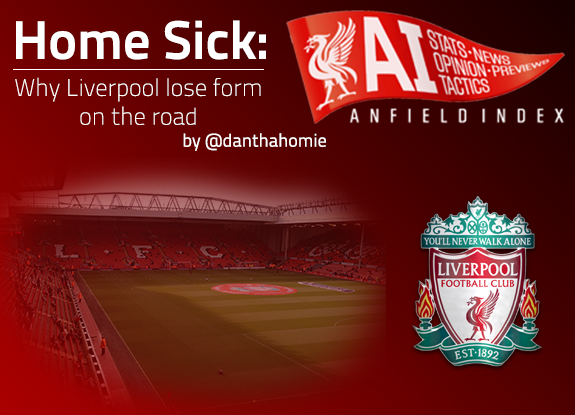 Liverpool are remaking Anfield into a house of horrors for their rivals, losing only once at home this season. However, the club's away performances have lacked the same sort of conviction at times, especially against lesser sides, and as a result, Liverpool have a subpar away record that keeps them off the top of the table.
ATTACK:

Over the course of the season, statistical attacking averages portray a Liverpool side that creates far less chances and takes significantly fewer shots away from home compared to at Anfield, yet excels at making the most of their opportunities. At home, 17% of Liverpool's created chances are defined as clear cut, but away from home that number rises to 22%. In a similar vein, Liverpool convert shots into goals 3% more often in away games. While Liverpool create more overall chances at home, they create clear cut scoring opportunities and finish at a more efficient rate in away matches.
The only issue with an away system that prioritizes quality over quantity is when Liverpool's forwards fail to convert their clear cut chances, as there isn't much room for error with so few total chances created. The disaster away matches against Hull City and West Brom were especially sparse in overall chance quantity, as between the two matches, Liverpool mustered only 11 chances. Thus, it was imperative that Liverpool finished the big chances they did get in those games, yet they missed a clear cut opportunity at both the KC and the Hawthorns.
Even for players of Luis Suarez and Daniel Sturridge's caliber, it is unwise to put all of the team's hopes into only a chance or two, even if that's all they often need. Chance efficiency in away matches works to a certain point, but Liverpool must create far more overall chances than they did against Hull and West Brom if they want to achieve consistently positive scoring results.
The matches against Hull City and West Brom were widely described as dull performances from Liverpool, and a look at their final third passing accuracy in those games provides insight into why they struggled to threaten the goal. Against Hull, Liverpool sported a 65% final third passing accuracy that glows in comparison to their abhorrent 56% final third accuracy against West Brom. For comparisons sake, on the season Liverpool's final third accuracy is 72%, Arsenal's is 77%, Chelsea's is 70%, and Manchester City's is 78%. Anything above 70% is a solid performance, and that standard should rise when facing mediocre opposition. However, Liverpool could not crack 65% against two very beatable teams, costing them vital points.
When a side cannot sustain their attacks, they have little control over the match, and things are liable to go wrong in a hurry. All of Hull's three goals in the 3-1 defeat were deflected by Liverpool players either in the build up or directly into the net, which often happens when defenders are forced to scramble around to cover the back when the forwards cannot maintain possession up the pitch. Although it was at home, the 2-2 Villa draw serves as another example of how poor final third passing (64% in that game) can often lead to rampant counter attacking football from the opposition and big problems at the back.
The way Liverpool pulled three goals out of their rear end against Fulham is a positive sign for the attack, as they had a 78% final third passing accuracy and created 17 chances in that match. If they can continue to keep the ball in the attacking third of the pitch in away matches like they did against Fulham, Liverpool will create more chances and simultaneously become less susceptible to counter attacks from the opposition.
DEFENCE:
The only statistic needed to show that Liverpool have a defensive problem is that they concede 1.77 goals per away game. There's also only one number needed to explain why Liverpool are so leaky away from Anfield: 1.49. The Reds average nearly a defensive error and a half PER GAME in away matches, compared to less than one per game at home. In total, Liverpool have accumulated 30 defensive errors, which is absolutely shocking compared to Chelsea's 8 errors and even Manchester City's 20.
It isn't hard to see why Liverpool have made so many defensive mistakes — all you have to do is look at some names in the current back four: Toure, Skrtel, Cissokho. There simply isn't enough defensive quality for Liverpool without Daniel Agger, Mamadou Sakho, and Jose Enrique. However, the players in Liverpool's present back line are still established European footballers with decent track records. Therefore it appears that while Liverpool's defensive depth may indeed be poor, their struggles with defensive errors may be more mental than physical as they perhaps lose concentration and composure on the road. Some of Liverpool's errors can also be attributed to the beginning of the season when Rodgers experimented with various new center back pairings.
It's truly baffling that a team with so much at stake could struggle with the mental side of football, and it's hard to know exactly how to solve the issue. Liverpool can only hope that the imminent return of Daniel Agger will add more reliability to the defense, and it's important to note that Martin Skrtel has always appeared more comfortable with Agger familiarly by his side.
Liverpool need production from the fullback positions to help strengthen their porous away defense, and improvement at right and left back hinges on the health of Jose Enrique and the reemergence of the suddenly quite poor Glen Johnson, two huge question marks. At the moment, Liverpool's back line is made up of second and third choice players, and while questions have to be asked about the supposed defensive depth Liverpool acquired last summer, it's never an easy task for a team to replace its top five defenders in the middle of the season.
SUMMARY:
In the attack, Liverpool create far fewer chances in away matches than at home, yet are more efficient at creating clear cut chances in these games. Nonetheless, the lack of total chances comes back to hurt the club when their forwards miss the one or two clear cut chances they receive and the team fails to create anything else. In order to create more total chances against teams that park the bus on their home pitch, Liverpool must hold onto the ball in the opposition third and overwhelm them with a high final third passing percentage. When Liverpool fail to do this, not only do they create less chances, but they also leave themselves vulnerable to the counter attack.
Liverpool's defensive troubles outside of Anfield stem from an absurdly high amount of defensive errors, which are at least partially caused by mental lapses rather than physical limitations. Once Liverpool get some key defensive players back from injury, hopefully the defensive errors die down. A major weakness for the team is at both fullback positions, but if either Johnson or Enrique return at some point to top form that could change quickly.
Luckily for Liverpool, their remaining away schedule is relatively easy. The only big away match left is against Manchester United, and that matchup is far less daunting this season with United's struggles under David Moyes. Liverpool sit firmly in a Champions League position, but if they are to achieve any higher than fourth, they must take their home dominance with them when they play away from Anfield.