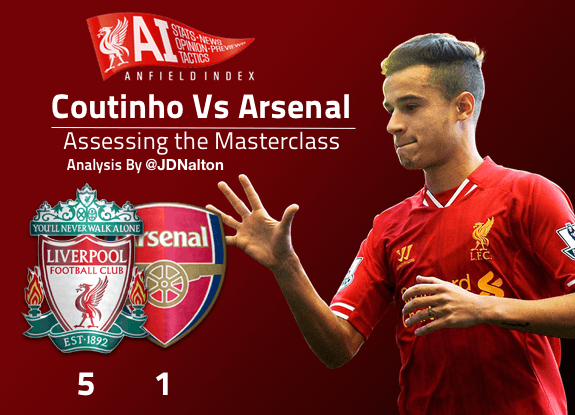 Analysing Philippe Coutinho's Masterclass vs Arsenal
After an all-action display of midfield dominance versus Everton, it's fair to say that Philippe Coutinho underperformed in the following game against West Brom, so much so that many wanted him dropped for the game against Arsenal at home. Whilst he was largely anonymous at The Hawthorns he wasn't the only one, and the whole team needed to up their game for the encounter against the league leaders.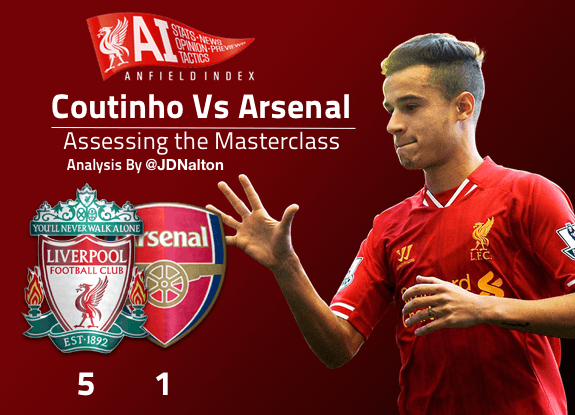 Back at Anfield, in front of a home crowd who were treated to the delights of an unbelievable derby win last time out, many wouldn't have expected a repeat of the Everton heroics against Arsenal. A team who topped the table going into this game, thanks to a combination of sturdy defence, and typical Wenger style. OK, the optimist may have expected a repeat, but an improvement on the derby performance seemed impossible, but that's exactly what those lucky enough to be in attendance, and the millions watching on TV, were treated to.

Similarly, an improvement on his individual performance in the derby seemed like a big ask for Coutinho especially given his showing against West Brom, but again, that's what we got. Weaving his magic in the centre of the park alongside Henderson, he totally outclassed his opposite number Jack Wilshere, both in and out of possession.
With the ball he was a joy to behold. We saw a return of the trademark Coutinho through balls, with one leading to a goal for Daniel Sturridge, and another sending Henderson through for a great chance which he chipped into The Kop. No graphic can do these through balls justice, but here's one anyway.
Coutinho didn't just win the passing, he won the dribbling too, taking the ball around Arsenal's midfield with apparent ease with moves which summon many Brazilian football clichés. On one occasion in the second half he jinked past Cazorla and Podolski in quick succession, before sending Wilshere charging in the opposite direction with a drop of the shoulder. That one didn't even show up in the graphic below as "take on", such was the extent to which he fooled the young Englishman.
He also topped the charts for total touches of the ball during the game (66) within the Liverpool side, and completed three out of three long balls.
Moving on to the defensive aspects of his midfield play, it's here we see the real progression and improvement in Coutinho as a player under Brendan Rodgers, and it's these aspects of his game which could give him an outside chance of a Brazil call-up.
He was a constant thorn in the side of his opposite number, and many other players in the Arsenal team, as he closed down as well as Joe Allen does in your imagination. Closing down is one thing, but actually winning the ball is another. Coutinho won ten of his sixteen ground duels, which was the highest in the Liverpool side, and won four of his six tackles which was second only to Steven Gerrard who won six of seven. He also recovered the most ball of any player on the pitch, with twelve recoveries including two interceptions.
The passage of play which summed up his game was the reading of an Ozil pass to Wilshere during an Arsenal attack. He knew what Ozil was going to do before he did it, nipped in ahead of Wilshere to intercept the ball, carried it forward before putting Sturridge through on goal to score.
What you always get from Coutinho is an element of control in possession, no matter where he is on the pitch, or how much pressure he's under from the opposition. His turnovers occur when he attempts to force the issue, trying to play one of his through balls when the pass isn't on, or dragging a shot wide from an unfavourable position.
In the game against Arsenal he made a total of twelve final third entries, which consist of passes made into the opponents danger area. Having a player in your ranks who's this creatively minded in these attacking areas is a huge weapon, especially given the pace of the players in front of him. It's for this reason that we should forgive the odd wayward pass, and think twice before saying he should be dropped for future games!