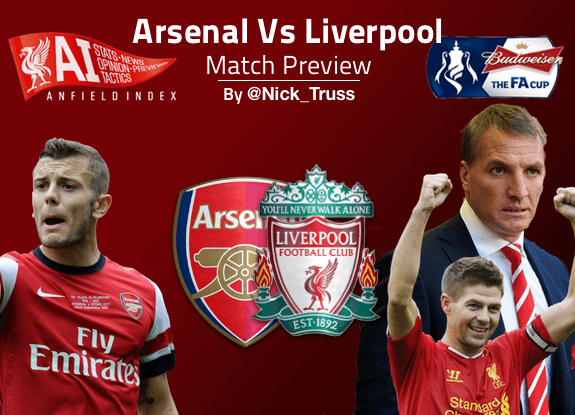 Arsenal Vs Liverpool – FA Cup 5th Round Preview
The FA returns this weekend for the 5th round stage which will see all of the top 4 paired up in the draw with Chelsea travelling to the Etihad to face Manchester City and more importantly Liverpool travelling to the Emirates to face Arsenal for a place in the Quarter Finals and a step closer to that Wembley Semi Final.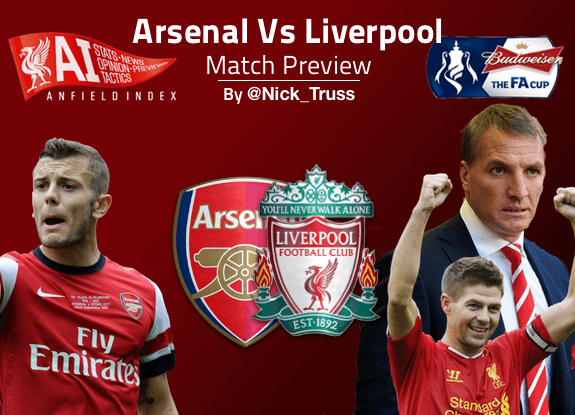 Arsenal
Liverpool, Manchester United, Bayern Munich, Tottenham, Chelsea and Manchester City, is a fixture list to strike fear into any team. Unfortunately for Arsenal fans this is what their fixture list looks like for February and March, they also face games against Stoke, Sunderland and Swansea which will not be easy either as the fight to survival heats up. Arsenal's tough fixture list started last week when they travelled to Anfield only to be destroyed by a rampant Liverpool side. Following this up with a draw against Manchester United on Wednesday resulted in boo's ringing around the Emirates at full time.

Arsenal have been in fine form sitting top of the table for the majority of the season, however following the heavy defeat to Liverpool last week and their up-coming run of games people are starting to write off their chances at winning the title.
Player Watch – The Old Guard and The Young Pretender
After their coming together in the match at Anfield last Saturday. The player watch will focus of Liverpool and England Captain Steven Gerrard and the man touted as England's next big thing Jack Wilshere.
Defensively Steven Gerrard is far superior to Jack Wilshere. This could be due to Gerrard playing in a more defensive role for Liverpool this season. To start Gerrard has won 60% of his ground 50/50 compared to Wilshere's 48%. Gerrard makes a tackle every 28 minutes and had made 29 interceptions this season and wins possession for Liverpool every 12 minutes. Wilshere on the other hand makes a tackle every 54 minutes making 10 interceptions and winning possession back every 14 minutes. Both Gerrard and Wilshere have made 4 defensive errors this season but since Gerrard has more minutes under his belt this season his minutes per defensive error comes in at 1 every 461 minutes with Wilshere making a defensive error every 380 minutes.
Despite being deployed in a more defensive position this season Steven Gerrard still has more goals and assists than Wilshere with 7 goals and 9 assists compared to 3 goals and 4 assists, although admittedly the majority of Gerrard's goals and assists have come from deadball situations. Gerrard has also created one more clear cut chance than Wilshere although Wilshere has played less minutes than Gerrard so his minutes per clear cut chance comes in at 253.5 compared with Gerrard's 263.3.
The Line Up
After the outcome of the game between the two sides on Saturday Arsene Wenger will be desparate to make amends in front of the Arsenal home crowd. Brendan Rodgers will also not want to lose this game and with a week to recover before the next same against Swansea City and Anfield I believe he will continue with (almost) the exact same side that have started the last 4 games.
GK – Despite Brad Jones starting both of Liverpool's previous FA Cup games, I would highly doubt that he would get the nod over Simon Mignolet for this game.
RB – With Glen Johnson still out injured current man of the moment Jon Flanagan looks set to keep his spot at Right Back saying that I would still expect Flanagan to play even if Johnson was fit as he would take the place of Aly Cissokho at Left Back.
CB – My one predicted change to the team comes here. After his performances in Liverpools last two games away from home along with the return of Vice-Captain Daniel Agger, 'Kolamity'  Toure may find himself on the bench for this one, Toure seems to be struggling playing as the left side of the two centre backs and hopefully the return of the Skrtel-Agger partnership can sure up Liverpool's defence for the next few games until the return of Sakho.
LB – Our options at Left Back are very limited and Aly Cissokho has been very good defensively over the past few games therefore he will keep his spot at Left Back for this one.
MID – After its success against the Gunners at Anfield it would not be a surprise to see the same 3 of Gerrard, Henderson and Coutinho in the centre of the pitch. Despite the previous success this game will be vastly different so I would not be surprised or disappointed to see Joe Allen somewhere in that Midfield.
ATT – The triple S have formed a formidable strike force over the past few games. Raheem Sterling has been in fine form since December which has been well publicised especially amongst LFC based media. Daniel Sturridge has scored in 8 consecutive matches for Liverpool and has taken the burden off Luis Suarez who has failed to score in his past 3 appearances (DROUGHT ALERT!) Despite the 'drought' for Suarez the SAS have 39 goals between them and look likely to break Liverpool's record Premier League Partnership of 42 goals currently held by Fowler and Collymore and could even break Liverpool's all time goal scoring partnership of 51 goals scored by Roger Hunt and Ian St John in 1963/1964.
Prediction
I can't see Liverpool running away with this one and when teams play in league and cup so close together it's usually the case where the team who wins the league game lose the cup game and vice-versa. However time to be positive, I don't want a replay both for the extra game and my bank balance so Liverpool are going to win and they are going to win 4-3!
Are you from near the Midlands area? If so you should attend A Night in Birmingham with John Barnes, John Aldridge and Jason McAteer!

Former Anfield Index Podcast guest host Noreen Khan is the host and there's a three course curry on the menu! All proceeds to charity!