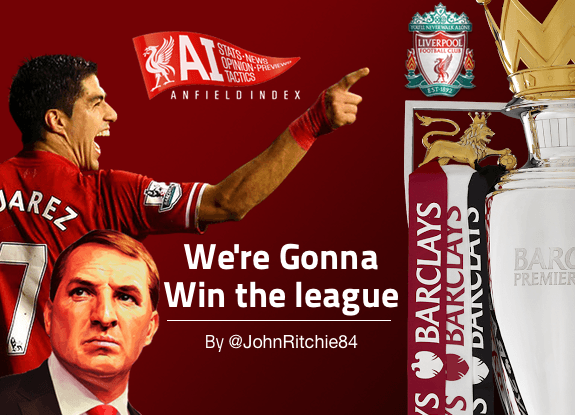 We're Gonna Win The League
I have a stat for you…
Liverpool, compared with the league table at the same stage in 2008/9, are actually closer to the top of the Premier League now than in that magnificent season.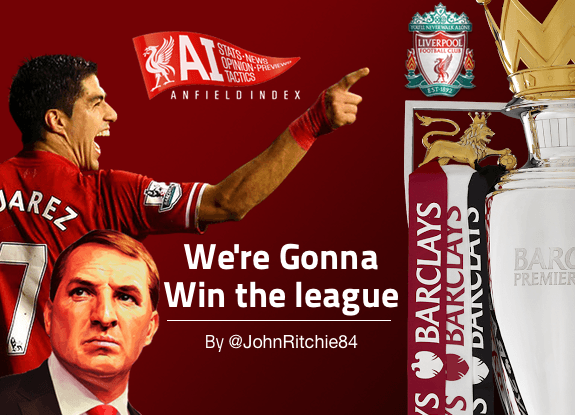 Cast your mind back to 08/09. It was, we thought, the time when most thought Liverpool would once again ascend to the throne in a season in which all those years of bottled hope would finally come good. Alas it wasn't to be; indeed the club almost self imploded, and what followed was worse than anyone could have feared.
And just like the prodigal son who has found his way home, the Red's now stand at the gates, ready to enter back into the pinnacle of English football after spending what feels like an eternity in the wilderness, back from the brink of mediocrity.
Rodgers men now stand at the door of their own destiny; in order to secure Champions League football it's now within our hands, it's ours to throw away, ours to grasp and never let go. But what's interesting is the title; can we dare to dream? Is it even possible?
As an eternal… REALIST (bet you thought I was going to say pessimist) I think a scenario where Liverpool end up as the 2013/14 league champions is entirely plausible. If you step back for a moment and simply consider the other three likely challengers (Arsenal, City and Chelsea) forthcoming fixtures and demands in Europe, it's entirely possible they will drop points.
The superb @Nazdegame pointed out that fixtures surrounding key times could help Liverpool collect points we hadn't previously expected.
Manchester United play LFC at Old Trafford three days before they play Olympiacos in the Champions League. Winning big ears is United's only hope of being in the elite competition next year, they'll want to take it seriously, they'll want to win therefore there's every chance their eyes could be on other things. However, this is a dismal team who are suffering a spectacular demise, if Liverpool click on their day, expect a result. Imagine doing the double over United!!
If Manchester City beat Barca (that's a big if) then Liverpool will play them, at home, three or four days before their Champions League quarter final. This gives us an advantage, although I'd still fancy a second string City to cause us issues.
If Chelsea, god forbid, make it to the Champions League semi finals, then Liverpool play them at home, three or four days before the first leg. We all know how much Jose loves a Champions League semi final with chelsea. I think he'll take that seriously.
Win those, or at least get a result, then all of a sudden things start to look rosy. Surely Chelsea and City can't afford to drop points. Will Arsenal have their usual mini crisis? Who knows.
Even if we limit the scope of our ambition to Champions League football, Tottenham have the minefield of the Europa league to deal with. Yet the one big advantage Spurs have over Liverpool is a great squad of players, with one or two stars who would grace many a midfield or defence. However Liverpool have firepower, goals galore and that's what win you games. We have the advantage.
Everton are also danger, however with the gap starting to widen, can they claw it back? They need strikers, even though Lukaku is a decent one man band. But even he's out injured.
The season still has some twists and turns, but what it really boils down to is this… Liverpool are their own worst enemies. Jekyll and Hyde. One minute we're out of this world, the next we look astonishingly average.
Ray Houghton, on his commentary for Radio City described Liverpool's defensive capabilities as amateur, not befitting the professional game. He's right, and even amateur is a kind way to describe the defence at times; yet it's worthwhile remembering our well noted injury problems at the back and the lack of a settled back four. We have some of the highest stats for unforced errors in the league. These are not traits of title contenders, but they could be traits of pretenders to the throne.
To win the league, I believe we'll need to go on an incredible run. Win our next three games against Swansea, Southampton and Sunderland and the fan base will go wild. We'd have 62 points with goal difference a major factor. Win against United we'll have 65, Cardiff 68, Spurs & West Ham 74. We then have City, Norwich, Chelsea, Crystal Palace and Newcastle.
Can we win the league? Of course we can.. But will we win it is the question?
I think this season, given the strange nature of the league, it's all very possible. But Liverpool now need to stop something which has been a trait for a while. Consistently inconsistent is a great term to summarise the Red's, it's an annoying personality trait we have developed and those are the hardest things to fix.
That's the frustration for me, we're close in terms of comparisons, but in my humble opinion, just still too far away. So as I try to not let the hope kill me, I'll give a few parting words of advice. Things are looking good for the Champions League, my advice just now? Let's try not to get greedy!
BUT WE'RE OBVIOUSLY GOING TO WIN THE LEAGUE!
Are you from near the Midlands area? If so you should attend A Night in Birmingham with John Barnes, John Aldridge and Jason McAteer!

Former Anfield Index Podcast guest host Noreen Khan is the host and there's a three course curry on the menu! All proceeds to charity!