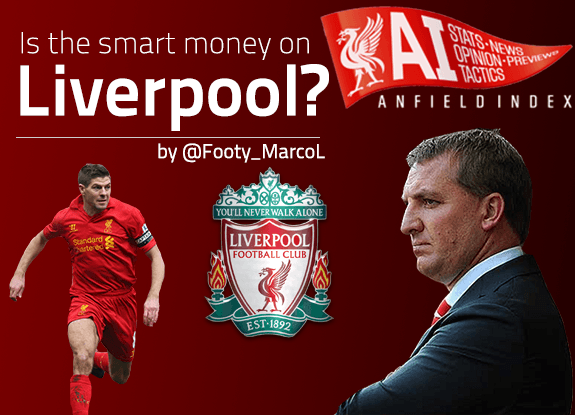 Is the Smart Money on Liverpool?
Four, long years.
Four years of Champions League football wilderness, starting with the capitulation of the Rafa regime, continuing with Hodgeball and the return of the King, and most recently, an investment in what is fast becoming a special managerial talent in Brendan Rodgers.

I'm circumventing a key issue in those four years, of course – the change in ownership.  The shift from Hicks & Gillett to FSG is somewhat embryonic – as if the old Liverpool is suddenly poised to emerge, modernised in its execution while classic in its identity.  Yet, for all the good work that FSG have done, the cynics remain, and while Rodgers normally has 4 or 5 goal thrillers in his team to fend his doubters off from time to time, FSG – ironically – seem to have very little currency to splash about to get more people to believe in them.
That's not to say the scepticism is unfounded.  There are still many valid concerns. Ticketing. Pricing. Communication, especially with the Atlantic wall that sometimes seems to exist in the minds of fans. A perceived lack of transfer investment, & failing to back Rodgers. The decision to sack Kenny. The process by which they sacked him. Being Liverpool.  The stadium.  These are just some of the divisive issues.
The Color of Money
In the years since FSG completed their takeover of Liverpool, competition has intensified in the Premier League. The traditional top 4 shifted to a top 6, and with Everton's appointment and success with Roberto Martinez, an mid-term argument for a top 7 seems viable.
The increased competition is one of the factors that makes the push for the restoration of Liverpool to participation in the Champions League a sensitive one.  Investment in transfer windows are more critical, because now, it's not just a question of what Liverpool does with their transfers, but also what competing teams have done with theirs.
FSG is always in the firing line for this issue.  The last transfer window is a prime example.  Once again, there were those lamenting the need for the deep pocket of an oil baron, desirous of a company wanting to buy success.
The conversation comes down to resources, or the lack thereof, and it's here where some thinking needs to be done.  Football clubs have 3 core sources of revenue – matchday (stadium revenue), broadcasting (TV coverage revenue), and lastly commercial (merchandising, sponsorship and the like).  It's these sources that I'll be exploring as far as Liverpool and their direct peers are concerned, as reported for the end of the 2012/13 season by the excellent Deloitte Money League 2014.
Liverpool's last 5 years financially, have largely been as mobile as a Christian Poulsen performance in midfield. From 08/09 to 10/11, the club's revenues predictably went backwards, the only club in the current top 6 to do so.  It could have been worse, had an increase in commercial revenue in 10/11 not made up for the first "batch" of lost Champions League money.
The club's increase in 12/13 of 9,3% is the first time it's had growth of that significance since the club enjoyed a windfall of broadcasting revenue post their 2nd Champions League final appearance in 3 years in 2007.  Domestic cup runs are often celebrated and romanced, but in reality the Wembley trips in 11/12 did little to outperform the broadcasting money earned from Europa League football in 10/11.  To compare, Liverpool's £63.9m in 12/13 was a massive £37.7m less than Man Utd and £41.5m less than Chelsea. That's the difference Champions League football makes at its most obvious level.
The only thing that's been growing (at a level unbecoming of a "normal" club in Liverpool's current position) – is commercial revenue.
Show me the Money
Let me qualify that statement, because many argue that Liverpool are still a big club – and obviously they are.  But it's been 5 years since they finished in the top 4, and – with respect – nearly a decade since they won a major trophy that established them as the club they are in the first place. Yet, consider the comparison of Liverpool's ranking in commercial revenues against the other 19 richest clubs in the world:
Liverpool are one of 7 clubs in the top 20 (the other 6 highlighted in yellow) that didn't play Champions League football in 12/13. But they're the only one in the top 10 of this list.  This isn't an isolated stat, either. If it wasn't for the "creative commercial deals" sitting behind Man City and PSG, Liverpool would likely be 5th behind the big 4 of Bayern, Real Madrid, Barcelona and the Mancs, as they have been for several years in commercial revenue.
Liverpool's various commercial dealings, from their then-impressive deal with Standard Chartered and Warrior to the latest with Vauxhall and Dunkin Donuts, illustrates an above-average return given the club's relatively poor marketability at the moment compared to other clubs in England and the Champions League.  But luckily the Liverpool brand is extremely strong, and FSG's plan to milk it for what it's worth is sensible.
The purist fans may take exception to seeing the club effectively turn into its own form of an advertising carrying media hound, but the commercial model is fast becoming a key means of competing against other teams that pull in massive revenues from stadiums or broadcasting revenues.  Consider this graphic depicting commercial revenue as a percentage of total revenue (again highlighting those clubs without Champions League football last season):
The commercial activity also takes on greater significance when comparing to peers in the league.  Liverpool's shirt sponsorship of £20m with Standard Chartered for the past 4 years has been ahead of Arsenal, Chelsea and Spurs for most of that time. Their kit sponsorship with Warrior of £25m will only be surpassed by the new deal for Arsenal (Puma) and Man Utd (Chevrolet) from next season. An impressive feat when one considers that the point of sponsorship investment from companies is to leverage brand exposure.  And that's not easy to achieve when those sponsored don't play in the most lucrative football competition on the planet.
Money Talks
Now while Liverpool enjoy superior commercial revenues ahead of competitors Arsenal, Chelsea and Spurs, the gaps start to show in the other revenue areas:
Some key observations jump out, most notably (and controversially) the emergence of Manchester City as a financial juggernaut. Once they start performing on the pitch, only the Etihad will be the limiting comparison to their red "noisy neighbours".  Chelsea's recent fortunes in Europe have meant their broadcasting revenues have been significantly lucrative, and with Mourinho now at the helm, it's hard not to see that trend continuing. Arsenal may be the only team in the "rich list" still seeing high contributions from matchday revenue, but the new commercial deals they'll receive, combined with an absurdly healthy bank balance, will make them extremely strong prospects.
Spurs arguably punch substantially above their weight, given their resources, and while the spending of the Bale funds were maligned by many, the team they could potentially call on is strong enough to complicate Top 4 qualification by rivals in the next few seasons.
Much is being made of Man Utd's fall to 4th in the rich list, but that had more to do with Bayern Munich's success than issues with the Mancs.  Their recent commercial deals are thought to be extremely lucrative, and while Liverpool fans may believe the current team signals the end of an empire, Man Utd still pull in a sizable amount of money, which in the hands of an above average manager (instead of Moyes) could be dangerous. The reality is that they are a behemoth to be overtaken, ambushed, and slowly chipped away, and Liverpool can't afford to not take advantage of their current malaise.
Are Liverpool on the money?
All the above paints an intriguing picture of the club's revenues, and while many Liverpool fans like to poke fun at the "signings" of doughnuts instead of players, the reality is that those commercial deals are one of the few things off the pitch that keep the club LFC from being a permanent mid-table club.
Liverpool used to consistently be one of the top 4 richest clubs in England, which meant Champions League football was ultimately a certainty in most years. Bad spending normally meant missing out on the title alone…but now it's very different.
Notwithstanding the (valid) debates about the club's transfer strategy and processes, the revenue earned is a key issue for as long as it limits Liverpool's ability to source players to compete.  The situation like this means it forces the club to be extremely careful with how they spend, which is probably why the club is perceived to be ham-fisted with the value they are prepared to pay.  Truthfully, they can't afford any dead investments, be it at £35m or £16m. Every purchase has to be as close to right as possible.  That's not to defend the club when it fails to invest, but it is to understand what they're trying to do.
Liverpool need to continue their smart investments in all respects in the club.  Investments in personnel with the potential to become world class. Players like Coutinho, Sakho, Sturridge, Sterling.  And – if I may be so bold – managers like Brendan Rodgers, who for all his limitations and mistakes, has clearly performed well above expectations and deserves a new contract, proper backing in the summer transfer window and significant credit if the team secured 4th or higher.
So while FSG will always have their critics, and those who lament their mistakes, they have clearly done some very good things right.  In some respects they're wielding a knife in a gun-fight, but they've managed to maintain a trend of recruiting substantial quality more often than not.  They seem to understand that the currency of Liverpool is still trophies – but the right trophies. The club was built on trips to Europe, where Liverpool's football had swagger, was lauded in song, and wrote itself on the pages of history for the stories of its legends to etch themselves in our hearts and minds.
If Liverpool do indeed make it to the Champions League, then not only have they returned to the promised land where the financial shot-in-the-arm becomes more obvious – they've vindicated a strategy by the owners which, as much as it has been sometimes arduous and painful to watch, has at its forefront the simple objective to which we can all relate.
And for those who dare to dream – if they could finish higher, even reach the summit of the league with the "weaker squad", the inexperienced manager and the inept transfer negotiations… ironically, it could be all the more reason to believe that the strategy of achieving maximum return by trying to play smarter on and off the pitch than the financial muscle of their rivals will not only vindicate FSG and the club in their past (and likely, future) activities – but it could even signal the turning point.  The true climb back to the perch.
Liverpool Football Club.  The best in the world. Coming soon.