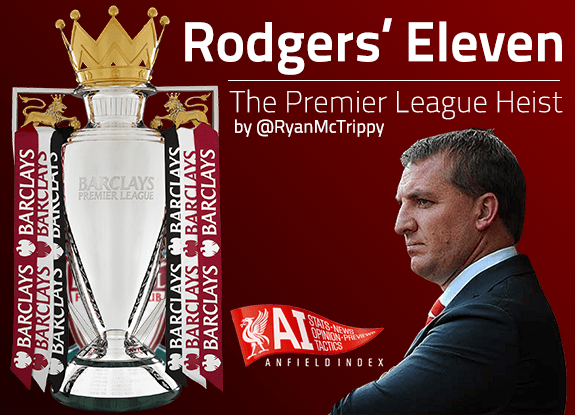 Rodgers' Eleven: The Premier League Heist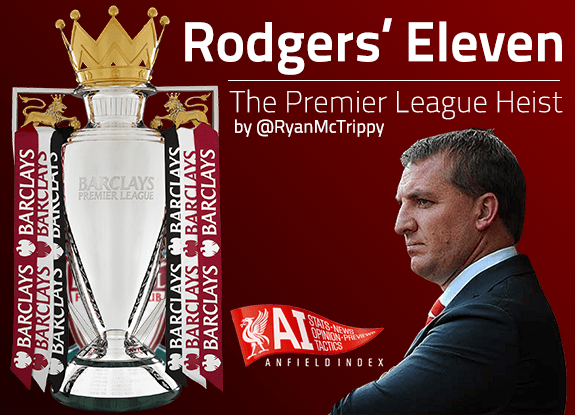 A short, tanned and toned Northern Irishman sits at his desk looking at the remaining fixtures in front of him. He picks up his red fiber tip pen, and crosses out the latest of victims to fall to his mighty team. "Can we do it?" he thinks to himself, tapping his foot off the ground like a metronome of aspiration, emulating the rhythm of the attacking orchestra he conducts from the sidelines every weekend. There is wonder, there is hope, there is a touch of chutzpah in the dreams of Brendan Rodgers.
Coming into this season, all Liverpool fans asked for was a 4th place finish. To turn on ITV on a Tuesday night and groan at the sound of Clive Tyldesley and Andy Townsend spouting cliché after cliché while the Champions League anthem blared through the turnstiles of Anfield, echoed through their living room, and resonated through their heart. It was a simple request, but a colossal task.
But then, Liverpool decided to get interesting. Really interesting.
Has there been a Liverpool side in recent memory as amusing and captivating as the current outfit? When Rafael Benitez was setting up his armies of science and tactics, fans were often left with their hearts on the end of our tongues, praying for a last minute goal to save the day. Of course, the duly obliging Steven Gerrard would be Liverpool's very own hero on many occasion to save his side's skin, but it was never easy to sit down and watch these games unfold.
In fact, it is still like this to some degree, but Liverpool fans have developed a type of immunity to situations that once left their blood pressure sailing through their stressed bodies.
For all the problems Rafa had up front to keep a fit and healthy Fernando Torres firing on all cylinders while his defense remained a solid cohesive entity, Rodgers appears to have the reverse complex. Defensive errors in each of Liverpool's last eleven Premier League away games (at time of writing) has left fans scratching their heads, enraged by the simple mistakes players appear to produce on a regular occurrence.
But up front, there is no questioning the lethal attack of Rodgers' squad. Free-flowing, terrorising, relentless, entertaining, but more importantly, clinical.
In the midst of referee deficiencies and last minute winners by the River Thames, Liverpool are looking firmly ahead. The fans, the Club, possibly the Manager (even though he may prefer to rebuff any claims) have their eyes fixed on the Premier League title. They shouldn't be in the hunt, but they are.
Having watched Spurs spend £100million assembling a stellar squad to cope with Welsh Superman Gareth Bale departing for the The Estadio Santiago Bernabéu, Liverpool shouldn't be in the hunt. But they are.
As Manchester City smash their way past every obstacle that steps into the Etihad Stadium (bar one conspicuous blue plastic bus) Liverpool shouldn't be in the hunt. But alas, they are.
It just doesn't make sense. How does a team, rife with injuries and with one of the worst defenses in the league (no it truly is, it is beyond frightening, there is no need for statistical evidence, the defensive situation is alarming), and who only finished 7th last season, now they find themselves looking at the Premier League title? It is relatively unheard of in modern football.
Brendan Rodgers is allowing fans to dream again. Between his tactical nous, which is growing with each game regardless of the result, and the young players developing at fabulous rates lead by the daring Luis Suarez and inspiring Steven Gerrard, Liverpool are bringing romance back to English football.
Football is built on moments. Whether it is scoring a goal, missing a penalty (or not giving one), a last-ditch tackle, or a penalty save to win you the European Cup, there are incidents in football that capture the imagination and the hearts of millions.
Moments, when everyone knows it is fate. You know it, your mother knows it, your dog knows it, the Sky remote knows it, Walter White's sweaty ass cooking blue crystal meth knows it. There is no other way to summarise your feelings other than to call it destiny. And this season above all, Liverpool have had their fair share.
Mignolet saving Jon Walters' penalty on his Anfield debut.
Luis Suarez's masterclass against Norwich.
Beating Spurs by 5 goals with no reply on their own turf.
Flanagan's goal.
Flanagan's bulge.
Beating Everton 4-0 at Anfield.
Scoring 4 goals against Arsenal inside 20 minutes.
Steven Gerrard's penalty versus Fulham.
There are also the hardships. Liverpool's away form is abysmal, the referees have gotten things wrong, and so has Rodgers.
But is that not the beauty of this season? Would Liverpool have beaten the league leaders 5-1 if Kolo Toure had not passed to Victor Anichebe one week earlier? Would they have beaten Spurs 5-0 with Steven Gerrard in the midfield as opposed to sitting beside former teammate Jamie Carragher? Football is not simple enough to say "if X amount of variables had occurred we would be in Y position". It just does not follow these perfections.
Of course, we may well be in 1st place had these mistakes not occurred, but there is no guarantee either way. As long as Liverpool get Champions League this season, fans can not be truly upset with what has occurred. Everything after 4th is a true premium bonus.
Rodgers is letting Kopites dream. Even the most cynical of realists can't help but feel a "Jon Flanagan" coming on at the thoughts of what Newcastle's trip to Anfield might mean.
Title-decider? Who knows.
If, and it's a big IF, the improbable occurs and Liverpool find themselves wrapping their hands around the Premier League title come May 11th, Brendan Rodgers will cement himself alongside the true greats of not only Liverpool folklore, but football itself. It will take luck, balls, and a lot of magic.
Or maybe, just one more moment. The moment, Brendan Rodgers steals the Premier League title from the Blue forces of Manchester and London.
It doesn't make sense, and yet it does. It feels right. 
Dream. Fantasise about the impossible. Let your imagination drift out of the parts of your brain fashioned like a pragmatic Roy Hodgson outfit, locked away with a Hicks & Gillett shaped key and see where it takes you. No matter what occurs, so long as Liverpool make the top 4, it can not be said we were not entertained.