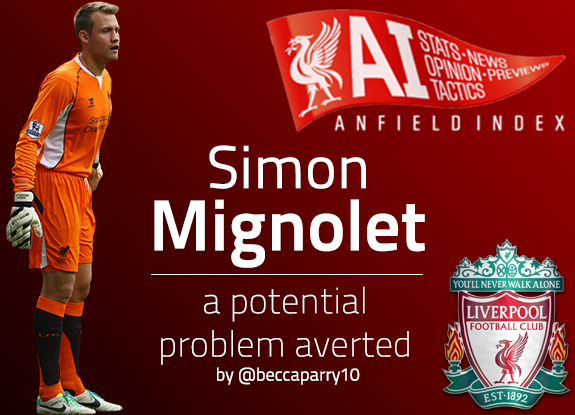 Simon Mignolet: A potential problem averted
Summer signing Simon Mignolet slotted straight into the Liverpool setup, and has been one of the key players for the Reds so far this season.
For goalkeepers, they're usually a commonly-used scapegoat for a lot of mishaps that go wrong in a campaign, especially those chasing the top places.
As mentioned previously, not being in the limelight is the biggest recognition that the Belgian could have wished for. It's easy for the finger to be pointed at the new goalkeeper straight away, even if the defence in front is just as much to blame.

However, Mignolet has made sure that pundits and critics can't find something to moan about when doing their analysis. Slipping under the radar for the majority of the season just shows how much he's settled in.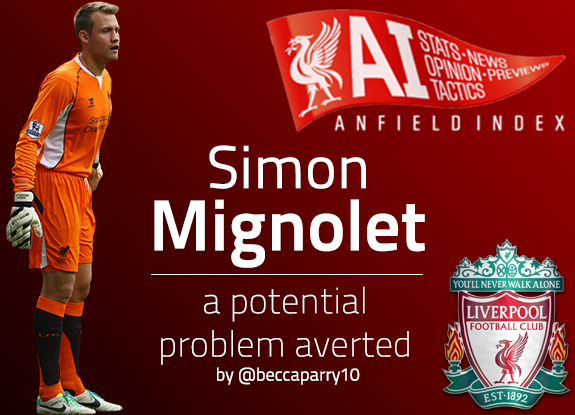 How long did it take for David de Gea to be left to do his job without constant media scrutiny? Some could say that this even contributed to his poor start. That just shows how well Mignolet's done for a fairly young goalkeeper coming to a big club like Liverpool.
His best performance of the season so far was undoubtedly the game at Goodison Park earlier in the campaign. His masterclass of saves was worthy of a man of the match accolade, and proved that the pressure of a big game doesn't faze him.
Statistically, the figures also back up that this was his stand-out performance. He made a total of 9 crucial saves in the game, some world-class, and vital in sealing the draw at the final whistle.
This was the most saves he has had to pull out in the season by far, and with still a lot of big fixtures to go, he's going to have to be on his A game at all times.
There has been the odd criticism about him nor coming to out to claim the ball in set pieces, and possibly being a bit more composed when there is the odd scuffle in the box. However, a goalkeeper without a few things to work on is just too good to be true.
Although Brendan Rodgers' original game plan for Liverpool was the 'death by football' passing game, last season, Reina's distribution in this style did conjure up a few problems. This being said, there was the issue that we may have missed the impact of Reina's contribution in starting the counter attacks when he left.
Although, Mignolet's stats aren't that bad in terms of touches. His highest total in terms of passes was actually the game against Southampton at Anfield which we lost 1-0, with 34 in total. This just proves that when we're trying to get that all important goal, Mignolet is infact significantly involved when chasing.
Pepe Reina is due to return at the end of the season; but the way Mignolet has settled in to the team and Rodgers' system, we haven't missed him as much as some would have expected.
He needs to keep this going, being especially aware during away games, and it'll be an all-round successful debut season.