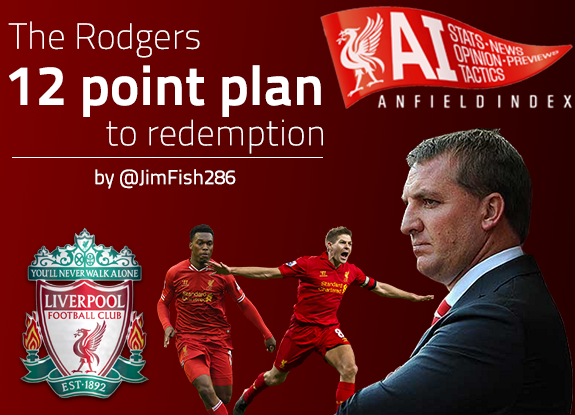 I'm on the Rodgers 12 point plan to Redemption

Are you with me? We are 12 league games away from something remarkable.
The door to the riches of the Champions League is firmly open to us, it's beckoning us in like the hostess of our favourite bar or nightclub. We would be foolish not to take up the offer, after all, who knows when we will get the chance again.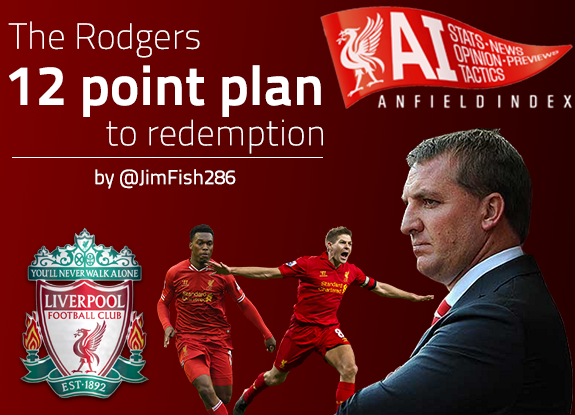 But what is it we really want? Will we just sit back and take the easy way to the top four and the riches of the Champions League or will we gamble and go for the biggest prize of all. Our very first Premier League Title?
If you were to ask Steven Gerrard then he would tell you exactly what we should do and what he will be driving the team on to do. One look at those eyes in the 4-0 thumping over Everton at Anfield should tell you everything you need to know. If you needed a further nudge then watch the second half of the 3-2 win against Fulham. Watch how the ageing 33 year old talisman defied the tiredness in his legs to turn back the clock and drag his Liverpool team to a precious victory.
Now I've seen the stats and i've heard the nah sayers and I take it all on board. Our defense isn't good enough. Luis Suarez has only scored 1 goal in his last 6 games, we have an inexperienced manager and a team with very little prize winning experience.
The common sense approach should be to give in to those who say we can't do it. But I won't, I can't. I know we have twelve steps to take and I know that we can do it.
I can't say there is one reason why I believe this and I know there will be difficult times ahead but this team has something about it.
The manager seems to have 16 players he can count on and who will run through brick walls for him. Just look at Jon Flanagan since his recall. The growth and blossoming of Jordan Henderson and Raheem Sterling. The work rate that has now been added to the mercurial talents of young Phillipe Coutinho.
The way Steven Gerrard has adapted and improved in this unfamiliar role as the deepest lying midfielder. Look how his tactical awareness has improved on and off the ball.
I'm telling you they believe. I'm telling you Steven Gerrard believes and when he believes then great things happen. Need I remind you of 2005 and 2006??
Of course there will be times when I will doubt them and I doubt my ability to stick to the plan, I'm only human after all. Those times will probably come when we visit our nemesis Southampton or when Manchester City and Chelsea come to town. Will I fall off the wagon?
Time will tell but right now I am confident in mine and more importantly their abilities.
This team just has something about it. The way they move forward as one, the way they express themselves both with and without the ball. The fight they have added to their skill, the never say die attitude that lurks beneath the pretty football on display.
There is also a blessing in the form of no Cup or European distractions to factor in. We play once a week for the remaining 12 weeks. We can wrap them all up in Cotton wool for 2-3 days and then unleash them game by game. We can ramp Stevie G up by showing him DVD's of the Champions League Final in 2005, of the FA Cup Final in 2006 and if he needs anymore motivating, show him the 2007 final and the end to the 2008/09 season. The last time we came close to anything like this.
There is also the fact that our defensive injury crisis appears to be over. Daniel Agger is back, Glen Johnson is close and Mamadou Sakho should be ready to return by the Southampton game. Our biggest area of concern is becoming less so.
I admit I did not see this coming at the start of the season. In my heart I saw us just sneaking 4th but in reality I had us 5th at best.
That is what has been so great about the last 6 months. It's put football and Liverpool Football Club back in my heart. I'm dreaming again of what could be, what should be.
They have inspired me. They have put me on this journey and I will follow it through.
The first step is often the hardest or so they say. I've admitted i'm on the plan and now I look forward to the visit of Swansea. I look forward to the visit of them all. I fear no-one when they visit Anfield. It is the place where our dreams become a reality, where others dreams come to die.
So you see, the fate's are almost conspiring with us. Everything is slotting into place. We just need to stick to the plan. Take it step by step, count from 12 down to 1 and then, just maybe we will be celebrating the clubs greatest achievement.
Come and join me on the plan, you won't regret it.