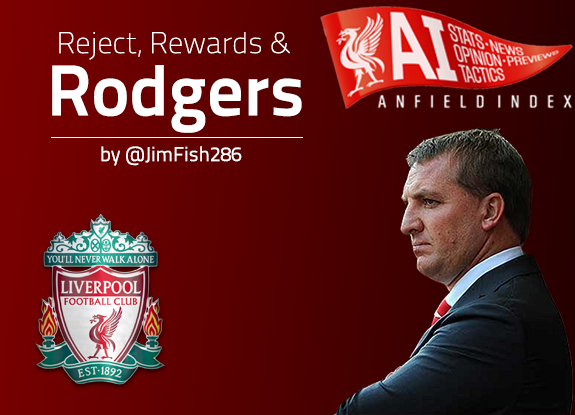 Reject, Rewards & Rodgers
Whilst I appreciate that the title may be somewhat provocative if you look through the current Liverpool team, you will see many players who, at one point or another have been classed as rejects. In fact, from the team that played Fulham in the last Barclays Premier League game then there are only 3 players I can think of who do not fall under that category.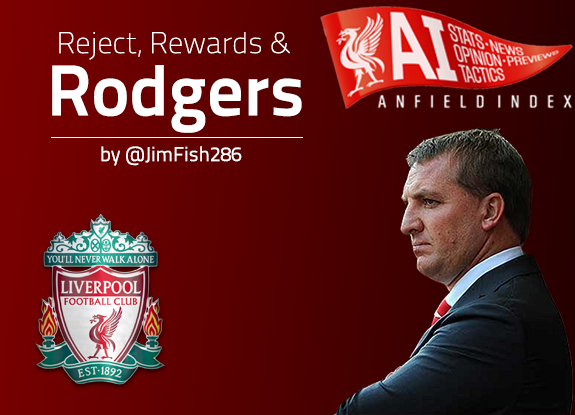 Now the point of this piece is not to moan about the quality of our squad or the abilities of the players within that squad. The purpose of this piece is to sing the praises of the coaching and man-management of Brendan Rodgers.

To get the performances out of Jon Flanagan, Martin Skrtel and Aly Cissokho like he has recently has shown that given the time on the training pitch with a player he can improve them immensely. Look at the growth in Jordan Henderson, both technically and as Rodgers himself says, tactically.
Don't forget that this was a player who was offered the chance to leave the club but turned it down to fight for his place.
That, it seems is a key indicator to Rodgers. IF you want to fight and work hard then he will back you. He will work with you day in and day out help you improve.
In this modern age of football where it is all about money and buying ready made players there is something refreshing about this approach. Perhaps this comes from Rodgers beginning his career as a youth coach. He has had to work with whoever the club gave him. His job was to improve them and hopefully move them on to the reserve and then first team.
When he took his first steps into management it was at Watford. He has little to no money to spend. His biggest transfer dealings were to bring in Don Cowie and Mike Williamson for around the £150k mark. Williamson moved on for a fee around £2million pounds and currently plies his trade in the Barclays Premier League with Newcastle and Cowie moved to Cardiff City on a free transfer and now also plays in the Premier League.
Rodgers took over a team in 21st place in Novermber and guided them to a 13th place finish that season.
He was also responsible for an up-turn in form of Watford Striker Tamas Priskin. A player who has had more clubs than many golf pro's, Priskin enjoyed his very best period under Rodgers in 2008-09. He finished that season with 14 goals and from November on he became known for his pace, skill and deadly finishing. Sound familiar?
Priskin has never gone on to repeat that sort of form nor scoring ability anywhere else in his career to date. Coincedence? I'm not sure.
His heart strings were pulled and he left to return to Reading, however after a short but very unsuccessful period he was sacked and then found himself out of work until Swansea City took a punt on him. Once again, an un-fashionable club with limited resources. Rodgers had to use the loan market, the lower leagues and work with what he had to improve the Welsh club and guide them towards the Premier League.
He brought in Scott Sinclair from Chelsea, Fabio Borini on loan also from Chelsea and paid £50 thousand pounds for a left back from non-league Wrexham called Neil Taylor. By the time Rodgers left Swansea in 2012 Scott Sinclair had scored 28 goals in Rodgers' 2 seasons with the club and was on his way to Manchester City for £5million pounds and Neil Taylor had become Wales' first choice left back and also represented Great Britain in the 2012 Olympic Games. Quite the turn around for those players.
Rodgers is a man who is happy to take a punt on players. He doesn't mind picking up the scraps and the cast off's from the other, richer clubs. Look at Daniel Sturridge and Phillipe Coutinho, both excelling at Liverpool. Both were on the scrap heaps at their previous clubs. Sturridge was sulky, petulant, a bad trainer with an equally bad attitude. Coutinho was injury prone, lightweight and was perceived not to have the fight required to make it at the top level.
Do any of those statements sound like the players we see wearing the red shirt for Liverpool?
You may be surprised to see me mentioning Luis Suarez in this piece but if you look at the Luis Suarez before Rodgers arrived and the Luis Suarez since, then there really is no comparison. The goal scoring, the type of goals he is scoring, the effort he puts in with and without the ball for the team. You cannot say that Rodgers has not improved him.
What Rodgers appears to have given all the players at the club is belief. He is constantly relaying the message that if you work hard you will get your rewards. This applies to the players on the fringe of the first team just as it does the young players. Undoubtedly this is also the message he relays to potential new signings. Signings who are deemed to have the necessary physical and mental attributes to work for Rodgers. The hunger to improve, to work hard to be part of a team going places.
There is no doubt that Martin Skrtel divides opinion amongst fans. I myself have been very critical of him this season. There is also no doubt that if an offer had come in that was acceptable then he would have been out of the door in the last Summer transfer window. However, since he came back into the side for the Manchester United home game he has not been out of the side. Circumstances may have dictated that there were not many other options but whether you think Skrtel is great or not, overall, he has done well for us this season.
The same can be said for both Jon Flanagan and Aly Cissokho. Prior to the Arsenal away game, if you had taken a straw poll from 100 fans I am sure at least 95 of them would say that Flanagan has no future at the club. If you did the same now I am sure that that number would be quite different. In fact, i'd suggest more than 50% would now be happy for him to stay and stay within the first team squad.
That sort of turnaround does not come about over night, it comes from hours and hours of hard work on the training pitch. It comes from a manager who is not prepared to cast off what many people would call rejects. Rodgers strikes me as a man who does not give up easily on something.
Again, the same applies to Aly Cissokho. Rescued from the fringes of the Valenica team, another reject if you like. This time only on loan but brought in to do a job and again, I have been critical of him, but he is showing us now that he is an accomplished defender. He offers nothing going forward but if he were to stay then I would expect to see a vast improvement in that department.
In fact, if you look at his tenure then it is really only Andy Carroll who he had very little time for and took no interest in trying to develop. Whether that says more about Carroll's attitude than anything else is hard to say but Rodgers has tried to improve every player he has had to work with at Anfield.
He wants to see them working hard in training and he wants to develop young players. Look at the way he has blooded young players this season. Flanagan coming back into the team away at Arsenal, Brad Smith making his debut away at Chelsea, Joao Texeria being brought on away at Fulham when chasing the game.
Imagine the boost that must give to every player who walks through the gates at Melwood. Whether you are a young player, a player rescued from the scrap-heap, the reject pile at your former club or if you are one of the very best players in the world, the message is clear.
Do it here, do it now, do it for me on the training pitch and you will get your rewards.